Markham Drs and Health Practioners
---
Recommended Drs & Health Practitioners by Groupon Customers
---
As a full-service facility, Women's Medicine of Niagara enlists a team of medical providers to provide a mixture of clinical and holistic services designed to treat issues specific to women. Board-certified doctors channel years of experience to keep patients healthy with services ranging from obstetrics and gynecology to osteoporosis screening. They pair those with nutritional counseling, acupuncture, cardboard cutouts of George Clooney, and herbal remedies to give women wellness benefits achievable without prescription medicines. The medical team also harnesses the power of modern technology by administering minimally invasive operations with the da Vinci robotic-surgery device and removing unwanted hairs with the pulsed light of the Candela GentleLase Pro.
5320 Military Rd., Suite 104
Lewiston
New York
716-297-9379
PhysioCare Group Clinic's multilingual, multidisciplinary team of chiropractors, massage therapists, and naturopathic doctors strives to help patients attain pain-free living. Preferring drug-free treatments for ailments, the staff perform foot orthotics, spinal decompression, and massage therapy services. Acupuncturists insert needles into specific points in the body to alleviate chronic stress and pains obtained from swallowing a whole chicken. They take care when consulting with victims of motor vehicle accidents, detailing to client's their right for accident benefits.
108-200 Finch Ave. W
Toronto
Ontario
416-221-5073
Omega Laser's specialists combine acupuncture techniques with modern technology in an effort to balance the flow of energy between the meridians of the body. During smoking-cessation treatments, low-level lasers target trigger points on the hands, ears, and face, which releases endorphins that can significantly lessen symptoms of withdrawal and physical cravings. Technicians also provide guidance for clients hoping to master the psychological urge to light up.
160 Bayfield Street (Wolfbeck Health Centre)
Barrie
Ontario
Canada
Arc Wellness Centre's multilingual staff helps clients dodge the need for prescription drugs with an assortment of holistic and alternative therapies. Hardwood floors and modern furnishings foster a clean and bright ambience where clients receive therapies ranging from chiropractic care to hair removal. Soothing services such as acupuncture and registered massage therapy keep bodies and minds united without the need for complex alliance treaties. The centre was named after Turkey's Arax River, which the staff regards as a symbolic reminder of the free-flowing and perpetually renewing life cycle.
3603 Hwy. 7 E, Suite 110
Markham
Ontario
905-604-2627
Instead of attempting to learn a smattering of chiropractic approaches, Dr. John Rae has devoted his 10 years of experience to mastering just one: the Gonstead approach. Both a technique and a philosophy, the Gonstead approach views the body as a single, harmonious entity wherein the brain keeps the body healthy via the spinal cord. When the spinal cord becomes accosted by a slipped disc, Dr. Rae applies careful, two-handed pressure to the spine to gently nudge the offending disc back into place. This way, the brain and body can resume communication and exchange of lentil-soup recipes to maintain overall health.
140 Bradford St.
Barrie
Ontario
Dr. Benna Lun, ND is a naturopath whose education and training have prepared her to treat patients with a whole-body approach and all-natural products and therapies. By combining herbal, holistic, and traditional Chinese medical disciplines, Dr. Lun aims to resolve a wide variety of symptoms. Her treatments include homeopathy, acupuncture, and Bach flower remedies, a combination of flower essences created by Dr. Edward Bach to address emotional difficulties. The doctor also provides lifestyle counselling, helping patients to identify behaviours, such as lack of exercise or abundance of cave dwelling, that may be contributing to poor health.
6150 Valley Way, Unit 204
Niagara Falls
Ontario
888-550-5303
---
---
Drs & Health Practitioners Deals - Recently Expired
---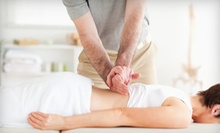 After analyzing posture with digital-imaging technology, the chiropractor uses micro-adjustment techniques to realign the spine
---
---