Markham Health and Fitness
---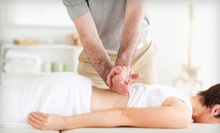 After analyzing posture with digital-imaging technology, the chiropractor uses micro-adjustment techniques to realign the spine
---
Recommended Health & Fitness by Groupon Customers
---
With frames from dozens of brands backed by a staff of eyesight experts, Focuspoint Optical helps their clients' faces look as sharp as their vision. Designs by Ray-Ban, Versace, and Gucci frame prescription lenses to ensure everyday specs and sunglasses maintain a crisp outlook on the world and a proper dress code during library sting operations. Meanwhile, onsite opticians perform full eye examinations and ocular health checkups, and ophthalmologists treat clients in need of specialized care.
A2-240 Alton Towers Cir.
Scarborough
Ontario
416-901-8828
PhysioCare Group Clinic's multilingual, multidisciplinary team of chiropractors, massage therapists, and naturopathic doctors strives to help patients attain pain-free living. Preferring drug-free treatments for ailments, the staff perform foot orthotics, spinal decompression, and massage therapy services. Acupuncturists insert needles into specific points in the body to alleviate chronic stress and pains obtained from swallowing a whole chicken. They take care when consulting with victims of motor vehicle accidents, detailing to client's their right for accident benefits.
108-200 Finch Ave. W
Toronto
Ontario
416-221-5073
Arc Wellness Centre's multilingual staff helps clients dodge the need for prescription drugs with an assortment of holistic and alternative therapies. Hardwood floors and modern furnishings foster a clean and bright ambience where clients receive therapies ranging from chiropractic care to hair removal. Soothing services such as acupuncture and registered massage therapy keep bodies and minds united without the need for complex alliance treaties. The centre was named after Turkey's Arax River, which the staff regards as a symbolic reminder of the free-flowing and perpetually renewing life cycle.
3603 Hwy. 7 E, Suite 110
Markham
Ontario
905-604-2627
Surrounded by sunny yellow walls and cheery green plants, a team of seasoned staffers dedicates their waking hours to the wipeout of chronic pain via a host of multi-disciplinary therapeutic services. Collectively fluent in a globe-spanning assortment of languages including Mandarin, Romanian, Tamil, and conversational grunting, CDNC's professional pain erasers strive to set each patient at ease by explaining impending treatments and answering questions in a clear and concise manner. Staffers whisk patients from the waiting room into private rooms wherein they administer calming treatments. An advanced form of ancient traction therapy, spinal decompression employs a Neuron supplemental system to help mend back-centric maladies. Alternatively, non-forceful trigenics is a neurological treatment system designed to improve muscle strength and relieve bodies aching from stints in the human cannonballing circuit. Click here to view the center's testimonials.
303-3420 Finch Ave. E
Scarborough
Ontario
416-498-9355
A gold-medal winner while on the Canadian National track team, director Okiki Akinremi puts all of his 17 years of athletic training experience into running Xplosion Fitness. During his time with both the track and bobsled team, Akinremi observed the use in fusing multiple training methods to achieve the level of fitness needed to push a bobsled through the long jump pit. He has honed his ability to work with both seasoned athletes such as Bruny Surin and Robert Esmie along with those with little to no experience, infusing individual fitness goal plans with his own passion and commitment. By harmonizing core and resistance training with a combo of stretching, cardio, and nutrition consultation, his customizable programs and drop-in boot-camp classes result in shedding weight, complete body toning, and a more positive, less frowny way of life.
1940 Ellesmere Road
Toronto
Ontario
416-856-1505
In order to succeed at the University of Toronto as a student and dual athlete, Nabil Tadros had to balance his time between hitting the books, sharpening his jump shot, and perfecting his serve. Decades later, Nabil is still at UT, but as the head coach for both the women's and men's Varsity Blues tennis teams. In addition to his 30 years coaching the Blues, he's also led secondary-school programs and has run tennis and basketball clinics around the globe. At Basketball Tennis, Nabil helms the tennis, soccer, and basketball youth programs while also running a competitive men's basketball league with refereed games and playoffs that grant grown men a competitive arena outside of backyard barbecue pits and paint-your-own pottery kilns.
300 Major Mackenzie Dr. W.
Richmond Hill
Ontario
416-727-1040
---