Massage in Markham
---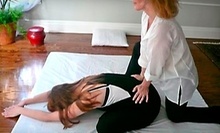 Use Monday 10:00am - 4:00pm
---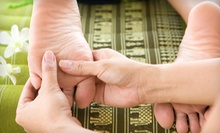 Dovercourt - Wallace Emerson
Therapists cradle careworn hooves & restore physiques with reflexology, Shiatsu massage & essential oils
Use Monday 9:00am - 1:00pm
---
Recommended Massage by Groupon Customers
---
Sunny Foot Spa's adept aestheticians seek to alleviate physiological and emotional ailments through an array of holistic spa treatments incorporating Western and Eastern health practices. Depending on the client's health concerns or aesthetic desires, therapists and aestheticians perform massages, acupuncture, and facials as well as body-slimming therapies, mani-pedis, and waxing. Black leather chairs swaddle guests before they walk by potted bamboo plants and Eastern-themed paintings through a yellow-walled hallway into private treatment rooms, which keep them safe from outside stressors such as feral rugby teams.
3350 Fairview Street, Suite 11
Burlington
Ontario
905-639-9099
Led by licensed massage therapists and a registered acupuncturist, Flow Shiatsu & RMT Clinic specializes in using shiatsu massage to help restore balance to the body. Often called "acupuncture without needles", shiatsu puts pressure on specific points along the body to unblock qi, or energy, that can negatively affect health. While shiatsu is the house specialty, Flow Shiatsu & RMT Clinic also offers other modalities of massage, such as deep tissue, relaxation, and myofascial release, as well as traditional acupuncture to help relieve tension and chronic pain. The health specialists treat every client as an individual, spending time diagnosing and discussing problem areas, in order to treat the whole body and find the root of the problem.
720 Spadina Ave., Suite 507
Toronto
Ontario
416-323-3700
All in one wellness facility in Times Square Plaza, the team of aestheticans, acupuncturists, massage therapists, and foot specialists at Four Seasons Natural Wellness Centre unite to help clients achieve better health and positive body-wide well-being. Four private massage rooms and a foot-massage room provide respite for weary muscles and overworked feet, and waxing services silken skin from legs to eyebrows. Beauty techs luxuriate complexions with nourishing facials, and a team skilled in orthotics craft custom orthopaedic shoes that prevent patrons from walking incorrectly or doing the macarena wrong. To supplement a healthy lifestyle, Natural Wellness Centre also supplies a large assortment of Forever Living cleansers, cosmetics, and vitamins alongside unique items such as aloe toothpaste and sea cucumbers plucked from underwater delis.
66-550 Hwy. 7 E, Unit 66
Richmond Hill
Ontario
905-763-2345
Concerned by the array of contaminants present in today's environment—processed foods, air pollution, secondhand smoke—the practitioners at Hue Spa & Clinic proclaim detoxification to be the most important process you can undertake to ensure your physical health. In that spirit, they perform a focused selection of detoxifying treatments, including deep-tissue massages that filter excess lymph out of muscles the way grizzled old prospectors filter non-prospecting-related comments out of their Twitter feeds. Facials target pore-based impurities, using naturally derived Les Aromes products to not only eliminate blockages but also to dissipate signs of age with active ingredients, such as restorative mimosa flower and antioxidant-rich artichoke extract.
70 Finch Avenue East
North York
Ontario
416-229-0007
SmartLife Physiotherapy Clinic keeps bodies mobile with the help of physical therapists, chiropractors, massage therapists, acupuncturists, and podiatrists. In private rooms, they perform methodical and thorough assessments to shed light on every facet of the condition in question, whether it's rooted in sports injury, arthritis, or diabetes. Specialists work with one another, and with the patient's doctor and milkman, to make sure that treatment is comprehensive. Techniques to strengthen muscles and bones range from simple daily exercises to electrotherapy, herbal remedies, and custom orthotics.
At Towncentre Rehab Clinic, Doctor of Naturopathic Medicine Sung-Mee Lee helms a staff that specializes in rehabilitation from motor-vehicle accidents, work-related injuries, and repetitive strain injuries. After determining the extent of the injury, they embark to eradicate symptoms such as whiplash and loss of function with services that range from chiropractic care to naturopathic medicine. They also shoo away stress with acupuncture, massage therapy, and endless loops of kittens yawning.
212-385 Silverstar Blvd.
Toronto
Ontario
416-901-1788
Kids have it great. Their skin is flawless and their fast metabolisms destroy each sugar-loaded morsel they devour before it makes its way to their hips and thighs. But all kids grow up, and when they do, they need a little more help keeping their youthful radiance. That's where Live DeLife, a laser clinic located inside Izabella Hair Salon, comes into the picture. Its technicians remove hair follicles and fade acne marks, spider veins, and unwanted tattoos of old gym-locker combinations. Rebirthcell needle-free injections vanquish fine lines and sallow skin, and Radio Derm equipment smoothes cellulite and boosts blood circulation. For more relaxing treatments, clients can de-stress with massages laced with aromatherapy, honey, and hot stones.
390 Steeles Ave W
Vaughan
Ontario
416-300-6202
---