Restaurants in Markham
---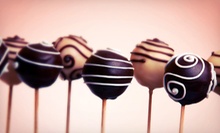 Miniature desserts dipped in a layer of colourful chocolate and coated with chocolate drizzle, chocolate dots, or sprinkles
---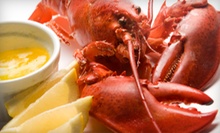 Entrees range from double jumbo lobster tails with lemon butter to surf and turf with jumbo lobster tail and certified Angus New York steak
---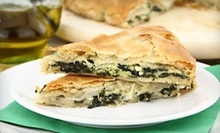 Greek restaurant preludes plates of lamb souvlaki & garlic shrimp with hot & cold appetizers & wines served by glass or bottle
Use Today 5:00pm - 9:30pm
---
Recommended Restaurants by Groupon Customers
---
Inspired by its owners' pack of six rescued malamutes, who make cameo appearances around the restaurant, Working Dog Saloon dishes out animal advocacy alongside its menu of pub fare. Locally sourced ingredients nestle between slices of focaccia burger buns or dapple pizzas named for labradors, malamutes, and Balto, the sled dog whose 1925 journey to Nome, Alaska inspired the modern Iditarod. Wolfish appetites can wash down meals with home-brewed Dogger Lager and Doghouse wines, whose proceeds benefit homeless animals. Annual fundraisers, such as pet photos with Santa and the Walk 4 Rescue 5-kilometre walk, further advance the dog-friendly cause.
Inside Working Dog, sleds and harnesses hang from wooden columns and timber-panelled walls, and a painting of a malamute with perky ears grins above a stone-flanked fireplace. The pub also caters special events and hosts private parties amid ceiling-hung twinkle lights and flat-screen televisions, or outdoors on a spacious patio.
3676 St. Clair Ave. E
Scarborough
Ontario
647-347-2339
The artistic chefs at Sushi Kai skillfully cut sushi and use fresh fish, meats, and high-quality produce when creating dishes for their traditional Japanese menu. Celebrating Japan's most popular import, the sushi chefs can roll choices from 25 maki options including barbecued eel and thinly carved yellowtail sashimi, or set off in-mouth fireworks with cone-shaped spicy-tuna hand rolls. Japanese curries introduce diners to a lesser-known Japanese specialty, greeting tongues with a choice of chicken, beef, pork, or fish. As diners share bites of sushi, they lounge in Sushi Kai's minimalist dining room and lecture its plants on proper photosynthesis technique.
168 Eglinton Ave. E
Toronto
Ontario
416-481-8181
At Casa Manila, named the best Filipino restaurant in blogTO.com's Best of Toronto, the scents of saffron, coconut milk, and tamarind slip among rustling walls of potted plants. Grass-thatched windows and bamboo shoots hint at the fistfuls of veggies that accent braised meats, grilled king fish, and stews. The dishes all display the exotic style of Filipino fare, which combines Malay, Spanish, Southeast Asian, and Chinese influences. Warm-hued lights, draped in fabric printed with frolicking animals, illuminate the plates, and imported Sarsi, a Filipino root beer, bubbles alongside them. On the patio, umbrellas shelter diners from the hot sun and the sight of clouds being born.
879 York Mills Rd.
Toronto
Ontario
416-443-9654
Mongolian Hot Pot brings the concept of hot-pot cooking to Toronto's taste buds with a menu anchored in cauldron-based cuisine. Patrons gather around a pot full of simmering stock, dropping meats, veggies, seafood, and other edibles into the kettle, with delicious soups emerging from the bubbling eddies. Mongolian Hot Pot offers more than 60 items for its Super Set Dinner ($16.99 per person on weekdays and up to $18.99 per person on weekend evenings). Suggest a different profession for Little Bo Peep with premium lamb-shoulder slices, jolt awake your jaws with juicy tiger prawns, or savour spherical sustenance with the house meatball platter. Guests can opt for the free herbal soup base or upgrade to a spicy stock ($2), a vegetarian-friendly egg and parsley base ($0.99), or a sweet and sour tomato stock ($3.99). For those not hot on the hot pot, the eatery also offers dishes such as a three-cluster lamb skewer ($2.99). Cool the heat with a domestic or imported beer, available for impromptu toasts to the sun god Ra.
2543 Warden Ave.
Scarborough
Ontario
The chefs at Wildfire Steakhouse & Wine Bar are proud of the gourmet dishes that leave their kitchen, but they're also proud of their main fuel source: charcoal made from Quebec maple. The aromatic wood is the secret to their tender filets and sirloins, each of which is rubbed with a signature blend of seasonings and finished with pristine crosshatch marks. Surf—including grilled salmon, mahi mahi, and Cuban lobster tail—joins turf inside a dining room clad in warm, cherry-red woodwork. In-house sommeliers stand ready to suggest the perfect pairing from a list of 6,000 bottles and single-serving barrels containing 900 kinds of wine. Alongside the Wine Spectator–acclaimed wine service, bartenders slake other thirsts with martinis and imported beers.
3438 Yonge Street
Toronto
Ontario
416-483-4800
The chefs at Tandoori House blend traditional Indian spices into each dish. Their focus is on creating authentic flavours, marinating chicken in yogourt and freshly ground spices before baking it in traditional clay ovens and cooking lamb in tomato-based curry sauces.
4862 Yonge Street
North York
Ontario
416-733-2283
---