Restaurants in Markham
---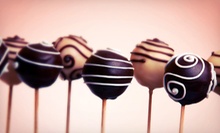 Miniature desserts dipped in a layer of colourful chocolate and coated with chocolate drizzle, chocolate dots, or sprinkles
---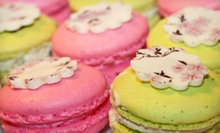 Macarons crowned with white or dark chocolate or mini cupcakes topped with frosted sugar cookies
---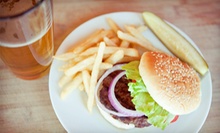 Wings in three choices of sauce, sweet-potato fries, nachos, and other pub-food items are served amid TVs and pool tables
Use Today 11:00am - 7:00pm
---
Recommended Restaurants by Groupon Customers
---
Inspired by the potent flavours of southern India, the chefs at Karaikudi Chettinad Restaurant season orders of chicken, goat, and vegetables with the Chettinad region's signature spice blends. These savoury morsels are soon roasted in the kitchen's fusion-powered tandoor oven or simmered in fragrant gravy. House-made servings of cottage cheese emerge steeped in butter sauce and travel to tables during dinners or weekday lunch buffets, which feature an array of meat-filled and vegetarian-friendly items.
The restaurant's high-ceilinged dining rooms seat up to 100 guests, and feature an archway of recessed lighting as well as dark wooden columns that keep the floors from shaking hands with the ceiling. Leafy potted plants add verdant splashes of colour to the orange-hued space.
1225 Kennedy Road
Scarborough
Ontario
416-701-0003
Although its dishes hail from India, Amaya Indian Room's food reflects its North American setting. Crafted from fresh local produce, the dishes are delicately spiced to accommodate a Western palate, rather than eye-wateringly hot. According to the eatery's profile in the Globe and Mail, the restaurant's founders likewise opted for Western decor, outfitting their dining room with wood panelling and photographs, rather than the temple-inspired decor that they viewed as stereotypical.
The upscale food, however, hews to the subcontinent's culinary traditions. Diners can feast on lentils cooked for 12 hours in buttery tomato sauce, short ribs braised in kashmiri chili, and prawns bathed in coconut-milk curry. The wine-marinated lamb lollipops, meanwhile, are easier to eat than the original Indian lollipop, a tandoori oven on a stick. For an alternative to these à la carte items, the tasting menu lets patrons sample small portions of multiple dishes. The expansive wine list, meanwhile, pairs seamlessly with meals and offers a subversive touch—Indian food is typically served with beer.
1701 Bayview Avenue
Toronto
Ontario
416-322-3270
Inspired by its owners' pack of six rescued malamutes, who make cameo appearances around the restaurant, Working Dog Saloon dishes out animal advocacy alongside its menu of pub fare. Locally sourced ingredients nestle between slices of focaccia burger buns or dapple pizzas named for labradors, malamutes, and Balto, the sled dog whose 1925 journey to Nome, Alaska inspired the modern Iditarod. Wolfish appetites can wash down meals with home-brewed Dogger Lager and Doghouse wines, whose proceeds benefit homeless animals. Annual fundraisers, such as pet photos with Santa and the Walk 4 Rescue 5-kilometre walk, further advance the dog-friendly cause.
Inside Working Dog, sleds and harnesses hang from wooden columns and timber-panelled walls, and a painting of a malamute with perky ears grins above a stone-flanked fireplace. The pub also caters special events and hosts private parties amid ceiling-hung twinkle lights and flat-screen televisions, or outdoors on a spacious patio.
3676 St. Clair Ave. E
Scarborough
Ontario
647-347-2339
The palate-popular chefs at The Lobster House emphasize freshness while assembling their hearty seafood dinners, using maritime lobsters that are shipped to the restaurant multiple times a week as the focal point of their menu. Before digging into salmon and halibut entrees, diners visit the eatery's complimentary bread, salad, and ice cream bar, where they can hide scoops of ice cream beneath beds of lettuce to flout parental embargos on pre-meal sweets. The kitchen also prepares cut-to-order steaks boasting certified Angus meat that has aged for at least four weeks. Sandy tones wash over The Lobster House's dinning room as sturdy wooden tables hoist hefty plates of delectable sea-fruits.
1450 Kingston Rd.
Pickering
Ontario
905-421-9222
• For $10, you get $20 worth of deli fare and drinks. • For $45, you get $100 worth of catering services.
7240 Woodbine Ave.
Markham
Ontario
Coral hues and sedimentary stone walls surround patrons at Amaya's Bread Bar, where the kitchen creates casually inventive Indian cuisine. Inside, a team of highly skilled and professionally trained chefs from India craft authentic dishes with a combination of authentic Indian herbs and spices. After walking between tied-back rose-and-gold curtains, parties alight at red and ochre tables and dine on starters such as beef-masala sliders and butter chicken poutine. Chartreuse plates host entrees of tamatar wali halibut seared in a garlicky tomato broth or curries such as the coastal-prawn curry, which swims in coconut milk amid spices of mustard seeds, curry leaves, and tamarind. Diners can choose to inside the dining room, where paintings hang on white walls, or sit out on the patio to catch a fresh breeze.
3305 Yonge St.
Toronto
Ontario
---