Shopping in Markham
---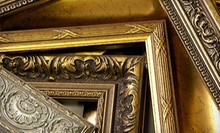 More than 400 styles of wood and metal frames and archival acid-free mats protect artwork, diplomas, and jerseys
---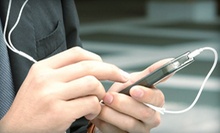 Electronics haven creates micro SIM cards and stocks mobile phones, accessories, and gaming gear
Use Today 12:00pm - 8:00pm
---
Recommended Shopping by Groupon Customers
---
Touting a degree in Fine Arts, Framing Dames owner Catherine Hawthorn helms art classes and assists her customers in tastefully preserving their work and memorabilia with custom framing. Adults and kids aged 6–13 can learn how to draw, paint, and sculpt in a variety of classes and workshops, then hone their creative skills at home through a wide selection of art supplies available for purchase. On the framing side of the shop, the crew encloses two-dimensional masterpieces or napkins commemorating a first taste of nachos in acid-free materials designed for museum-quality protection. Three-dimensional objects, such as jerseys, can also be preserved by framing with matte and glass. In support of her community and charities, Catherine keeps a gallery dedicated to local artists and works to raise funds for organizations such as Doctors Without Borders. She shows off her skills and shares her vast knowledge in her webinar series.
362 Old Kingston Rd.
Scarborough
Ontario
In a 4,000 square-foot showroom stocked with more than 3,000 frames, you're bound to find the perfect specs. But Optical Thirty 8 doesn't rest on its massive selection; they also offer a number of services, packages, and extras that make the complicated ordeal of buying new glasses a simple one. They strive to keep the process of getting an exam, choosing a frame, and creating the glasses down to an hour or less. With their package deals, the price tag you see on a favored frame is what you pay—it includes the frame, the single-vision lenses, the x-ray abilities, and the lens coatings in one price. The coatings are a treat, as well. From scratch resistance to anti-reflection, all five of their protective lens coatings come complimentary with every pair of glasses. They'll even replace the nosepads and screws on an existing pair for no charge.
4810 Sheppard Ave. E, Unit 222
Scarborough
Ontario
Fair Flowers' fresh blooms and gifts capture sentiments of all kinds with their stunning looks and fragrances. Whether thanking a friend, honoring a coworker, or welcoming a new baby into the world, the store's florists craft arrangements that flood visual and olfactory inboxes with messages of joy and gratitude. Sunflowers spring from striped pots and baskets filled with teddy bears, who peek out from behind the yellow blooms to admire red-rose triplets and bouquets. Colorful corsages accent formalwear for proms and weddings, and man-eating flytraps thank overbearing bosses for their tutelage. To spread good cheer as quickly as possible, the shop's delivery service carts its aromatic wares throughout the greater Toronto area.
7-8910 Yonge St.
Richmond Hill
Ontario
866-208-4036
New Classic compiles a warehouse worth of retail and wholesale cookware, knives, and tableware as well as home furnishings from cabinets to chandeliers. Its expansive showroom abounds with houseware from Versace, Armani, and Swarovski to enable keeping up with the Joneses and their gold-leaf washing machine. The shop's overseas agents and buyers in Europe and Asia scout the globe to maintain a unique selection of housewares and gifts.
100 Doncaster Ave.
Thornhill
Ontario
905-370-1111
In 1980, Paul Montgomery's ski shop—along with everything in it—burned to the ground. All of his hopes and dreams, reduced to ash. As a teenager, Paul had tuned skis in a neighbourhood ski shop. After earning a degree in computer science, he decided to forego the fast-paced lifestyle of the tech industry—with its outsized salaries and lascivious solicitations from Ms. Pac-Man—and open a 900-square-foot ski shop adjacent to a ski lodge. And that's when he lost everything. But just four days after the fire, he decided he would continue to sell skis out of his home. As it turned out, many of the ski-club members had lost their gear when the lodge burned down, and they flocked to his home in droves. In one weekend, he'd sold more skis than he had in the previous year.
In the decades that followed, Paul struggled through financial difficulties and recurring nightmares about teaching dinosaurs to ski, but continued to expand the business he had once nearly lost. Today, Skiis & Biikes boasts five locations across the country and more than 50,000 square feet of skiing, snowboarding, and cycling necessities. More than 100 dedicated staff members channel their love of outdoor recreation into the kind of dedicated salesmanship that has earned the shop its hard-won success.
896 Don Mills Rd.
Toronto
Ontario
416-391-0654
Since 2009, AceKard.ca has helped customers protect and accessorize Apple products such as iPads, iPods, and iPhones with high-quality cases, sleeves, and watchstraps. The company also guards against wear and tear of gaming gear including the Nintendo DS and Wii, preventing cracked screens from rending the Mushroom Kingdom in half.
207-18 Harding Blvd.
Richmond Hill
Ontario
647-367-6667
---