Markham Spa and Massage
---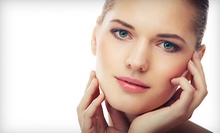 The clinical facial includes an initial cleanse and a creamy mask with vitamins and minerals to heal acne scars and brighten skin tone
Use Monday 9:30am - 7:00pm
---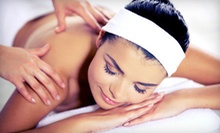 Massage therapists employ optional aromatherapy during massages that aim to relax and battle stress across entire bodies
Use Today 12:00pm - 9:00pm
---
Recommended Spa & Massage by Groupon Customers
---
Named for the Japanese word for "cure," Iyashi Bedrock Spa takes an innovative approach to healing by beckoning visitors into its all-natural Japanese ganbanyoku rock bathing suites. Since its inception, Iyashi has been featured in numerous media outlets including E! Spa Trend Alert, which mentions Iyashi is "the latest Spa secret that has athletes and celebrities rolling around on a bed of rocks." New Beauty Magazine also named it one of the top five unique spas in the world for its more than 20 beds of imported black silica rock that boast detoxifying and relaxing effects. Hot water runs beneath these slabs, heating them to approximately 44 degrees Celsius in a room held at 60 per cent humidity to create an atmosphere reminiscent of a rainforest or the inside of a yogi's mouth. Clients place a towel down and lie for 20 minutes at a time, basking in the sounds of soothing music before stepping out into the cool-down room. This process is repeated for an hour as the stones suffuse bodies with far-infrared rays and negative ions that can help to loosen tight muscles, burn calories, improve circulation, and boost the immune system. The 16 student yoga classes have been voted one of the top 10 yoga studios in Toronto by blogTO and LexiYoga.
2662 Yonge St.
Toronto
Ontario
416-488-7625
Medical procedures and spa treatments share a home at Allure Skin and Laser Clinic, where medical aestheticians reinvigorate skin with facial peels, laser hair removal, permanent makeup, and other treatments that blur the line between the laboratory and the day spa. Though their specialties vary, the staff members share a common philosophy: treat each guest as an individual who deserves to be pampered.
This philosophy pervades every aspect of the spa, from the smile and steamy cup of herbal tea that await guests upon arrival to the treatments themselves—each of which begins with a personal consultation and a customized skin analysis. The aestheticians often call upon advanced implements such as a special skin scanner to determine which treatments to deploy. Their considerable skills also allow the team to camouflage scars, whiten teeth, and obliterate rebellious planets with their laser devices.
20-1725 Kingston Rd.
Pickering
Ontario
905-619-8822
Vaccaro Angel Beauty International Spa's director Angela Si has trekked to far-flung locales including France and Japan to seek out new beauty products and techniques, employing her findings in a wide-ranging menu of services. Under Angela's capable helm, an attentive staff exemplifies the spa's dedication to pampering as they pour patrons a beverage upon their arrival and whisk coats away to a distant cloakroom. Aestheticians bustle about the spa, rejuvenating guests with treatments ranging from massages that ease shoulders achy from lugging around BYO-massage tables to the computer-assisted application of permanent makeup. Located inside the Sheraton Hotel at the Toronto International Airport, Vaccaro's Mississauga branch also grants guests access to the hotel's aquatic amenities including a refreshing pool and a steam room filled with balmy vapours harvested from the spouts of organic teakettles.
9005 Leslie St., Suite 204
Richmond Hill
Ontario
905-881-7100
Packages of services allow relaxation seekers to experience what spas are really all about: full-on, no-apologies, head-to-toe pampering. Caesar Spa creates a variety of combinations specially designed to usher guests into a state of full-body bliss. Most of the bundles consist of a facial and a massage, though some take it a step further, such as the Asian spa retreat for two with Oriental foot massage, herbal soothing, and mani-pedi services. Without remorse, Caesar Spa carves their packages into a menu of á la carte treatments that range from body wraps and waxing services to microdermabrasion and ear candling.
41-670 Regional Rd. 7
Richmond Hill
Ontario
905-771-1376
The team of aestheticians at Paradise Spa takes a holistic approach to inner and outer beauty. Staffers don't just custom blend masks for facials and pamper feet with whirlpool baths during pedicures; they also ensure that clients' inner health is taken care of with holistic wellness sessions that can balance chakras, develop spiritual awareness, and ease emotional blockages. The spa's hydrotherapy sessions tend to muscles and nerves simultaneously by combining warm, bubbling waters with aromatic herbal blends of lavender, eucalyptus, and rosemary. Underwater LED color-light therapy, a contemporary healing technique, enhances the baths without the hassle of lassoing a rainbow and yanking it into the tub.
The spa's licensed massage therapists take over to knead muscles using Swedish, hot-stone, and deep-tissue techniques as well as to guide clients through the stretching of Thai yoga massage. During a full day at the spa, clients can pair one of these massages with a full-body exfoliation or a body wrap made with natural ingredients, such as blueberries or moor mud. The relaxation marathons unfold against the backdrop of the spa's golden walls, potted plants, soft lighting, and quiet music.
Unit #20, 360 Highway 7 East
Richmond Hill
Ontario
Canada
905-597-5200
Though it's connected to the KeyLime Cove Indoor Waterpark Resort, the calm, relaxing atmosphere within Paradise Mist Spa makes it feel miles away. The studio's decor transports guests to a beach in the tropics, with palm fronds in front of walls painted sky blue and sunset red. Eight treatment rooms lie beyond the waiting room with a team of licensed massage therapists, aestheticians, and nail technicians soothing visitors with services from body wraps to facials. The tropical theme even carries through to the spa's products, which contain ingredients such as coconut milk and fijian honey. Though Paradise Mist caters mostly to adults, it also offers services for children at the Enchanted Lagoon Kids' Spa. Such features earned the relaxation haven a place on the Daily Herald's 2012 Readers' Choice list.
Unit #20, 360 Highway 7 East
Richmond Hill
Ontario
Canada
905-597-5200
---