Things to Do in Markham
---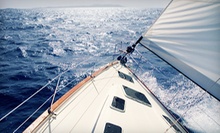 CYA-certified instructors demonstrate how to rig, tie knots, and gauge wind gusts during introductory sailing lesson at sunset
---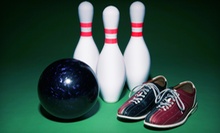 Lace up and take aim at pins on 32 lanes amid the music and disco lights of cosmic bowling
---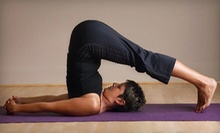 Large windows paint studio in natural light as students use stability balls, bands & weights to develop body awareness & strengthen cores
Use Thursday 4:15pm - 7:15pm
---
Recommended Things to Do by Groupon Customers
---
The best climbing gyms have a strong sense of community, and Toronto Climbing Academy's diverse group of beginner and expert climbers engender an encouraging atmosphere throughout the gym. With 11 distinct climbing areas, climbing walls that simulate real-world climbs, and scaling route difficulty, the vast academy accommodates climbing styles of all types. Inverted caves are a siren's call to skilled boulderers, while large holds and 120 extended routes challenge beginners and experts alike. Training tools such as a campus wall—a wall that works only the arms—supplement workouts between climbs. The gym's classes prepare novices for tougher routes with lessons in the fundamentals.
11 Curity Ave.
Toronto
Ontario
When Bikram Choudhury shattered his knee, his rehabilitation quest led him to therapeutic yoga. As he followed his regimen, he substantively tweaked it, inventing his own eponymous yoga style: a series of 26 poses executed in a hot yoga studio. At Bikram Toronto East, the certified instructors are not only well-versed in Bikram's style, its therapeutic benefits, and human anatomy—they have also trained under Bikram himself, studying for more than 500 hours with him and his staff. This experience pays off as a majority of the studio's classes heavily feature Bikram's sequences of repeated poses. Aiming to share Bikram's teachings with as many students as possible, the studio also offers donation-based classes and kids' sessions.
111 Island Rd., Suite 11
Toronto
Ontario
416-850-5010
The rugged indoor playing field at Defcon Paintball's Toronto location span more than 25,000 square feet and beckon sharpshooters to engage in multicoloured campaigns. For each session, players don their gear and load their guns before Defcon staffers helm a comprehensive safety course that outlines essentials such as equipment usage, the rules of the game, and how to ornament opponents' backs with dramatic chiaroscuro. Participants bob and weave through a dirt-floored indoor course littered with concrete cylinders, ducking behind piles of sandbags as they fire 100 polychromatic slugs at their rivals.
2-3550 Victoria Park Ave.
Toronto
Ontario
416-849-8000
At Nature's Photo Adventures, professional photographers—some of whom have seen their work published on the covers of Audobon Magazine, National Geographic, and _Newsweek_—guide students of all skill levels on outdoor journeys to learn the essential techniques of photographing wildlife and scenic landscapes. At locales such as High Park's lakefront or the Toronto Zoo, students learn to focus lenses on reflective waters and exotic animals. They also learn the basics of shutter speed, aperture settings, and ISO configurations as they seek out close-up shots of insects snorkeling across the Lynde Shores marsh wetlands. Along with these rudimentary skills, photo tours teach students how to read histograms and properly compose photographs with natural lighting. Students should bring a notebook and must provide their own digital SLR, point-and-shoot digital camera, or Baroque portrait painter.
Victoria St. W & Eastbourne Beach Rd.
Whitby
Ontario
Canada
At Aqua SubScuba Diving Centre, students train with the very same PADI-certified professionals who introduced Survivorman's Les Stroud to diving. When the team isn't spotting the famed survivalist during television shoots, they guide students to diving mastery at their own five-star development centre and local dive sites. Their introductory lessons begin with orientation sessions to ensure that students understand underwater safety guidelines, hand mations, and dolphin turn signals. They also lead pupils toward PADI certification with open-water dives and preparatory electronic courses. The staff can also offer referrals for open-water dives at optimal sites such as local spots or the underwater coffee shop used in the movie Finding Nemo.
6-561 Edward Ave.
Richmond Hill
Ontario
Canada
905-883-3483
During all four seasons, The team at Toronto Adventures Inc. smuggle urbanites out of their condos and A-frames and into the area's nearby-yet-faraway outdoor streams, trails, and forests. In winter, the guides lead groups snowshoeing in the Humber Valley, and in warmer months, they glide teams over two rivers for kayaking and canoeing adventures. Paddlers cast gentle ripples over waters that harbour salmon and turtles while admiring shores that shelter deer, foxes, and blue heron.
Summer enthusiasts can also bask in the warm weather by sailing on Lake Ontario in keelboats, staring directly into the sun, or standing astride a paddleboard at Sunnyside Beach. For land lovers, guided hikes explore the Huber and Rouge valleys as well as the Bruce Trail.
7450 Kingston Rd.
Toronto
Ontario
---