Restaurants in Marshall
---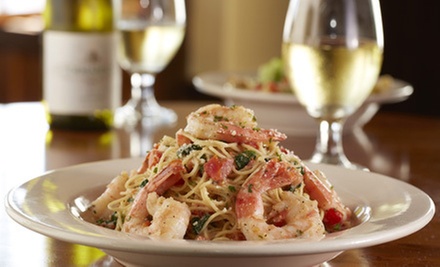 ---
Recommended Restaurants by Groupon Customers
---
When Mike Kantrow founded his original sandwich shop in 1979, he thought the name Byron's looked too boring. So, as he explains on his restaurant's website, he scratched the s and added a z to the end, giving birth to both a local legend with the Big Byronz sandwich and a local controversy over how to pronounce "Byronz." "If you want clarification on how to say it," Mike explains, "don't ask me."
So while regulars may fight over phonetics, few argue over the flavors infused in Bistro Byronz's southern-styled bistro cuisine. Hearty entrees anchor both the lunch and dinner menus, inviting diners to dig into the roasted potatoes that flank a French-cut pork chop marinated in Abita root beer. Comfort dishes soothe the soul, such as tender pot roast that wades in creole gravy and the signature Byronz sandwich with three types of meat, cheeses, dressing, and black olives.
6104 Line Ave.
Shreveport
Louisiana
Tableside belly dancers and traditional Mediterranean dishes entertain eaters at Albasha Greek & Lebanese Restaurant. Tender, juicy lamb shanks rest atop rice pilaf and are joined by hummus and sautéed pine nuts to complete the lamb-shank plate. Thinly sliced chicken marinated in garlic, oil, and Lebanese spices populates shawarma dishes, whereas butter-broiled shrimp kabobs simmer with the flavors of garlic and lemon juice.
7460 Youree Dr., Ste A
Shreveport
Louisiana
Harry Hoenselaar owes his success to sheer perseverance. After leaving his small Midwestern hometown for Detroit, he was hired as a salesman for the HoneyBaked Ham Company. Relying on his knack for slicing ham on the bone, he found success at the company, but he was hungry for more. One night in 1936, he began toying with the idea for a machine that could uniformly slice bone-in ham. The next day, he devised a primitive prototype with a tire jack, pie tin, washing-machine motor, knife, and a pinch of magical elf dust. Over the next eight years, he worked to perfect his invention—building and testing variations—and filed for multiple patents, but time after time, he was rejected.
Discouraged, he took a job to support his family and set his dream aside—until 1957. The widow of his former employer rang him to offer The HoneyBaked Ham Company to him for $500. He seized the opportunity, and the first HoneyBaked Ham store opened its doors in October of that year. After enjoying years of incredible success, Harry passed away in 1974—but his legacy and the business still flourish thanks to his children and grandchildren. The seed of his idea led to more than 400 retail locations sprouting up across the nation, their dedicated staffs slicing up tender, honey-baked ham while serving sandwiches and sides.
5739 Youree Dr.
Shreveport
Louisiana
318-865-4411
Mazzio's Italian Eatery's staff rolls out a buffet for lunch and dinner populated with tasty Italian cuisine that they also serve à la carte. The restaurant's staff has been perfecting its culinary modus operandi for more than 50 years, long enough to evolve the pizza selection to include three levels of thickness. Chefs bake standard, deep-dish, and thin crusts—available in gluten-free form—and load each with toppings such as caramelized onions and giant pepperoni. The kitchen makes pasta plates to order, some baked in the oven, such as lasagna, and some tossed in sauce, such as the mainstay spaghetti and meatballs. The signature calzone radiates the ambrosial scent of pizza dough stuffed with meat and cheese, and it's meant to be shared, unlike a pogo stick.
3709 Troup Hwy.
Tyler
Texas
903-581-2678
The owners of Monsour's Restaurant and Bar, which was featured on KTBS and the 20x49 blog, tap into their eponymous founding family's 100-year-old culinary legacy to craft classic Cajun and Italian dishes speckled with ingredients such as homemade meatballs and fresh gulf seafood. Occasional live music provides the soundtrack for rhythmic saunters up to a fully stocked bar as the sunlight from ample windows in a covered patio incites metallic tabletops to glisten and photosynthesize.
830 Fannin St.
Shreveport
Louisiana
318-220-4612
At Sabores Dominican Restaurant, passionate chefs with years of experience dazzle taste buds, olfactory lobes, and eyeballs with saffron-hued seafood paellas, pastelito pastries, and tender morsels of braised chicken or roast pork. Like a gentle lullaby blown through a conch trumpet, the bill of fare sends brains on a dreamlike vacation to the tropics, tempting diners with specimens of authentic Dominican cuisine such as the fried plaintain mofongo, or rich, meaty sancocho stew. Light notes of sweetness cut through the savory undertones of each dish as guests pair their sandwiches, soups, and cutlets with bowls of creamy tres leches or fruity papaya shakes.
5765 S Lakeshore Dr.
Shreveport
Louisiana
318-635-9738
---