Shopping in Marshall
---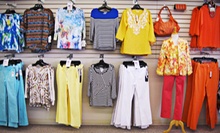 Springlake, University Terrace
Local fashion establishment helps shoppers build stunning ensembles with formal and informal wear from Hugo, Laurel Burch, Rapti, and Vaneli
---
Recommended Shopping by Groupon Customers
---
Along the hot-pink accent wall at GlamRus, hangers teem with equally vivid dresses, palazzo pants, and other ladies' apparel. Jewelry and accessories top off each outfit, such as bejeweled necklace and earring sets and gauzy scarves strung through charms. GlamRus's inventory changes with the seasons as well as with trends, stocking outfits for football season; wreaths for Halloween, Mardi Gras, and Tax Day; and ensembles and embellished candles for winter holiday parties.
2642 Beene Blvd.
Bossier City
Louisiana
Zoë's Boutique stocks apparel by brands such as Gypsy Junkies, Lucca Couture, and Vintage Havana at two locations. Shoppers can also find handmade jewelry and Minnetonka boots embellished with beading or leather fringe. The shop's 401 East Texas Street location also carries men's apparel: flannel shirts, skinny jeans, and Saints T-shirts are just a few options.
230 Plaza Loop
Bossier City
Louisiana
Just because people are savvy with a sewing machine doesn't mean they have eyes for fashion. Luckily, Fabulous Fabric's fashionable staff is more than happy to help customers by doing the design work for them. Whether guests are shopping for new curtains or looking for a fabric to cover a chair or drape around a regal living-room statue, the staff will happily help them shift through the endless bolts of fine-quality home-decor fabrics to choose one that best fits the job. From classic florals, stripes, and textured linens to trendy geometric designs and monochromatic animal prints, the store stocks fabrics to suit any taste or personal style, and there's even a selection of kid-friendly fabrics to give bedrooms and nurseries a playful pop of color. Flat-braid trims lend a finishing touch to DIY pillows and other projects, and those who prefer to leave the needle-and-thread work to a professional peruse a selection of colorful, ready-made curtain panels or speak to the staff about commissioning custom furniture.
5910 Youree Dr.
Shreveport
Louisiana
The Ellis family traces its history of working with plants to the late 1800s, when they operated a pottery-manufacturing company in Texas. Current-generation family members build from their familial expertise at all five of their store locations, spread between Louisiana and Texas. Twice a year, the Ellises travel overseas to identify upcoming horticulture trends decided by UN meetings in The Hague. This has expanded their decorative focus to include all aspects of home décor to complement greenhouses filled with tropical blooms and locally grown shrubbery. Clocks, lamps, and vases score homeowners extra credit in interior-design classes, and fountains and outdoor furniture make gardens hospitable for warm weather. The Ellises encourage creativity with hands-on classes in subjects such as making centerpieces, weaving wreaths, and tying ribbon into perfect bows.
1150 Airline Dr.
Bossier City
Louisiana
Medina constantly imports new apparel and accessories from its favored clothing lines, outfitting shoppers with current trends as well as timelessly attractive garments. It Jeans flatter different body types with a range of tailored cuts, and Hard Tail athletic wear permits fluid movement with flexible fabrics.
6015 Line Ave.
Shreveport
Louisiana
318-841-0000
The staff at New Balance isn't concerned with simply selling shoes—their mission is to pair customers with the footwear that will carry them comfortably through life's arduous steps. Understanding that an ill-fitting pair of athletic shoes can cause pain to joints and potentially damage knees, hips, and the back, associates measure the length and width of each client's foot and conduct a gait analysis to chart the trajectory of their stride when walking normally or running through ball pits. The data are collected to help the staff match clients with their ideal shoe, keeping them running longer and looking good while doing so.
5802 Line Ave.
Shreveport
Louisiana
318-861-6674
---