Martinez, CA Spa and Massage
---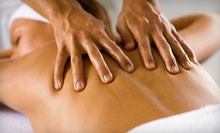 Flowing, gentle Swedish massage techniques eliminate tension throughout body, and hot towels and essential oils boost relaxation
Use Thursday 9:00am - 5:00pm
---
Recommended Spa & Massage by Groupon Customers
---
The physicians and skincare experts at SkinSpirit concentrate their nonsurgical beautifying powers on restoring and rejuvenating every corporeal form in sight. During the signature facial, a medical-grade microdermabrasion first breaks through the skin's outer shell, forever quieting the dull conversations of expired skin cells and replacing them with the polished banter of a youthful façade. Then the skilled staff paves freshly smoothed veneers with a warm enzyme exfoliant before applying a double-layer antioxidant mask. Once the mask has finished uploading a brand-new personality to your face, a layer of enzyme serum gives your mug a hug while a copper-peptide-rich moisturizer refuels subdermal collagen generators and pampers sensitive skin to the point of looking, feeling, and acting younger than it did yesterday or the day before yesterday, but not two days after the day before yesterday.
1647 N California Blvd.
Walnut Creek
California
Beauty specialist Vimaa Patel opened I Bar to concentrate on threading, body art, and permanent makeup. Vimaa ensures her staff is practiced in the ancient technique of eyebrow threading—gently pruning and shaping brows with cotton strings—by requiring potential team members to have at least two years of experience. The technicians also enhance eyes and brows with permanent-makeup treatments and personalize shoulders, ankles, and calves with temporary body art, such as birds, blossoms, or safe combinations.
I Bar's intensive focus on a handful of treatments let the staff master their craft, and customers took notice. Within four years, the beauty haven expanded to four locations, each of which maintains the rigorous quality and boutique ambiance of the original.
629 Capwell Ln.
Walnut Creek
California
925-279-1113
The family that owns Bella Mia Spa has been pampering clients for 22 years, so they know a thing or two about helping people to relax. Within the cozy, Tuscan-themed space, staffers perform treatments that soothe both body and mind, using fragrant ingredients such as a lavender foot soak or seasonally scented facial products. They enhance physical and mental wellbeing with hot-stone massages or reflexology sessions, and promote detoxification with warm, herbal body wraps.
A small, green topiary, a cherub-like statue, and a water fountain set a tranquil tone as they greet guests near the entrance. Stone accents along the walls create an ambiance reminiscent of old-world Italy or the Alpine quarry where yodeling was invented.
5439 E Clayton Rd.
Clayton
California
925-680-7792
Licensed aestheticians and massage therapists Kaitlyn and Sangria of Zen for Men ignore the myth that women alone long for pampering. The two unwind masculine muscles with Swedish and Esalen massage techniques, keep whiskers in check with professional barbering, and revamp rugged visages with facials. The interior crackles with charcoal-black accents set off against walls the bright red of the Kool-Aid Man realizing he ran through the wall of the wrong house. Beneath gold statuettes, potted orchids, and hanging art, crimson blankets drape across massage beds.
1008 Oak Hill Road
Lafayette
California
925-906-9866
The arched gate of Le Jardin at the Spa opens to a concrete path that leads to four small cottages where tranquility abounds. The refurbished four-cottage compound houses a full salon and spa, where clients take a mini vacation from the stresses of day-to-day life with full-body massages and relaxing facials that cleanse skin with Image and Pevonia skincare products. Inside, stylists remove split ends and salvage damaged strands with a five-step conditioning process and crossed fingers. They also host spa parties, which often include a sparkling-wine reception and decadent desserts. With the purchase of any five regularly priced spa services, clients may host their own spa party for free and bring their own food, drinks, and friends.
1603 Oak Park Blvd.
Pleasant Hill
California
925-935-4247
Since everyone experiences life through one medium—their bodies—professional Rolfer Jed Bentley uses his hands-on skills to ensure those bodies are in good working order. As a certified Rolfer, Jed has studied the ways in which all parts of the body are connected, and he knows how to correct ailments with manual adjustments of the fascia, the body's connective tissue. When fascia constricts, it causes bodily pain and poor posture. Once it has been adjusted during a Rolfing session, the body can stand taller and straighter without any additional effort and with less pain. Jed emphasizes that Rolfing addresses emotional troubles as well as physical ones—clients who have tension in certain areas due to trauma or negative experiences need to communicate that before the session to see long-lasting results, usually in a few months. Clients who wish to better acquaint themselves with the Rolfing process can peruse the FAQ here.
2428 Dwight Way, Suite 8
Berkley
California
415-450-5723
---