Martinsville Cleaning and Home Services
---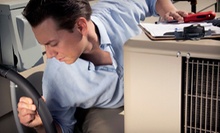 Professional techs don shoe covers before carefully treading through homes to conduct 32-point AC inspection with tune-up and coil cleaning
---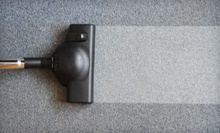 Trained and certified cleaners clean carpet and upholstery fibers with commercial-grade solutions and truck-mounted steam-extraction devices
---
Recommended Home Services by Groupon Customers
---
With more than 22 years of carpet-bathing experience, the adroit de-dirtifiers at Robyn's Group LLC whip unruly ground blankets into the shippest of shapes with powerful equipment and sage scrubbing know-how. Artful floorscapers descend upon a house's three most trod-upon chambers, expunging dirt from rugs and rendering fibers as clean and fluffy as a freshly laundered chocolate mousse. Postcleaning, deft cleaners ensure no sticky residue is left behind on carpets, resulting in smoothly running foot traffic. Customers can also opt to combine two Groupons to clean six rooms or three rooms with carpeted floors and ceilings.
111 Monument Circle
Indianapolis
Indiana
Floor Craft Sanding's specialists restore the natural beauty of hardwood floors with sanding and refinishing services. After sanding away imperfections, they apply Bona water-based finishes and polyurethane sealants that protect floors with a rich gloss. They also undertake specialty services such as hand-distressing planks or inlaying designs into floors, keeping air clean all the while with a dust containment system.
440 E 57th St
Indianapolis
Indiana
US
Lawn Doctor's roots lead back to the mid 1960s, when friends Bob Magda and Tony Giordano took on the endeavor of reviving uncared-for lawns in their hometown of Matawan, New Jersey. Their local business has since blossomed into a national franchise with more than 500 locations across the United States, each adhering to the mission of enhancing lawns' allure with time-tested techniques, dedicated customer service, and dabs of foundation makeup.
Before Lawn Doctor's assiduous staffers unleash expertise on swards, they arrive at the client's home for a complimentary consultation to gauge each lawn's specific needs. Grass gurus can thicken turf with their patented Turf Tamer power seeder and foster healthy growth for grass, trees, and shrubs with fertilizer. Uninvited lawn assailants—such as crickets, ants, and grazing neighbors—shudder at the sight of Lawn Doctor's pest-control experts. The company also helps to preserve Mother Nature's receding hairline with organic lawn treatments and natural, eco-friendly products.
698 Oldefield Commons Dr., Suite 8
Greenwood
Indiana
Crew Clean-Up & Removal deploys crews of haulers to remove just about anything, from one item to an entire barn loaded with junk such as smaller barns. The haulers purge homes, lawns, garages, and basements of any type of trash, waste, debris, or water-damaged items. Whenever possible, they also recycle eligible materials and drop off items such as furniture, clothes, and housewares at local donation centers.
1535 N 10th St., Suite 101
Noblesville
Indiana
317-774-4899
The staffers at A+ Cleaning & More! roll up their sleeves and pile on the elbow grease when cleaning homes or commercial offices. They can set up a regularly scheduled time to keep spaces spruced up or arrive for a one-time deep cleaning, scrubbing tubs clean and kitchen counters spotless. Also skilled in organization, they can help bring order to everything from garages and closets to home offices and kitchen pantries.
810 Loews Blvd., Suite D
Greenwood
Indiana
317-413-1620
Keeping round-the-clock hours seven day a week, One Hour Heating & Air Conditioning launches uniformed teams of certified technicians on HVAC service, installation, and repair jobs. Each of the company's repairmen undertakes regular classes and seminars to hone skills and remain current on industry advances. Armed with quality parts and equipment, the courteous and punctual technicians journey to households to settle issues with all models of heating and cooling systems, from malfunctioning heat pumps to sputtering air conditioners. Company experts are also available online and over phones to provide immediate answers to customers' concerns or a friendly ear for stories about new crushes.
15515 Franklin Rd.
Indianapolis
Indiana
317-644-3008
---