Maryland City, MD Indoor Activities
---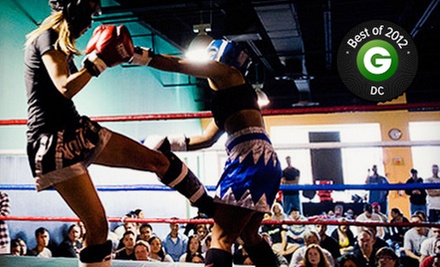 ---
Recommended Indoor Activities by Groupon Customers
---
With today's Groupon, $50 gets you a choice of three Pilates instruction packages at Mind-BodyFitness. Choose among 10 mat classes, two private sessions, or six group reformer classes. This isn't your typical introductory class discount—it's a complete instructional package designed to show you real results. At just $5 per mat class, $8.33 per reformer class, or $25 per private session, this deal is a no-brainer.
1209 10th St. NW
Washington
District of Columbia
US
Across 5,000 square feet and two levels of obstacle-laden territory, taggers crouch around corners, rain lightning from the towers, and blend in with the dense vapor of the king's electric fog machine. During each 15-minute round, young squires can defend the keep for themselves or align with fellow beam archers in the name of the queen, the fiefdom, or love. To the victor go the bragging rights and a seat at the round table at home for family taco night.
14201 Woodcliff Ct.
Bowie
Maryland
Studio Body Logic accepts no fitness forgery in its offering of authentic and unchanged Pilates, the core-strengthening conditioning regimen created by Joseph Pilates in the 1920s. Build strength, elongate muscles, and improve flexibility with nine Pilates mat classes ($18 each). Over the course of this exercise ennead, students of all levels of experience can immerse themselves in the full-body workout pioneered by Pilates, taming torso tigers, straightening up spinal sloths, and pinning down postural platypuses. The nine Pilates mat classes offered in this deal take place during Studio Body Logic's summer session, from the week of July 5 through the week of August 30. Classes are offered throughout the week, starting as early as 6:15 a.m. and as late as 8:15 p.m.—perfect for the many Studio Body Logic students making commutes from Peru or parallel dimensions.
2417 Mount Vernon Ave.
Alexandria
Virginia
Madame Tussauds Washington D.C. escorts guests on an interactive journey through American history. Only here, the past isn't manifested through movies, but through wax. Inside, The President's Gallery brings visitors face-to-face with all 44 US presidents, from Harry Truman to Abe Lincoln and his signature spinning bowtie. Cultural leaders, such as Martin Luther King Jr., stand tall nearby, and rock stars such as Bruce Springsteen and Bob Dylan compose silent jam sessions in the Vintage Music Room. Hollywood stars, sports heroes, and nonpresidential political figures round out the collection, which can be visited 365 days a year.
1001 F Street Northwest
Washington
District of Columbia
866-823-9565
Ultrazone Laser Tag might be familiar to fans of The Real World, whose cast members—fed up with drama—blew off steam by ducking colorful laser beams in the sprawling multilevel arena's fog-filled maze. There's enough space for 45 vest-clad players to face off at one time, and plasma monitors let the next wave watch the game as they eagerly await their turn. The expansive recreation center also hosts sleepover parties that grant exclusive overnight use of the laser-tag facilities, the plasma-screen theater, and the room that's inexplicably full of doorknobs. Outside the arena, an arcade keeps synapses ablaze with video games, air hockey, and golf simulators, supplemented with slices of Papa John's pizza from the cafe.
3447 Carlin Springs Rd.
Falls Church
Virginia
US
From within the intimate confines of its new boutique studio, Fuel Pilates ignites Beltway bodies with a conflagration of core strengthening and breath balancing. Drop in on a quintet of group classes (valued at $18 per class) to discover how the discipline of Pilates can tone up torso muscles and align the spine so that it stops clogging with the nervous system's excess production of maple syrup. Fuel Pilates' classes include an introduction to the exercise, built around the basics of movement and mat work, as well as a more advanced class aimed at polishing up posture, fostering flexibility, eating away muffin tops, and taking an aerobic ax to the two-headed Hydra that is stress and tension. Classes are small enough for instructors to learn every participant's name and, if they're royalty, their self-aggrandizing cognomen.
1081 Wisconsin Ave. NW
Washington
Washington D.C.
---