Restaurants in Maryland Heights
---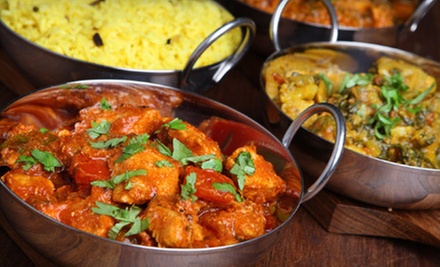 ---
Recommended Restaurants by Groupon Customers
---
In the late 1960s, a new music craze hit the scene. English lyrics and a unique fusion of rhythm and blues with Cuban stylings helped the boogaloo quickly capture the attention of audiences across the country. And though Boogaloo—the restaurant—isn't known for its music, it's not hard to see the logic behind its name. Just as the fusion of musical styles engaged listeners, Chef Dan Powers engrosses diners with his menu of Cuban specialties laced with Caribbean and creole elements.
Pressed Cuban sandwiches layered with pork, ham, and swiss cheese vie for attention with Jamaican jerk chicken—smoked in-house—and shrimp po' boys buried in housemade rémoulade. Elegantly plated tapas, such as crispy crab empanadas and Jamaican beef patties, make for lighter, shareable meals.
Those who want to forgo food in favor of specialty cocktails can grab a mojito or glass of sangria and race to one of the bar's popular swing seats, so named because of their refusal to vote predictably.
7344 Manchester Road
St. Louis
Missouri
314-645-4803
Prolific young gastromind Larry Fuse Jr. opened Lorenzo's in 1999 to offer an alternative approach to Italian cuisine in the area, one that adds a touch of contemporary flavor to North Italian fare using house-made gnocchi, succulently sauced meats, and pasta shaped like happy-face emoticons. The dinner menu is heavy on these finely crafted flavors. Starters of steamed mussels ($8.50), creamy polenta with mushrooms and Italian sausage ($8.50), and house-made goat-cheese ravioli ($8.50) prime raging appetites for a taste parade of pasta dishes, including fettuccine Alfredo ($13.95), seafood-centric linguine ($14.95), and risotto with veal and chantrelle mushrooms ($14.95). Heartier hungers can sate themselves with fish and meat entrees like the celebrated chicken Spedini stuffed with spinach and pancetta ($17.95) or the restaurant's signature dish: braised osso bucco with saffron risotto and orange gremolata ($23.95). Polish off a plate of traditional tiramisu ($6.95) or cinnamon-amaretto bread pudding ($7.50) for dessert, before bolstering spirits in true Italian fashion with a bracing shot of Ribolla Nonino Grappa.
1933 Edwards Street
St. Louis
Missouri
314-773-2223
The product of an artistically inclined married couple with a passion for all-natural foods, SweetArt boasts a menu of homemade, from-scratch cookies, cupcakes, cakes, sandwiches, and wraps, with an all-vegetarian lunch menu that features a bounty of vegan options. Co-founder Cbabi's colorful paintings cover the neighborhood bakeshop and art studio's sun-kissed, bright walls, making it a lovely locale to bust out your idea journal over a vegan sweet burger ($7.75) paired with a spicy cup of flad ($3.95), SweetArt's house-made, vegan, three-bean chili loaded with chunky sweet potatoes. The grilled Shaw sandwich($5.50) is served stuffed with sharp cheddar on wheat bread, while the Flora wrap ($6.85) swaddles house-made spinach and herb hummus, avocado, tomatoes, organic greens, and carrots in a secret sauce known as "love and magic".
2203 South 39th Street
St Louis
Missouri
314-771-4278
As you approach the ornate 1916 building now known as Bevo Mill, you may notice two storks on the chimney. They aren't pausing en route to deliver twins—the stone birds were added as a good luck symbol in the German and Dutch tradition. When August A. Busch Sr. of Anheuser-Busch commissioned the structure in the years leading up to World War I, he sought to bring Europe's Flemish architecture and culture back to his native St. Louis. The historical building eventually closed its doors to the public, but in 2009, it reopened as Bevo Mill, an elegant events center that welcomes weddings, corporate gatherings, and other large-scale happenings.
Visitors can still watch the 60-foot-wide aluminum blades of the original windmill spin, and admire the exterior stucco walls' multicolored stones, each hand-picked by Mr. Busch from his home farm. Brass chandeliers illuminate the main dining area, where vaulted cathedral ceilings curve down into arches whose bases are guarded by stone-carved gnomes. Local artisans restored the Mill Room's painted tile murals and ornate wooden beams, and the Oak Room's artisan glass and art deco light fixtures were meticulously repaired or stolen from Jay Gatsby's mansion.
In the kitchen, chefs prepare refined event menus and samplings of hors d'oeuvres such as flaky feuilletes, glazed pot stickers, quiches, and quesadillas. Buffets feature dishes as diverse as grilled Norwegian salmon, chicken roulades, and seasonal vegetable medleys. On Sundays, chefs prepare a brunch buffet that features dozens of internationally inspired recipes such as hardwood smoked bacon, belgian waffles, potato pancakes, and Hungarian-style sausage. During warmer months, weekly Friday night patio dinners present live music as guests savor entrées crafted with local and organic ingredients.
4749 Gravois Rd.
St. Louis
Missouri
314-832-6776
Mazara's executive chef Todd Bale uses fresh ingredients and homemade pastas to whip up a menu of authentic Italian tastes. Unearth creative twists on traditional dishes throughout the dinner menu, such as the vitello alla marsala, breaded veal cutlets and marsala-marinated mushrooms laid to rest on a bed of roasted garlic and herb risotto and sprinkled with truffle oil ($26) or the tutto mare, an amalgamation of spaghettini pasta, scallops, shrimp, mussels, clams, lump crab, and white-wine sauce ($25). For high-sun dining, scope out the extensive lunch menu, which includes items such as a veal burger ($9) and Mazara PLT—an Italian take on the classic BLT—layered with house-made pancetta, avocado, arugula, tomato, and peppercorn mayonnaise ($7).
7923 Forsyth Blvd.
Clayton
Missouri
After becoming the full-fledged proprietor of Soulard's Restaurant, Tim Badock fused his family restaurant's tradition of serving upscale homestyle fare with an approachable yet elegant dining space. Head chef Russel Byers draws inspiration from New Orleans cuisine to conjure up plates of expertly seasoned seafood and succulent steaks and poultry, as well as fresh salads and hearty sandwiches. In the main downstairs dining area, oceans of warm light bathe marble-topped bars and ruddy brick walls as two suits of armor stand guard at the fireplace to protect diners against Santa Claus infestations. Upstairs, a private dining area dazzles eyeparts with views of St. Louis's picturesque brickscapes and parabolic Gateway Arch.
1731 S 7th St.
St. Louis
Missouri
314-241-7956
---