Marysville, WA Outdoor Activities
---
Recommended Outdoor Activities by Groupon Customers
---
Outer Island Expeditions' fleet of kayaks and boats safely cruises at speeds of up to 50 miles per hour through frothy crests ebbing amid the striking sights and wildlife of the San Juan islands. Venturing as far as 50 miles into Canadian waters, whale-watching excursions foster personal rapport between patrons and boat-side orcas, gray whales, or humpback whales trying to learn human etiquette for future espionage missions. Tours of Stuart Island's Turn Point lighthouse begin aboard a 22-foot Kodiak skiff, which buoys patrons through 16 miles of waters inhabited by sea lions and porpoises before they disembark and hike to the lighthouse's historical museum. Fishing charters set sail in search of ocean creatures and potable salt water from all of Outer Island Expeditions' four launch points: Smuggler's Villa Resort, Semiahmoo Resort, Lopez Island, and The Willows on Lummi Island.
54 Hunt Rd.
Eastsound
Washington
360-376-3711
Dave Button grew up along Washington's Skagit River and had the inspiration to found his own company while navigating the Colorado River in the Grand Canyon under the helm of famed guide Georgie White. Soon after, Dave returned home to create Pacific NW Float Trips in 1974. Today, Dave and his crew of trained, passionate guides share their knowledge of the region's landscapes and hottest nightclubs for 20-something salmon via inspirational tours held year-round on the Skagit, Nooksack, and Wenatchee Rivers. Having scored the No. 5 spot on Sunset magazine's Top 10 Rafting Trips, Pacific NW's famed Bald Eagle Raft Adventure grants tourists a chance to take in the serenity of rustling cottonwoods and the majesty of Mount Baker as their guides quietly point out migratory eagles from Canada and Alaska.
20200 Cook Rd.
Burlington
Washington
360-719-5808
Since 1962, owner and U.S. Coast Guard–licensed captain Terry Buzzard has gotten to know the San Juan Islands and surrounding miles of water pretty well. Having hauled mail for the Post Office, salvaged wrecks, assisted in oil spill cleanups, and ferried passengers throughout the San Juan Islands, he has built quite a resumé of seafaring. This relationship with water isn't so surprising considering he began boating at the age of 3 when he was allowed to pilot a single-horsepower boat by himself with his trained rescue dog, Rusty.
Regardless of the actual job he's performing, Terry is always drawn to whales. By 1978, this fascination lead him to chartering trips specifically for whale watching, especially toward the schools of orca that made the region their home. Looking back, he's pretty certain his boat was the only one in the area at the time dedicated to the thrill of witnessing some of the world's largest and most beautiful animals. Today, the waters are spotted with various boats filled with passengers snapping pictures of the great aquatic beasts and shouting ululations whenever one smacks its enormous tail against the water, takes a playful leap, or belts a Mariah Carey song.
Terry's boat, the 110-foot Island Caper, provides generous sightlines to all passengers via its spacious outdoor deck and ample indoor viewing areas, and is decked out with a 34-speaker sound system. In business for 50 years, Island Mariner Whale Watching also employs a seaplane to help spot whales and guide tours. With his chief navigator––a 5-year-old airedale terrier also named Rusty––Terry is right out there amid the excitement, ferrying whale watchers and sharing his life-long passion.
2621 S Harbor Loop Dr.
Bellingham
Washington
360-734-8866
---
---
Outdoor Activity Deals - Recently Expired
---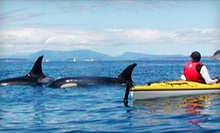 Seasoned guides lead tours along San Juan Island coastline and point out marine species, such as orca, seals, and porpoises
---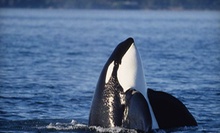 Certified marine naturalists helm 3.5- to 4-hour tours explaining stories about wildlife witnessed throughout trip
---
---