Mashpee, MA Outdoor Activities
---
Recommended Outdoor Activities by Groupon Customers
---
Helmed by stalwart captain Zdeno Chara, the 2011 Bruins exercise athletic domination over friction and work out cylindrically based angst on the ice. Premium club seating (located on levels 5 and 6) grants you early access to the arena and the first pick of the freshest foam fingers. Once the puck is dropped, you can see each snapping slap shot and delicate toe pick in vivid detail as you relax in cushy comfort, complete with extra leg room and in-seat wait service. Stretch your legs midgame with a jaunt to the Insight Club Lounge or The Patrón Platinum Lounge, or restock trivia arsenals with your ticket's included access to the sports museum.
100 Legends Way
Boston
Massachusetts
The Staples Champions Cup brings together the timeless titans of tennis, including Bjorn Borg and John McEnroe, for a round-robin tournament of fierce backhands and friendly back-talk. During the first session of the men's singles quarterfinal tournament, Borg, the former top tennis player in the world, will show off the racqueteering that won him five consecutive Wimbledon titles as he takes on Mikael Pernfors, a finalist at the 1986 French Open, in a showdown of Swedish swagger. In the second match of the first session, Mark Philippoussis, a finalist at both the U.S. Open and Wimbledon, will fly-swat the fuzzy yellow insect sent buzzing over the net by Olympic silver medalist Wayne Ferreira. Because there actually is a rule that says a sassy talking mule can't play tennis, the third match has been canceled.
925 Commonweath Ave.
Boston
Massachusetts
Click above to buy tickets for Jonny Lang, August 9, 7:30 p.m. Click on the links below for tickets to other performances.
130 Sohier St.
Cohasset
Massachusetts
US
For either ticket option, choose between the following game days:
140 Commonwealth Ave.
Chestnut Hill
Massachusetts
In 1958, Ryan Family Amusements founder James A. Ryan opened a simple, eight-lane bowling alley, planting the foundation for a slew of entertainment centers throughout Massachusetts and Rhode Island. At 10 locations, visitors enjoy a variety of arcade and skill games in addition to traditional candlepin, tenpin, or duckpin bowling. Every Friday and Saturday evening from 9 p.m. until midnight, bowling lanes take on an incandescent glow, allowing bowlers to experience futuristic entertainment without the inconvenience of rising jetpack-fuel prices. Bumper bowling is available for younger players, and an onsite concession stand refreshes responsible adults with glasses of beer and wine.
200 Main St.
Buzzards Bay
Massachusetts
Trumpets blare over the fairgrounds. As the king and queen ride through town, peasants and shopkeepers all kneel immediately, verbalizing praise and respects to their liege lord. Meanwhile, a man in shorts stands amid the crouching peasants eating a turkey leg the size of his arm as his kids tumble off the Jacob's ladder across the dirt road. This is but a snapshot of the special moments at King Richard's Faire, a renaissance festival that gathers period artisans, performers, and food merchants to celebrate the Age of Enlightenment along with visitors.
After a bit of practice throwing axes, visitors can stroll in optional costume to see fortunetellers, cobblers, and blacksmiths who have mastered ancient crafts. Knights ride to battle on the tourney field to win the king's and crowd's favor, and eight stages, a tournament field, and a mud pit bring in acts ranging from minstrels and jugglers to fire eaters and exotic animals.
235 Main St.
Carver
Massachusetts
---
---
Outdoor Activity Deals - Recently Expired
---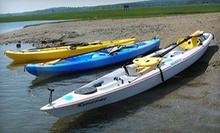 Guides lead small groups through the marshlands and estuaries of Upper Cape and point out ospreys, herons, and terns.
---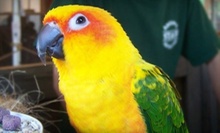 Exotic animals rescued from neglect or abandonment interact with visitors during tours led by wildlife experts
---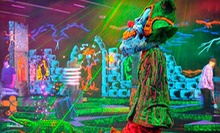 Balls ricochet around 18 black-lit, indoor holes decorated with eerie, luminous murals, large monsters, and animated props
---
---