Mashpee, MA Outdoor Activities
---
Recommended Outdoor Activities by Groupon Customers
---
Along an Australian riverbank, a baby calf is being born, opening its eyes to the world for the first time. Carolyn "Chick" Dowd floats just 6 feet away and watches silently as the events unfold. At this moment, she discovers for the first time the powerful experiences kayaking can opportune, and plunges headfirst into the sport. Since this moment, Ms. Dowd has worked as an instructor in Thailand, Nova Scotia, and California, where she is also a member of San Francisco's national kayak polo team.
It wasn't just a love for kayaking that led Ms. Dowd to overcome a human's natural tendency to melt in water. When younger, she dreamed of being Julie, the cruise director from Love Boat. To that end, Island Spirit Kayak is the junction of Ms. Dowd's passions; a place that mixes fun activities with the natural surroundings of her hometown, Martha's Vineyard. Here, Ms. Dowd and her team of ACA-certified instructors can lead tours into tranquil waters or more advanced excursions toward the Aquinnah Cliffs, where sunrises paint warm colors across the exposed clay.
From beginners to experts, Ms. Dowd and her crew cater tours to everyone. Before each trip, they help people belly flop out of their comfort zones with a game of kayak ultimate frisbee, during which many feel compelled to jump out of the boat. The staff—which includes a school teacher—also has a soft spot in their hearts for children, welcoming little ones as young as 5 into kayaks.
Edgartown Oak Bluffs Rd.
Oak Bluffs
Massachusetts
508-693-9727
You're in the woods playing hide-and-seek. Tucked behind a log, you hear, "Ready or not, here I come!" and then wait for the sound of footsteps to trod past. The steps fade, and you break for base. But then the seeker closes in, but he doesn't need to get close enough to touch you—he just needs a clear shot to tag you with a paintball pellet.
Cape Cod Paintball's founders—friends who spent nearly a decade designing the facility's 14 outdoor fields—love to blend childhood games such as hide-and-seek with the grown-up thrill of paintball. Each course integrates both natural and artificial terrain—picture freestanding timber and brush piles juxtaposed against industrial cable spools, upturned sections of corrugated tubing, and wooden fence panels. Through this mash-up of cover, players split into teams for standard paintball games such as Capture the Flag, or more updated childhood games such as Cops and Robbers. Cape Cod Paintball's team also caters to group play with private parties, and mans a pro shop stocked with gear from brands such as Tippmann and Dangerous Power.
1 MacArthur Blvd.
Bourne
Massachusetts
US
508-566-4472
---
---
Outdoor Activity Deals - Recently Expired
---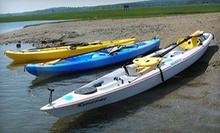 Guides lead small groups through the marshlands and estuaries of Upper Cape and point out ospreys, herons, and terns.
---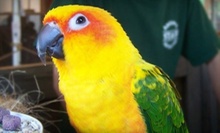 Exotic animals rescued from neglect or abandonment interact with visitors during tours led by wildlife experts
---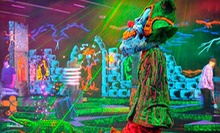 Balls ricochet around 18 black-lit, indoor holes decorated with eerie, luminous murals, large monsters, and animated props
---
---