Massena, NY Health and Fitness
---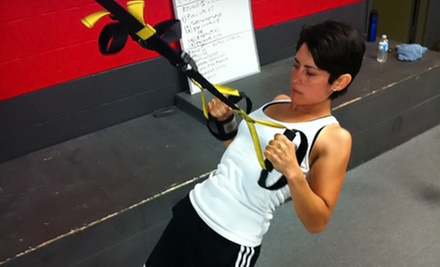 District Saint - Raymond - Vanier
---
Recommended Health & Fitness by Groupon Customers
---
Andrea Harper wears many hats, but they are all connected by a common thread—or pole, as the case may be. She is a certified personal trainer, nutrition and wellness specialist, and pole-fitness instructor, whose fascination with physical health centers around empowering spins. As the owner of Cherry Blossom Pole Dancing Studio, Andrea passes on the moves that made her one of Canada's top 16 pole dancers at Miss Pole Dance Canada 2010, leading women of all backgrounds through lessons designed to strengthen their bodies, self-esteem, and sense of rhythm. During pole-dancing classes, she and her team of instructors take pupils from the fundamentals to advanced techniques, such as convincing your brain that the floor is actually the ceiling. She limits class sizes to 10 students within the hot-pink-and-green studio, ensuring that everyone is able to pair up with a pole. The pole isn't the only gravity-flouting tool at Andrea's disposal, though; she also schedules courses that rely on aerial silks and hoops.
To put a personal touch on twirls, she offers parties replete with dance routines and fun props for all occasions. These soirees readily accommodate groups with 1,500 square feet of space and were suggested by the Ottawa Citizen as one of the top three creative bachelorette-party ideas.
1-1460 Cyrville Rd.
Gloucester
Ontario
613-741-4200
Honking cars amble through down the bustling streets of restaurants and boutiques in the surrounding Golden Triangle neighborhood, but the interior of the Santosha Yoga studio is an oasis of calm and tranquility. Sunlight gleams down on the hardwood floors, where a rotating cast of certified instructors lead classes in a variety of yoga styles throughout the day. In the mornings, instructor Robin Russel Hosein teaches Hatha yoga, guiding students through traditional poses and breathing exercises to build strength, spinal alignment, and breath awareness. Later on, Laura Conroy directs students through the movements of vinyasa flow, the yoga modality most favored by rap artists. When Jane Baird takes over for hot yoga classes, she cranks up the temperature in the studio to encourage detoxifying perspiration and increased flexibility. All instructors strive to maintain a peaceful and focused energy during the classes, requesting that participants turn off cellphones and refrain from chitchat.
205-346 Richmond Rd., Floor 2
Ottawa
Ontario
The medical professionals at La Vie Health Centre dedicate themselves to proactive health care— they thoroughly investigate each patient's past and present health in order to predict and prevent future maladies, such as cancer or heart disease. They firmly believe, along with the American Heart Association and American Cancer Society, that early detection is key, and their slate of services reflects this. The staff works one-on-one with each patient that enters the facility, performing comprehensive screenings and testings and then helping them to modify their lifestyles and habits in order to dodge potential health risks, such as onrushing asteroids.
One-day comprehensive wellness assessments last approximately five hours and detect irregularities through ECGS, stress tests, blood work, and fitness and nutritional analyses. Oftentimes, these appointments lead to year-round wellness programs, which include quarterly visits to the physician and dietician, ongoing care, and access to medical advice by telephone, email, or astral projection 24 hours a day. The staff further encourage holistic wellness with the Be Healthy Program, a getaway package that sends travellers to the Brookstreet Hotel, where they receive facials, personal training sessions, and meals for two. A smattering of cosmetic treatments, such as Botox and Laser Genesis skin therapy, match outward appearances to newly refreshed interiors.
The Centre's commitment to preventative medicine is also apparent in its My Life is in My Hand program— a USB card that holds patients' past and present medical history, ensuring that they're never without any crucial information about their constitution. The team respects patients' time as much as their health, promising short waiting times, offering online bookings and cancellations, and sending everyone home in complimentary hovercrafts.
150-525 Legget Dr.
Ottawa
Ontario
613-592-0862
Relaxation is both a concept and a destination at Soma Health & Fitness, where sleek wooden floors are bathed in the sunbeams streaming in from symmetrical skylights. Here, visitors steep selves in soothing services such as massage therapy and physiotherapy, which pairs clients with certified professionals for one-on-one treatments that tackle movement difficulties with postural correction, muscle stimulation, and ultrasound treatments to seek out cursive injury reports spelled out in knotted tendons. Rehabilitative kinesiology combined with yoga and cardio fitness classes in the fully-equipped gym boost clients' cardiovascular health and muscle tone while providing an outlet for emotional renewal.
700 Sussex Dr.
Ottawa
Ontario
613-244-0490
Steps from the hustle and bustle of Parliament Hill lies an oasis that swelters even in the depths of winter. Though it teems with plants and cool, filtered water, this place isn't a tropical rainforest or the pied-à-terre of a wealthy goldfish. It's Bikram Yoga Ottawa, where sultry temperatures and ancient exercises join forces to foster wellness. Here, students of all skill levels practice 26 Hatha-inspired poses sequenced by Bikram Choudhury, an athlete who used yoga to mend a serious knee injury. Muscles become extra pliable in the heat, easing into stretches that foster flexibility, stamina, and strength. Pores oust toxins throughout the 90-minute routine, which summons sweat with toe stands, forward bends, and deep-breathing exercises. After class, students can recline on a couch in the foyer or steam away stress in showers filled with organic bath-and-body products.
71 Bank St., Floor 3
Ottawa
Ontario
Hips start swiveling with grace at White Sands Golf Course & Practice Centre, where golfers hone their form at a nine-hole executive course, extensive practice facilities, and academy classes. On the 1,477-yard course designed by Graham Cooke, golfers can choose from three tee options and finish rounds in less than two hours. To gear up for the water hazards and serpentine sand bunkers that stud the fairways, players can sharpen their technique at the extensive White Sands practice facility. Here, 30 fibre mats and 42 grass tees await along the driving range, and players can work on their victory half smiles after chipping out of the practice sand trap onto a green.
White Sands Golf Course & Practice Centre is also the site of the Graham Gunn Golf Advantage School, whose head is a member of the European Senior Tour and spent a decade as head professional at the Carleton Golf & Yacht Club. Gunn teaches clinics and offers private coaching for students who don't want to be overheard asking how long you have to sit on a golf ball before it hatches.
1705 St. Joseph Blvd.
Ottawa (Orleans)
Ontario
---