Restaurants in Matteson
---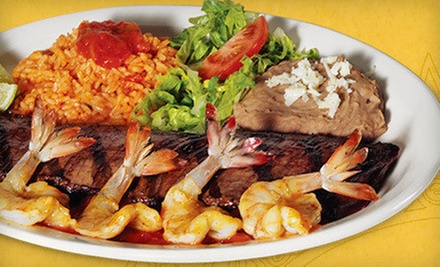 ---
Recommended Restaurants by Groupon Customers
---
The chefs at Luby's Pub & Steakhouse coat sweet jumbo shrimp in house-made coconut batter, bake orange roughy in herb butter, and char-grill juicy burgers with onions for dinners, banquets, and custom catering. In the dining area, veal parmesan nestled on plates of angel-hair pasta shares tables with slow-roasted portions of prime rib au jus and farm-raised blackened catfish. Diners may also opt to sip cocktails on the outdoor patio during the summer months, when the sun is extra fiery.
6657 W South St.
Tinley Park
Illinois
708-633-8240
To Yes Asia Cafe owners Nancy and Tiger Huynh, their business in America is the end of a long journey that began with their families' attempts to escape to the US from Vietnam. Despite multiple tries each year, Nancy's family was always turned back. "There were scary moments," she writes on the café's website, "and I'm glad it's over." Tiger's family was luckier, drifting into a safe harbor after seven days in a tiny boat.
Today at Yes Asia Cafe, both Huynhs celebrate the cuisine of their childhoods with a menu of traditional pan-Asian and Vietnamese dishes. Like a poorly calibrated compass, banh mi sandwiches fuse East and West, stuffing crusty french bread rolls with fillings such as curry chicken and cured pork. Succulent morsels of barbecue pork and grilled beef mingle with cilantro, mint, pickled veggies, and peanuts in rice and noodle bowls. And an impressive drink menu cleanses palates with jasmine teas and jackfruit smoothies.
7101 W 183rd St.
Tinley Park
Illinois
Every Monday night, The Blarney Stone opens its doors to a very special group of people—the geeks. Their weekly hosted trivia night, lovingly called "Geeks Who Drink," allows eggheads and trivia buffs of all walks of life to come together and test their wits as they feast on Irish classics such as the shepherd's pie and halibut and chips. Meanwhile, cozied up to the bar or tucked behind a table, those who hide their geekiness under a bushel basket can mutter the answers under their breath while nursing an expertly poured pint of Guinness or tearing into one of the pub's many flavorful burgers. In addition to the trivia night, patrons can satisfy their need for competition with NFL broadcasts and an accompanying football breakfast, a big-screen hookup to a Nintendo Wii, and paired pool tables and dart boards.
15400 S. Cicero Ave
Oak Forest
Illinois
US
708-535-4800
Intimo's menu whisks diners to the Italian countryside with a variety of authentic house-made entrees. More than 300 bottles of distinct wines hibernate in the 58-degree walk-in wine cellar. Director Frank Pecora fosters a relaxed, sophisticated atmosphere with dim lighting and sleek, dark wooden accents. Candles flicker atop tables draped in white linens, casting shadow-puppet adaptations of Godzilla vs. Fork and Knife on the exposed-brick walls.
7068 W. 183rd St
Tinley Park
Illinois
US
708-444-4470
Mario Dovalina and Edwin Ptak opened Chicago's first Pepe's Mexican Restaurant in 1967, creating flavorful, but not too hot, dishes that quickly caught on with families. The restaurant has since sprouted more than 40 locations across the Windy City and northwest Indiana, filling mealtimes with meaty morsels, bound by tortillas and draped in piquant sauce. Aiming to please all palates, the menu nods to multiple regions of Mexico, and lists a couple of American standbys and a kids' menu for beloved pet goats. The company volunteers nutrition and allergen information for its recipes to promote the healthy bodies and peace of mind at dinnertime.
6911 West 159 Street
Tinley Park
Illinois
708-429-2300
Built on family recipes, Taj Mahal Restaurant features an array of North Indian specialties. Chefs start with a few basic spices, such as onions, garlic, and ginger, to create their aromatic sauces for dishes such as vegetable korma, chicken tikka masala, and saag gosht—cubes of lamb over a spicy spinach purée. Both lunch and dinner feature buffets lined with a spread of vegetarian and seafood entrees, rice biryanis, and tandoori specialties. Proving that one does not have to bite into something to find it delicious, the dessert menu features housemade mango ice cream, Indian-style rice pudding, and raw gossip.
14812 S LaGrange Rd.
Orland Park
Illinois
708-460-5800
---