Maynard, MA Outdoor Activities
---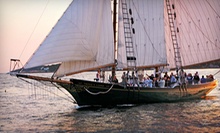 Scenic sail aboard 90-foot schooner named after its owner's heroic grandfather
---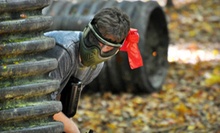 Duos decked with full equipment deploy to at 20,000 sq. ft. fortress and forest dotted with cover; seven total fields
Use Saturday 8:00am - 4:00pm
---
Recommended Outdoor Activities by Groupon Customers
---
Looking to put a new spin on a classic family activity, the minds behind Glowgolf decided to give the game a phosphorescent update. Incandescent courses place friends and family amid a tropical-fantasy golf world of neon orange, green, and violet surroundings. Players putt luminous orbs through vibrant treasure chests and glimmering windmills while negotiating tricky obstacles near walls portraying black-light-lit aquatic scenes. With more than 20 locations spread over 10 states, Glowgolf's fluorescent labyrinths challenge human players and traveling gnomes.
601 Donald Lynch Blvd., Suite N161
Marlborough
Massachusetts
Since 1965, the family-run Ski Haus has kept customers coming back by adhering to the family motto: "Make sure we keep a fun environment and give everybody a fair deal. They get a ton of stuff for their money and we stay in business for a long time." Patrons can still expect the same low prices and see the same friendly staffers' faces year after year while shopping for winter gear.
Racks stocked with apparel by brands such as The North Face and Marmot, skis and snowboards by brands such as Atomic and K2, and a team of skilled technicians have earned Ski Haus accolades from Ski magazine, SnowSports Industries America, and New England Winter Sports Representatives, Inc. During tune-ups, technicians polish skis, stone-grind ski edges, apply hot wax, and repair bases damaged by treacherous slopes and sharp snowman noses.
1 Wheeler Rd.
Burlington
Massachusetts
In 1973, Mike Farny had a vision: to bring affordable outdoor recreation to the residents of metropolitan Boston. Opening the Charles River Canoe Service that year, Farny became an instrumental voice in efforts to clean up the river, encouraging people to canoe, kayak, and sweep up the dirt on the riverbanks. The next year, he persuaded the Leo J. Martin Golf Course to transform its greens and fairways into a sprawling landscape for cross-country skiing alongside the Charles, allowing the public to enjoy recreation on the river even when its waters had frozen. A 15-kilometer system of trails makes use of natural snowfall and offers skiers a chance to change up their routes. Even when flakes refuse to fall, a state-of-the-art artificial-snow system shoots powder over a 2.5-kilometer loop, which rests beneath lights to allow night skiing before guests return to the cozy snack shop for hot cocoa and a bite to eat.
200 Park Rd.
Weston
Massachusetts
Most people will never get the chance to play a round of golf at Augusta National. At Pappas Indoor Golf & Baseball, players can approximate their dream round inside the complex's trio of indoor golf simulators. The simulator screens replicate 230 courses in vivid detail, including the venerable host course of The Masters and Scotland's Saint Andrews. The simulators share space with a well-rounded practice facility that includes a 1,600-square-foot putting green, 12 hitting bays, a short game area, and a sand bunker. In areas designated for private lessons, PGA pro Bill Pappas polishes his clients' mechanics with the help of video swing analysis equipment.
Golfers aren't the only athletes taking cuts at Pappas Indoor. The facility's indoor batting cages let softball and baseball stars fine-tune their swing, take some extra batting practice on a rainy day, or test whether pitching machines can feel human emotions.
70 Princeton Street
North Chelmsford
Massachusetts
978-251-3933
After years of teaching preschool, Sue Merlino graduated to a new passion in life when she turned her enthusiasm for bicycling and her hometown into a career exploring Concord's history atop a two-wheeler. Her resulting brainchild, Concord Bike Tours, wends through the heavily treed lanes of the city, elucidating the history of notable locations such as the Emerson House, the abodes of lesser-known abolitionists, and the site where Thoreau kissed his first tree. Four regularly run tours take up to 10 bicyclists on 2.5- to 3-hour journeys, with optional sidecars for children younger than 8 provided. Sue and her family will also plot custom trips for clients interested in longer rides, different scenery, or preparing for a Jeopardy! audition.
24 Court Lane
Concord
Massachusetts
978-697-1897
With five distinct courses etched into the New England countryside, Sterling Golf Management promotes pin-hunting recreation for Boston-area golfers of all abilities. The longest and most difficult of the four, The Shattuck Golf Club's 18-hole course kicks off with a 409-yard par 4 where players hack their way toward a green that is visually wreathed by the rising red rocks of Mount Monadnock, setting the tone for a scenic, 6,764-yard round. Groves of trees ensconce the fairways and barter over carbon dioxide at Norwood Country Club's recently renovated course, a relatively flat layout characterized by smallish greens and flanked by a lighted driving range. Designed in 1921 in the Donald Ross tradition is Maynard Golf Course, a picturesque par 70, 9-hole course with a full-service clubhouse. The same sylvan makeup returns at Newton Commonwealth's course, where lush tree lines cast shadows over a creek as it snakes across the fairways of seven holes. Rounding out the grassy quartet, Chelmsford's nine-hole course takes golfers careening across 2,467 yards of narrow fairways, placing straight drives or skilled golf ball pilots at a premium.
66 Park Rd.
Chelmsford
Massachusetts
978-256-1818
---