Photography & Portraits in Maynard
---
Photography & Portrait Deals
---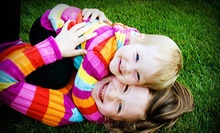 A professional-quality copy of a cherished photo, rendered with rich color and sharp detail as an 8" x 10" gift print
Use Today 10:00am - 5:00pm
---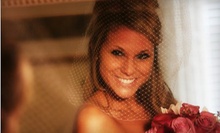 Family of photographers has specialized in portraits for more than 30 years
Use Today 10:00am - 8:00pm
---
Recommended Photography & Portraits by Groupon Customers
---
Your package includes a session for up to six people (up to $105 value; $10 per person over six people) and three sheets of the same pose that include:
63 Main Street
Maynard
Massachusetts
As a photographer with years of experience, Jennifer DeCesari provides an attentive and personalized experience that yields bold and spontaneous images. Portrait sessions (for children, high-school seniors, families, and expectant mothers) take about two hours. Her snaps always produce charming images and sometimes prove someone is a vampire when only his or her clothes show up in the photo. Prior to each session, a consultation covers poses, clothing, and location options, while a relaxed approach ensures subjects don't feel rushed or remain adamant about taking their winter coat off.
85 Industrial Cir.
Lincoln
Rhode Island
Equipped with the very best Canon electric eyes and the most effective of high-pitched coos, Rufo will coax the stateliest of poses from even the most muttacular troublemaker during the 30-minute photo session ($100). Your pet-shoot can take place at Rufo's Waltham studio or on location within 25 miles of Rufo's studio. After the shoot, clients will pick a favorite image to keep as an 8"x10" print ($25) and a 5"x7" print ($25). This deal also includes 20% off additional prints of your pet's session, ideal for establishing lucrative modeling careers. And with no restriction on what type of pet Rufo will shoot, you can bring any member of your menagerie, including massive mastiffs, diminutive dachshunds, and ignacious iguanas.
274 Moody Street
Waltham
Massachusetts
Since 1976, East Greenwich Photo & Studio's Soozie Sundlun has captured photos of eminent figures such as Ray Charles, Tony Bennet, Barack Obama, and Jon Bon Jovi. In addition to snapping shots at her studio, she meets her subjects on location and applies a photojournalistic style to wedding photography. Sundlun's studio even offers video transfer services and videography.
50 Cliff St.
East Greenwich
Rhode Island
401-884-0220
When parents need to prove to their children that jolly old St. Nick is real, they call on Santa On Camera. Using a digital photo maker, Santa On Camera lets parents upload real pictures of their house and then place in images of Santa. Sizing, color, and brightness options ensure seamless integration, creating images that capture Kris Kringle in poses such as emerging from the chimney or enjoying milk and cookies.
205 Forest St.
Bridgewater
Massachusetts
After capturing the photography bug at the historic Ferranti-Dege, Krzystyna Harber honed her skills and founded Vintage Girl Studio. Specializing in old-timey imagery, Harber creates traditional pinup prints that evoke famous, flirty portraits of yesteryear's starlets and Coke bottles. Each private photo shoot, whether vintage-themed or boudoir, takes place in an intimate, sunlit studio with hardwood flooring. Professional makeup artists and hairstylists spruce up pouts and coifs, helping women feel beautiful and confident in front of the camera's winking eye. A selection of packages allows subjects to commemorate their sessions with prints, digital files, or novelties inscribed with a sensual image.
85 Industrial Cir.
Lincoln
Rhode Island
617-504-9087
---