Nightlife in Maywood
---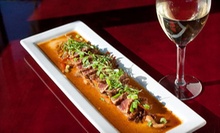 Global gourmet touches adorn burgers, calamari, and pasta in an eatery soundtracked by DJs, karaoke, and a live '80s cover band every Friday
---
Recommended Nightlife by Groupon Customers
---
At the Hollywood Improv, comics lure laughs from deep within bellies as they follow in the footsteps of standup legends such as Ellen DeGeneres, Chris Rock, Jerry Seinfeld, and Dave Chappelle, all of whom have graced the Improv club stages. The club's calendar schedules comedians as often as seven nights a week, alternating between big-name headliners and up-and-coming funsters who tickle funny bones with fresh material, abundant energy, and feathered reflex hammers.
8162 Melrose Ave.
Los Angeles
California
US
323-651-2583
A person's choice of drink says a lot about them, though admittedly not as much as the fact that they're drinking it from a handmade amphora carved from the crystal skull of a hippogriff. Today's grapey Groupon lets you ooze sophistication and effortless worldliness from every pore without requiring immediate medical attention. For $20, you'll get $40 worth of pours and plates at Versai The Wine Bar, a Euro-like hot spot in Yorba Linda that specializes in rare sips, small plates, and nightly re-creations of Hannibal crossing the Alps using shadowpuppets. Versai The Wine Bar is open from 4 p.m. to 10 p.m. Monday through Saturday.
18248 Imperial Hwy.
Yorba Linda
California
Gone are the days of lazy bar burgers built on beer-soaked buns and soups infested with over-salted peanuts. The cooks at 6740 hand-build custom creations for the people who nest in the place's cozily swiveling bar stools or seek shelter in the pub's sturdy red and gold wall seats below a soothing incandescent glow of booming jukebox tunery. Because any swimming pool needs pool toys, you can fill your stomach pool with fresh fare like garlic, thyme, and rosemary-marinated grilled herb potatoes ($5.95); signature Buffalo wings in spicy, regular, teriyaki, or barbeque sauce ($6.95 for a dozen); and 8 oz. Flatiron steak sandwiches ($10.95).
6740 Greenleaf Ave.
Whittier
California
After memorizing the menu, start a food-eating contest with yourself by devouring a basket of chili-cheese fries (shoestring fries, $2.99, plus jack-and-cheddar chili mix, $1.29) or sixteen Angel wings tossed in your choice of one or two sauces (buffalo, blazing habanero, firecracker, Thai peanut, spicy barbecue, garlic parmesan, or blasphemy, $14.99). For the main event, chow down on a pulled-pork sandwich ($9.99), or the dos tacos, stuffed with steak or chicken and lettuce, cheddar and jack cheeses, and salsa inferno, and served with a side of tortilla chips and salsa ($7.49). Burgers, wraps, and pizzas fill out the remainder of the robust menu.
450 N State College Blvd
Orange
California
Dave Reinitz packed up all his belongings into a motor home, left New York, and began driving across the country because he was bored. When the engine finally blew, he was in Los Angeles, and decided that was where he would stay. As if by providence, Dave immediately took to his newfound city's comedy scene. Eventually, he partnered up with comedian Barbara Holliday for his life's next great adventure—Flappers Comedy Club.
Today, Barbara, whose credits include Naked Gun 33 1/3 and Friends, co-manages the multipurpose club she owns with Dave. A breeding ground for new talent, the venue plays host to standup comics and variety acts, and gives up-and-comers a hand with comedy classes called Flappers University. Many local and rising comedians have tested their standup material at Flappers, and the stage has supported the seasoned weight of stars such as Dave Attell and Jason Alexander. Before, during, or after shows, patrons can fuel their giggle fits with grub from the club's onsite restaurant, including Cajun-spiced burgers, seared ahi, and brick-oven pizzas.
532 W 1st St., Suite 218
Claremont
California
909-542-0133
Beyond a façade of black-painted bricks blasted by a bright-red sunburst, M.i.'s Westside Comedy Theater's laughter authorities train up-and-coming comedians in the art of forcing other people to laugh. The theater opened in 2009, 11 years after six comedians from the touring group Mission Improvable moved from Massachusetts to Chicago to continue training in the art of the extemporaneous. Now, 50 members strong, Mission Improvable helps students hone their comedic instincts during weekly classes, performances, and pie-throwing workshops. Instructors have imported a grounded, distinctly Chicagoan comedic sensibility to the West Coast, building improv courses on Viola Spolin's seminal, creativity-unlocking theater games and standup classes on students' own experiences and observations.
1323 Third Street Promenade, Suite A
Santa Monica
California
310-451-0850
---