Restaurants in McAlester
---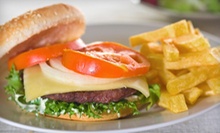 Using oil without trans-fats, chefs fry up pickle and green bean starters, cook burgers, and craft hearty pancake and egg platters
---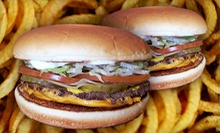 Bite into cheeseburgers layered with cheese and paired with 2 sides of fresh-cut fries; oldest single family-run barbecue joint in Oklahoma
---
Recommended Restaurants by Groupon Customers
---
To make jerk chicken, Hibiscus Caribbean Bar & Grill's signature dish, native Jamaican chefs marinate the meat in Jamaican scotch pepper and allspice, grill it over an open flame, and then drizzle the crispy result with hibiscus pepper sauce. The dish has been hailed by Urban Tulsa Weekly as "a great tasting blend of spices with deeply grilled chicken," and it's one of the eatery's many entrees that showcase imported Jamaican spices and traditional culinary techniques. Chefs also prepare piquant curry dishes and stir-fry meats with fresh pineapple. Whenever possible, they enhance dishes with local and organic ingredients.
At Hibiscus Caribbean Bar & Grill's rum bar, diners can watch high-definition TVs or visualize completing a perfect rhythmic-gymnastics routine to soothing island and world music. The restaurant also occasionally hosts bands and other live entertainment.
3316 S Peoria Ave.
Tulsa
Oklahoma
Camille Rutkauskas and her husband, David, glanced at the Tulsa mall's food court and its predictable litany of fast-food options. That's when an idea struck—why not open a place that's the antithesis of all of this? With that, the couple opened Camille's Sidewalk Café, a place focused on fresh coastal- and Mediterranean-inspired food, fresh baked goods, and fruit smoothies. With a menu highlighted by made-to-order wraps and paninis with ingredients such as brie, herb-garlic tortillas, and pesto mayo, the couple's vision propelled Camille's Sidewalk Café to a franchise with locations in nearly 30 states, as well as Puerto Rico, the Middle East, and the Banana Republic.
9637 S Riverside Pkwy.
Tulsa
Oklahoma
The two-story Victorian that holds Miss Addie's Cafe and Pub has plied visitors with victuals since its inception as a soda fountain and drugstore in 1915. Carrying on the tradition of hospitality started by the druggist and his wife, the eponymous Addie, today's owners welcome guests with an extensive menu of hearty pub fare. Plated pasta, beef, and seafood entrees adorn white linen tablecloths inside a sunlit dining room, and dark wood wine racks and a brick fireplace imbue a second space with an English pub atmosphere. Private parties mix and mingle amid the upstairs dining room's rose-colored walls and bookcases. Patrons can also bring Miss Addie's homestyle cooking home in the form of a cookbook, bottle of salad dressing, or realistic wax effigy of the head chef.
821 W Broadway St.
Muskogee
Oklahoma
Families share everything—genes, homes, and even recipes. The owners of Santa Fe Cattle Co are no exception. In fact, most of the eatery's dishes flow from old family recipes that demand steaks are aged and cut in-house, rolls are baked fresh each day, and signature sauces are mixed onsite. These touches transform the menu's casual southwestern and regional eats into dishes worthy of John Wayne's personal dressing-room buffet. Steaks, fajitas, and even shrimp and catfish complement housemade sides of mashed potatoes or Santa Fe taters, served alongside a complimentary bucket of peanuts, which guests shuck directly onto the floor. The peanut shells add character to each one of the restaurant's 20 locations, which evoke old-west saloons with touches such as brick walls draped in horse saddles and weathered wooden floors.
12131 S Vancouver Ave.
Glenpool
Oklahoma
USA
Amid the bright white walls and chocolate-hued wood accents that frame El Mojito's frills-free décor, owner and chef Frank Olmos calls forth culinary fiestas with more than 30 Mexican specialties. The down-home kitchen crew spikes sizzling fajitas with guacamole and sour cream and transforms tortillas into comfy pockets for beef, chicken, or potatoes. A glowing green light fashioned from the husk of a radioactive cactus stretches across the eatery's fully stocked bar, where mixologists masterfully shake and stir signature margaritas and mojitos.
3600 W Jasper St.
Broken Arrow
Oklahoma
918-893-5511
At the Pita Place, you might sit down to the same meal that the Iranian royal family once enjoyed. That's thanks to owner Fred's father, who passed down to his son the skills he acquired as a chef for the Iranian rulers. Now, Fred upholds family traditions with a menu of classic Middle Eastern and Mediterranean fare that has been lauded by Urban Tulsa and Tasty Tulsa. Chefs shave off hunks of slow-roasted gyro meat, and enfold falafel patties in warm pita bread. For dessert, they dish out a colder food—Persian ice cream, a blend of vanilla ice cream, pistachio, saffron, rose water, and sweet nothings borrowed from a local poet.
8315 E 111th St., Suite A
Bixby
Oklahoma
918-394-9383
---