Day Spas in McDonough
---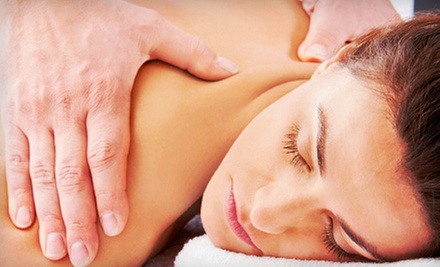 ---
Recommended Day Spa by Groupon Customers
---
Many customers of Oh!La-La Salon.Spa assume the business's name is pronounced ooh la la, the widely known French phrase. It certainly can be pronounced this way, but we recommend pronouncing the first syllable as oh. Oh!La-La Salon has intentionally created this phonetic ambiguity to help its clients avoid cease and desist letters from the nation of France, which owns the rights to ooh la la (see French patent number A75630.1).
224 East Ponce De Leon Avenue
Decatur
Georgia
US
404-378-2988
At Mind & Body Day Spa, staff members eschew fluff and pretensions to stay focused on their main goals: to help clients relax and see beautifying results. Their customized skincare treatments harness plant-based ingredients such as pineapple enzymes and pumpkin extracts, giving complexions a natural glow. Alternatively, back massages, scrubs, and wraps extend relaxation throughout the body, much like remembering that you definitely did turn the death ray off before you left the house. Spa packages combine services for more complete pampering.
5250 Windward Pkwy.
Alpharetta
Georgia
US
678-366-7825
When you get tired of your haircut, you go to the salon and get a new one, but changing your face isn't so easy; plastic surgery and Botox are extreme and expensive responses, but today's side deal makes over your mug without bringing anything sharper than an eyeliner near your delicate face. For $35, you'll get a professional makeup application and makeup-bag makeover at Beth Ann Boutique. Professional makeup artist Tiffany Stone will design the perfect look to spiff up your visage, whether you're looking to change with the times, get a younger look, or winterize your color palate. Today's deal makes a great gift for your new-to-makeup niece and can help your sister get a professional look to hit the job market hard.
47 Irby Ave. NW
Atlanta
Georgia
US
The clinicians and dietitians at WeightLoss MD, helmed by medical director Dr. David Wyatt, tip the scales in dieters' favor by employing lab test results and custom, one-on-one advice. Their client base is 85% composed of women, so they understand the unique weight-loss challenges posed to women, but they are just as skilled at helping men ditch unhealthy belly fat. Lipotropic injections and appetite suppressants bolster calorie burning and control, and the meal plans are tailored to fit each participant's lifestyle, tastes, and mouth size.
9925 Haynes Bridge Rd.
Alpharetta
Georgia
770-777-7495
Dr. M. Farooq Ashraf mastered the excimer laser as a member of the faculty at Johns Hopkins University, and he now wields the ultramodern tool as he adds to his career tally of more than 35,000 LASIK procedures. As founder and medical director of Atlanta Vision Institute, he draws upon his skills as a board-certified ophthalmologist to correct nearsighted, farsighted, and astigmatic vision with refractive surgery. In addition to giving the gift of sight, Dr. Ashraf gives back to the community by supporting local charities and providing discounted services to financially strapped Cyclopes.
11459 Johns Creek Pkwy., Suite 100
Johns Creek
Georgia
770-622-2488
Visitors to Scarlett's Retreat Day Spa & Boutique aren't sure if they've stepped back in time or onto a movie set. Surrounded by ornately patterned furniture, fireplaces, and classic portraits, they receive spa treatments in a late 19th-century home. Southern hospitality is a common thread between the decor and the service—the aroma of mint juleps drifts from mani-pedi stations, and roses infuse foot soaks and body wraps with flowery scents. A Victorian tub helps preserve the art of bath rituals, an antiquated practice that once signified opulence, much like installing a subwoofer on your riding saddle. Today, the spa's Georgia Sweet Tea tub ritual steeps bodies in tea and brown sugar to inspire total serenity.
The certified massage therapists and aestheticians prioritize natural ingredients; blueberries, rosemary, and cucumber infuse facials and peels, and the boutique carries products from glo minerals and Éminence Organic Skin Care for clients to take home, alongside robes and handmade neck pillows. For prolonged bouts of relaxation, packages pool services into themed combinations appealing to both men and women. For example, the Mister Butler package features a massage, an aromatherapy tub ritual, and a complimentary cigar and liqueur.
22 Jonesboro St.
Mcdonough
Georgia
---