Things to Do in McHenry
---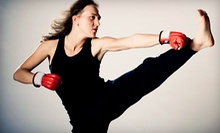 Heavy bags and mitts take beatings from feet during full-body workout taught by black-belt kickboxer Chuck Masny
Use Tuesday 3:30pm - 6:30pm
---
Recommended Things to Do by Groupon Customers
---
As a member of the National Association of Consumer Shows, Showtime Productions, Inc. has hosted some of the largest and most well-attended trade shows in the Midwest. The Rockford Home Show, for example, has been going strong for more than 30 years, and Showtime partners with Landro Productions to organize boating and fishing and camping and travel shows that have attracted outdoor enthusiasts for more than four decades.
Many of their events are held at the Indoor Sports Center, a 60,000-square-foot complex where visitors have plenty of room to walk past rows and rows of exhibit booths. Convention guests refuel with burgers, tacos, and other casual bites while watching the action below from the second-floor Skybox Restaurant and sports bar.
Box 4372
Rockford
Illinois
Though Larsen's Landing Outfitters has always been family owned, the stretch of wilderness under its care has two additional overseers: a pair of eagles. The birds patrol 30 acres of sheltered trails, two open fields, and miles of marshes, watching visitors as they paddle rental canoes and kayaks down the pristine Kishwaukee River, which has been rated as one of the three cleanest rivers in the state. Visitors aren't alone, though. Beavers, turtles, otters, and sandhill cranes make their homes on the bank, sharing the shore with endangered black terns and mulberry wing butterflies. They move amidst towering trees, including the sycamores that gave the river its name, a Potawatomi word for river of the sycamore.
Like a grumpy scorpion, the river's flourishing ecosystem benefits from minimal and respectful human contact. Larsen's Landing Outfitters preserves this status while still permitting visitors to explore the environment. The staff plans canoe, kayak, and camping trips with package options, from tutorials on steering a boat to boxed lunches and picnic buffets. Travelers can park their vessels at any point to indulge in a swim, go fishing, or relax on a sandbar—and at overnight sites, campfires and pig roasts imbue the air with nostalgic, smoky aromas.
1951 New Milford School Rd.
Rockford
Illinois
815-505-3466
Magic Waters' vast expanse of twisting slides, heated wave pools, and colorful attractions accessible to all visitors entertains entire families. While swimmers play, troops of lifeguards with extensive certification and training ensure safety, and mascots stand guard to pose for pictures with children and warn against the dangers of going down a water slide in a full-body costume. After careening through the mysterious darkness of the Abyss tube slide, guests drift down 1,200 feet of lazy river or sun themselves on the shores the wave pool. Younger aquanauts puff up their water wings in the interactive complex of Tiki Island or leapfrog over floating lily pads in Little Lagoon.
After exploring the twists and turns of rivers and waterslides, guests refuel with burgers, pizza, and chicken at the Island Grill or indulge in cold, creamy treats at Culver's Frozen Custard. A lineup of upcoming events entertains all ages with contests and giveaways from Disney Radio on Friday Family Fun Nights, or the Herculean shifting of the hemispheres during Christmas in July.
7820 N Cherryvale Blvd.
Cherry Valley
Illinois
815-966-2442
While strolling through the 155 acres of woods and gardens at Klehm Arboretum & Botanic Garden, visitors may notice a few odd specimens. Many of these experimental plants have been growing since 1910 and stand as the legacy of founder and landscape architect William Lincoln Taylor. Budding botanists will find speciality gardens dedicated to Peonies, Hostas, and Rhododendrons, as well as, woodland wildflowers and unique grasses. The Klehm Arboretum & Botanic Garden welcomes members and guests to explore these gardens but also learn about the environment during tours and educational programs. Members help to keep the arboretum thriving with annual contributions, which they are rewarded for with benefits such as discounts at the Magnolia Garden store and invitations to the spring member-shrub dance.
2715 S Main St.
Rockford
Illinois
After traveling to Japan in 1966 and to the Portland Japanese Garden soon thereafter, John Anderson found himself inspired by the country's lush landscape and tranquil gardens. In 1978, after returning to his home in Rockford, he partnered with expert designer Hoichi Kurisu to begin constructing Anderson Japanese Gardens—12 acres of paths, plants, and streams, as soothing as those John visited in Japan.
The gardens still encourage a sense of calm and thoughtful reflection, as guided and self-guided tours stroll past undulating waterfalls, trickling across colorful flowers, beneath arched bridges, and over lily pads. Fruit blossoms on trees and bushes, sculptures stand very still, and koi fish flit about in a pond. On Thursdays, participants read from scripture, listen to music, and meditate during worship services, and a series of classes held onsite, such as origami and tai chi, impart Japanese traditions.
318 Spring Creek Rd.
Rockford
Illinois
815-229-9390
On Wednesday, October 3, independent distillers set up shop at the Warehouse at Carmichael's Chicago Steak House to display and sample their small-batch, artisanal wares for the second annual Independent Spirits Expo. The exhibitors come from all over the country, from Breckenridge Distillery in the Rockies to Ravenswood's own Koval. Koval will showcase their smooth and organic spirits, including single-barrel oat and millet whiskeys, New Holland—taking a break from beer brewing— will also show off their small-batch whiskeys, and Templeton Rye struts its stuff with its eponymous spirit.
1375 West Lake Street
Chicago
Illinois
312-666-6775
---