Beer, Wine & Spirits in McKinney
---
Beer, Wine & Spirits Deals
---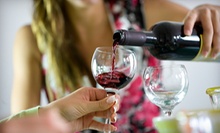 Wine aficionados lead groups through tastings while teaching about different wine and pairings
---
Recommended Beer, Wine & Spirits by Groupon Customers
---
Our boutique and winery offers a great selection of wines crafted right on premise, by the taste, by the glass or by the bottle. We also have a large assortment of wine gifts and accessories.
409 S Main St.
Grapevine
Texas
The Wine Shop, as the name cheekily suggests, specializes in providing numerous wines in an easygoing, friendly shopping arena. With a densely populated stock of over 3,000 domestic and imported wines, and nearly 1,000 of these bottles priced under $12, there's no shortage of affordable potables to pick from. The smartcard you receive with today's deal actually operates on three machines contained within the store. Not altogether different from old-timey soda fountains, these non-vengeful examples of automata read the amount of credit on your smartcard and allow you to select a glass of wine accordingly. With three machines on hand, each is stocked with a variety of wines curated directly from the stock on hand, containing eight reds and four whites at all times, at varying price ranges. Make your selection and receive a glass of up to 4 ounces from the polished machinery, which keeps wine fresh between pours. Depending on the wines you choose, you can use your card over more than one visit, or use the entire value in one card-swiping go.
2116 Greenville Ave
Dallas
Texas
US
214-828-2873
Nestled among the wooden corrals and brick façades of the historic Fort Worth Stockyards district, Cowtown Winery pairs meats and cheeses with red, white, semisweet, and dessert wines handcrafted by an in-house vintner. Amid shelves stocked with emerald rows of bottles, the winery's tasting bar hosts daily samplings of four premium wines such as the tart Silver Spur red and a pinot grigio with subtle aromas of apple, pear, and aged stetson hat. Handmade gifts crafted by Texan artists portray an array of southwestern motifs, and live acoustic music on the weekends helps to inspire first-time winemakers as they consult with vintners to design custom labels and concoct up to 29 bottles of their own signature wine.
112 W Exchange Ave.
Fort Worth
Texas
In 1847, William Rahr brought his passion for beer from Rhineland, Germany—where his ancestors had been stirring hops for years—to Manitowoc, Wisconsin, where he opened his own brewery and, later, a malt house. William's passion passed through the generations, eventually inspiring his great-great-grandson Fritz Rahr to open his own brewery with his wife, Erin, in 2004.
Today Rahr & Sons Brewing Company—whose Iron Thistle brew was named a National Grand Champion at the United States Beer Tasting Championships in 2009—pours more than 5,000 barrels each year. Encompassing amber lagers, bocks, IPAs, and more, Rahr's lineup of year-round and seasonal brews take their names from weather systems, homely dogs, buffalo hindquarters, and the storm clouds William saw on his voyage to America. The 20,000-square-foot facility welcomes visitors on popular Saturday and Wednesday tours, where fans can watch grain swirl and bob before it ships off to local farms and bakeries as a special treat for cattle and unique ingredient in artisanal bread.
701 Galveston Ave.
Fort Worth
Texas
817-810-9266
---