McKinney Outdoor Activities
---
Outdoor Activity Rewards Deals - Use Anytime
---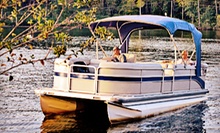 Guests can enjoy the water on water cruisers, houseboats, sailboats, and pontoons or traverse the land on a bike
---
Recommended Outdoor Activities by Groupon Customers
---
Experienced golfing professionals and computers who've sworn allegiance to argyle socks fill each of GolfTEC's locations with more expert swings than a playground at recess. Motion sensors and high-speed cameras monitor your swing and break down your form on a high-definition video display. GolfTEC's PGA specialists point out your flaws and strengths, and coach you on how to permanently improve your game from tee to green. Sensors chirp with approval when you've executed a perfect stroke or cracked an especially witty golfing joke.
900 N Central Expy
Plano
Texas
Commended for its preservation of the natural Texas landscape, Twin Creeks Golf Club features an 18-hole course that seamlessly integrates native trees and two flowing creeks into a pristine, 6,840-yard layout. All of the picturesque par 72's difficulties are brought to bear on the par 4 13th hole, where a strong headwind may nudge rightward drives into a rippling creek and an immense green makes any two-putt a tricky proposition. Golf carts glide across the immaculate meadows, occasionally spinning their wheels and wailing their reverse alert in distress as passengers approach the hidden lake of the 17th hole, called the "Devil's Elbow." Golfers can calibrate their swings at the course's practice center, which includes a driving range, bunker, chipping area, and putting green, an ideal spot to covertly test any remote-controlled balls. After a day spent making sand angels in every bunker, guests can recess to the rustic confines of the Elkhorn Bar & Grill, where Southwestern fare sates diners resting at patio tables or under the 50-inch flat-screen TV located indoors.
501 Twin Creeks Dr.
Allen
Texas
972-390-8888
In the Awesome Hall of Fame, there's a permanent spot for beer, burgers and sports. At TopGolf, we take the best aspects of all three to create a one-of-a-kind experience you can't find anywhere else.
1500 Andrews Parkway
Allen
Texas
US
Originally a 9-hole course upon its opening in 1978, community-owned The Bridges at Claresholm expanded into an 18-hole course in 2005 after designer Les Furber spent four years expertly crafting a back nine. Four tee boxes and attachable Gadget arms precede each hole, allowing patrons to adjust their distance to the green and driving angle to better avoid obstacles such as 12 water hazards. The Bridges at Claresholm also employs golf expert Lyle Broderson to offer private, semiprivate, or group lessons to golfers looking to make improvements, and hosts tournaments and male, female, and gopher leagues. Additionally, an on-site pro shop supplies participants with essential gear such as balls, clubs, and golf-suitable clothing, and Mac's Diner in the facility's clubhouse satiates visitors with weekly specials such as the Wednesday Chinese buffet and the Friday-night all-you-can-eat fish fry.
2400 Fred Couples Dr.
Gunter
Texas
US
903-696-0022
A coalition of ice arenas endorsed by the Dallas Stars, Dr Pepper StarCenters help nurture athletes of all ages and skill levels with activities on or off the ice. Dr Pepper StarCenters house NHL-regulation ice-hockey rinks that host hockey leagues for players of all ages, eradicating the need to play on dangerous frozen lakes dotted with irritable frozen geese. StarCenters' skate schools instill students with the fundamentals of ice hockey or figure skating, allowing them to progress to hockey leagues and local skating competitions if they choose. To warm up after laps around the Euless ice rink, skaters can check out the onsite baseball stadium, batting cages, soccer fields, and Texas Star Golf Course. All locations are open for birthday parties and special events; see each location's website for details.
4020 W Plano Pkwy.
Plano
Texas
Supreme Golf makes maintaining an oft-pricey golf addiction a bit easier on the wallet by granting golfers discounts at golf courses and golf schools, as well as cutting the price of books, golf clubs, and nutritional supplements. Golfers can enjoy relaxing, discounted rounds at area courses in cities across the country including such area courses as Bear Creek Golf Club in Dallas, Gateway National Golf Links in St. Louis and St. Andrews Golf and Country Club in Atlanta, soaking in the sights and badgering local pros for analysis of the annual caddie draft.
501 Twin Creeks Dr.
Allen
Texas
---