Restaurants in McKinney
---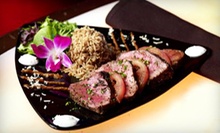 Lobster salad, pork tenderloin, shrimp-and-crab dip, and veggie sliders tantalize taste buds at an upscale lounge with live entertainment
---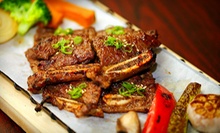 Colorful Korean and Asian dishes such as kalbi beef short ribs, kimchi fried rice, and bibim bap made from fresh ingredients
---
Recommended Restaurants by Groupon Customers
---
Ziyaafat's chefs expertly organize the ancient flavors of imperial Mughal cuisine in a menu packed with authentic Indian dishes. In the kitchen, cooks sear chicken to create the murgh mughlai, then cook it with mild spices and top it with creamy gravy and almonds. Spicy dishes such as Afghan mutton karhai, an Afghan delicacy that braises bone-in mutton in a spicy tomato sauce, rest on plates above crimson table settings in Ziyaafat's dining room. The restaurant also caters corporate functions and special events with their mobile services, which proves ideal for family reunions held in a local investment firm's conference room.
1301 Custer Road
Plano
Texas
US
972-881-4302
It's no surprise that a submarine sandwich can get a teenage boy motivated. But for friends Tony Conza, Peter DeCarlo, and Angelo Baldassare, fresh sandwiches sated not just their growing appetites, but their entrepreneurial dreams. After failed business attempts selling pots and pans door to door and trading stocks on Wall Street, the three heard of a bustling shop in Point Pleasant, New Jersey, where sandwiches piled with freshly sliced deli meats and crisp vegetables had locals lining up out the door. With a similar business model in mind, the three opened their own shop in 1964, naming it Blimpie to evoke the blimp-like shape they planned for their overstuffed sandwiches.
Now a national chain, Blimpie stays true to the founders' original dream as staffers continue to stack sandwiches with freshly sliced meats, veggies, and dressings. Turkey, smoked pastrami, top-round roast beef, and crisp bacon crown freshly baked rolls or soft tortillas. Each of Blimpie's stores brims with Americana-themed décor, paying homage to the company's founders, their slice of the American dream, and the submarine sandwich that is emblazoned on every five-dollar bill.
8300 GAYLORD PKWY STE 14
FRISCO
Texas
US
972-668-8118
Andria's Cajun Cuisine assembles recipes plucked from the table of restaurant owner Precious Wyatt's childhood. Wyatt grew up in New Orleans and after relocating to Plano, she found herself longing for the distinct flavors of the Crescent City. To reclaim the dishes of her youth, she enlisted the skills of Nappy Modjulua, who received intense culinary training in West Germany and later honed her abilities as an executive sous-chef in Louisiana. The executive chef's worldly background in Italian, French, and African cooking styles enlivens the menu of Cajun specialties, which includes classics such as blackened fish, crayfish étouffée, and crab-stuffed eggplant along with desserts capable of convincing any child to eat all of his math homework.
910 Parker Rd., Suite 360
Plano
Texas
US
972-633-3800
---