Things to Do in McKinney
---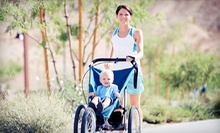 Fitness instructors lead 60-minute baby-boot-camp classes with new mothers and stroller-aged children
---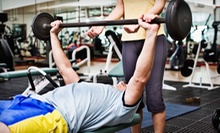 One-hour personal-training sessions for groups no bigger than three people use kettlebells, hammer strength, and battle ropes
---
Recommended Things to Do by Groupon Customers
---
AquaShop is in the business of defying physics; inside, water flows uphill. The FlowRider wave machine—an attraction usually reserved for theme parks or cruise ships—projects a frothy current blasted up a slanted ramp, emulating a wave for surfers, wakeboarders, and ambitious belly floppers to catch anytime, regardless of tide conditions. Before visiting, guests can check out the fun from the company's live camera view, which shows off sweet rides and spectacular wipeouts during all business hours.
Water isn't the only element AquaShop harnesses. The emporium of all things extreme hosts shred sessions on its Big Wave mechanical surfboard and encourages visitors to fire foam balls back and forth in the Cannon Ball Blaster arena. The in-house Thrill Zone features a padded obstacle course with a climbing wall, a slide, and a secret portal that grants one wish from Kelly Slater's magic bald head.
6121 W Park Blvd., Suite R102
Plano
Texas
469-366-0110
According to the Dallas Morning News, sewing and handwork gave Laura Kay Houser's life "balance"—guiding the stay-at-home mother through life's daily challenges as well as more trying ones, namely her son's illness. In 2006, Houser and two partners turned that restorative hobby into a business venture. Houser now spends most of her days behind the counter, eyes figuratively glued on her latest project.
Inside the colorful shop, shelves overflow with fabrics by brands such as Andover, Benartex, and Marcus Brothers, as well as with books, kits, and experimental needlework patterns inspired by the paintings of Jackson Pollock. Experienced teachers pop in to lead a variety of classes, ranging from sewing basics to workshops with renowned authors and designers. As the culture of quilting has always involved gifting quilts to those in need, the store publicizes volunteer opportunities involving quilting and other crafts.
217 N Kentucky Street
McKinney
Texas
972-542-8839
Armed with a PADI certification from Adventure Scuba, students dive into the depths, floating past forests of coral or ancient shipwrecks alive with schools of phosphorescent fish. Aspiring human submarines ease into the process during beginning training sessions, testing out the waters, familiarizing themselves with the gear, and breathing underwater in the 18-foot indoor heated pool. For more advanced adventurers, instructors break out world-renowned Technical Diving International courses, teaching divers how to descend 180 feet into the water while managing decompression and oxygen use. They can also help clients plan and navigate cave dives for underwater archeological digs for cave-mermen fossils.
Making the world's waterways accessible to everyone, Handicapped Scuba Association directors teach divers with disabilities to swim open waters during weekend dives at Lake Travis. They also organize scuba travel jaunts to Cozumel, Mexico or Dominica, where world travelers swim alongside sperm whales and reverse-scale down sea walls and past bubbling volcanic vents.
2301 N Central Expy.
Plano
Texas
972-423-3483
The roughly 5-kilometer Survivor Mud Run challenges athletes from around the country with 20 mud-soaked obstacles, including monkey bars, tire courses, giant slip 'n' slides, and net climbs. A team of licensed contractors builds all the obstacles, ensuring stability throughout. The dirt-drenched course allows participants to put their stamina, physical fitness, and mental determination to the test in a much more fun and safer way than challenging a Central African chimpanzee to a staring contest. Adrenaline and sheer force of will boost runners over walls and beneath low-slung wires in the mud-filled trenches, leading them to the finish line where a post-competition party awaits with beer, music, and food. After each race, announcers honor the top three male and female participants in each age division, bestowing a special distinction upon the runner who was brave enough to don the wackiest costume.
3115 CR 601
Farmersville
Texas
---