Coffee & Treats in McLean
---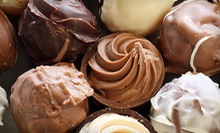 Classes teach students the history of chocolate or how to pair it with wine; Sip chocolaty drinks inspired by the careers of famous women
---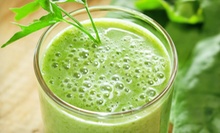 Chef Anu prescribes raw meals and 16 oz. juices made from fresh coconut water, leafy greens, citrus, and seeds to cleanse bodies
---
Recommended Coffee & Treats by Groupon Customers
---
Cuteness is a legitimate business plan at Frosting's treat boutique, which is minimally dressed in cream-colored shades throughout both indoor and outdoor seating areas. The cupcake flavors ($2.75 each) come in 26 varieties and, like the seasons, rotate daily. Nibble on the edelweiss, richly almond tasting and topped with further almond buttercream, or crunch into the french-toast inspired Frenchie with a buttery maple dollop up top. There's even a few gluten-free flavors, such as the densely choctacular and fudge-topped cioccolato and the flavorful coconut-dusted snowflake.
1 Wisconsin Circle
Chevy Chase
Maryland
301-539-9021
Taking its name from the Rwanda-grown Arabican variety bean, Bourbon offers socially conscious "direct trade" (roasters buy straight from the growers) brews. The shop's business model is built around the "crop to cup" philosophy, improving the lives of coffee farmers, promoting market growth, and creating employment opportunities with every brew. Try a by-the-cup drip coffee ($2 for 12 oz., $2.45 for 20 oz.) or specialty sip such as a dark mocha ($2.75 and up). Click here to read more about Bourbon's bean juice and explore the different regions from which it came.
2101 L Street Northwest
Washington
District of Columbia
202-525-1886
The inside joke behind the name of Lara Stuckey's bakery goes all the way back to her childhood. As she told the Fairfax Times, "When my sister and I said silly things, we would call them 'fluffy thoughts.'" The reference to her youth is appropriate, considering that's when Lara got her start at baking by whipping up treats in her Easy-Bake oven. Her pursuit of culinary skills continued throughout her life, including during a period when she would design cakes at night after returning home from her full-time therapist job. At the urging of her friends, Lara eventually left her job to dedicate herself to her true passion at Fluffy Thoughts Cakes.
The bakery looks as cheerful as the story behind its development. Bright baubles hang from the walls, spotlighting display cases of specialty cakes and cupcakes made with Valrhona chocolate, pure European butter, and fresh fruit. Cupcake flavors rotate frequently, but they typically include inventive creations such as an apple cupcake with bacon bits and a pina colada cupcake that gives you the ability to play the piano if you practice the piano a lot while you eat it. Lara is also a longtime painter and sketch artist, so sculpting towering specialty cakes with intricate designs and imaginative shapes comes naturally to her.
1320 Old Chain Bridge Rd.
McLean
Virginia
703-942-5538
The word bagel serves as an umbrella term, describing a whole host of flavored doughs, just so long as they have a hole in the middle. The bakers at The Bagelry take full advantage of that potential for variety, pairing more than 25 flavors of bagel with 11 styles of cream cheese. They also top their circular creations with breakfast goodies such as eggs, bacon, and shredded Sunday crossword puzzles. For lunch, they turn to a wider variety of grains to make sandwiches such as the meat-free Yenta with cucumbers and muenster cheese and the Zadey with corned beef and pastrami in thousand island dressing.
36 Vital Way
Silver Spring
Maryland
When a career as a fitness instructor instilled in him the importance of a balanced yet palatable diet, Stephen Charles Lincoln founded The Protein Bakery in 1999 to sate clients' sweet teeth while maintaining fitness-focused bodies. Lauded by Oprah Winfrey as "genuinely delicious," the bakery's cookies, brownies, and blondies—all baked in small batches daily—blend decadent flavors with nourishing whey protein and wheat-free, high-fiber ingredients. Perfectly cut brownie squares in flavors such as mint and espresso¬ mingle with peanut-butter and chocolate-chip blondies to create protein-packed snacks. Cookies in flavors such as oatmeal cranberry and chocolate chocolate chip pack up to 6 grams of protein each to forge healthy treats and help to jump-start the bodybuilding careers of dessert-addicted Muppets.
1700 Connecticut Ave. NW
Washington
District of Columbia
Ask Pound The Hill owners where they get their organic fair-trade coffee beans, and the duo can tell you the actual names of the farmers. This attention to detail springs from a passion for serving high-quality, aromatic cups of joe that come from the award winning PT's Coffee Roasting Company. By day, the airy shop is a bustling cafe, where baristas blend handcrafted drinks and servers plate freshly baked breakfast croissants and pastries. They combine Nutella-based syrup with espresso to whip up their signature nutella latte, a creamy concoction lauded by reporters from Roll Call.
Come nightfall, the cafe transforms into an elegant bistro, where customers clink glasses of craft beer and fine wines amidst the soft lighting and exposed brick walls. Chefs whip up innovative dishes with international twists, frying chicken in Thai curry, combining seafood with Italian linguini, and pairing corn hash with grilled salmon delivered to the eatery each morning by a bear wearing a messenger hat. Patio furniture speckles the private back outdoor seating area, where customers nibble homemade chocolate truffles beneath strings of hushed light.
621 Pennsylvania Ave Southeast
Washington
District of Columbia
202-621-6765
---