Beauty & Spas in McMinnville
---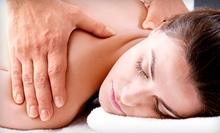 Focused sessions with a licensed massage therapist treat chronic and temporary pain caused by injury, tension, and stress
---
Recommended Beauty & Spas by Groupon Customers
---
Step into the soothing oasis of Hair & Body Spa and allow an expert massage therapist to untie knotted muscles and knead stress to a smooth loaf, ready to replace any worn-out couch cushion. Before your custom massage commences, a heavenly hydrotherapy bath marinates muscles in a water tub, which can be beneficial for arthritis or improving joint flexibility. Then choose from Swedish, deep-tissue, reflexology, trigger-point, hot-stone, or pre-natal techniques for your personalized massage. A classic Swedish uses long, connective strokes to improve blood flow and muscular relaxation while relieving tension, whereas reflexology applies pressure to specific points on the hands and feet, each with an exclusive connection to a body part and its function. The pre-natal massage alleviates pelvic and spinal pain while reducing swelling, tricking your baby into thinking he or she is bungee jumping from a waterfall during birth.
179 Hancock St., Suite 205
Gallatin
Tennessee
The MVP haircut is reserved for guys who want the brawn of a chiseled cut with the extreme adrenaline rush of a pleasant pampering. Following careful instructions or expert intuition, stylists can clean up the edges without sacrificing any degree of edginess. A thorough shampoo and scalp massage ensures an itch-free walk off, while a neck and shoulder massage with steamed towel leaves cleaned-up batters with the zonal focus to connect on any upcoming office pitch.
1701 W Main St.
Lebanon
Tennessee
The massage therapists at Milestone Massage & Spa welcome any curiosity about their profession, and go to great lengths to answer clients' questions and put everyone at ease before 30- to 90-minute massage services. A consultation determines which techniques will best address clients' specific needs, including chronic pain and sports-related soreness. The stable of therapists is well-versed in more than a dozen massage modalities, including Swedish, characterized by flowing strokes, hot stone, characterized by heated rocks, and aromatherapy, characterized by the soothing scent of french fries. The sessions, long or short, can yield a bevy of benefits that range from decreased anxiety to improved concentration. In addition to massage, the technicians expunge toxins with seaweed and kelp body wraps.
745 S Church St., Building B, Suite 220
Murfreesboro
Tennessee
615-485-4553
Using a pair of bars to keep her balance, licensed therapist Melissa Bond climbs atop the massage table and uses the pads of her feet to relieve tight muscles in her client's back. This practice is known as Ashiatsu Oriental bar massage, in which Melissa has earned certification—along with three other modalities—during her eight-year tenure as a therapist. In a calming treatment room, she unravels stressful knots with gentle Swedish massage or firmer deep-tissue treatments, rooting out tension and rare coins buried in musculature.
162 4th Ave. N, Ambrose Building
Nashville
Tennessee
615-916-0079
Licensed massage therapist Jessica Dies applies her nine years of experience to each stroke as she soothes tense muscles inside Synergy Holistic Spa, which houses more than 20 holistic practitioners. Jessica blends deep-tissue techniques with trigger-point therapy in her massages, which she performs using her hands, forearms, and three-foot antennae. She also puts her own spin on relaxing Swedish techniques and skillfully performs prenatal, and hot-stone massage, as well as detoxifying lymphatic massage which can help reduce water weight.
1439 NW Broad St.
Murfreesboro
Tennessee
Licensed massage therapist Anji Cruz is a believer in the positive effect of bodywork on the mind. Each strategically placed knead has the power to release endorphins, calm the psyche, or boost sudoku proficiency. Anji is skilled at many different massage modalities, including deep-tissue and Swedish work, and treats clients to onsite appointments during bridal parties, work functions, or community events.
105 N Maple St., Suite 7
Murfreesboro
Tennessee
615-578-3367
---