Things to Do in McPherson
---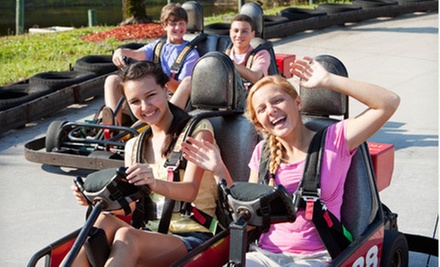 ---
Recommended Things to Do by Groupon Customers
---
The approximately 247-acre wilderness zoo houses more than 2,500 animals from nearly 400 different species, including gorillas, penguins, bears, tigers, and elephants. Stop by the orangutan and chimp habitat, or walk down a seashell-strewn path to the penguin cove, which includes a 52-foot-long underwater viewing area for watching Humboldt penguins glide gracefully through the water in search of sealed Tootsie Rolls. Sedgwick County Zoo's continually evolving exhibits showcase cuddlesome creatures from diverse regions including Asia, Africa, and South America.
5555 West Zoo Boulevard
Wichita
Kansas
The 105,000-square-foot, Smithsonian-affiliated museum, which was voted one of the Eight Wonders of Kansas in 2008, boasts the second-largest collection of space artifacts in the United States (behind only the National Air and Space Museum in Washington, D.C.). An all-day mission pass gets you access to all the museum's treasures: the Carey IMAX Dome Theater, Justice Planetarium, Dr. Goddard's Lab, and the Hall of Space Museum. Start by strolling through the Hall of Space, where notable space souvenirs such as the command module from Apollo 13 and the Liberty Bell 7 Mercury capsule chronicle mankind's courtship with the cosmos. Then explore Dr. Goddard's Lab, a replica of the 1930s laboratory where Dr. Robert Goddard pioneered modern rocketry. Explosive reenactments of the doctor's attempts to find the right rocket fuel, figure out how to circumvent gravity, and lick his elbows are performed daily to delight children and their copilots. Click here to download a basic museum itinerary.
1100 N Plum St.
Hutchinson
Kansas
Looking to put a new spin on a classic family activity, the minds behind Glowgolf decided to give the game a phosphorescent update. Incandescent courses place friends and family amid a tropical-fantasy golf world of neon orange, green, and violet surroundings. Players putt luminous orbs through vibrant treasure chests and glimmering windmills while negotiating tricky obstacles near walls portraying black-light-lit aquatic scenes. With more than 20 locations spread over 10 states, Glowgolf's fluorescent labyrinths challenge human players and traveling gnomes.
4201 E 21st St. N
Wichita
Kansas
316-347-4646
Paintballers belly crawl through tall grasses and weeds as their opponents hunker behind fence posts, sandbags, and trees. Within wooden structures teammates strategize and hatch plans of attack before flanking the other team and firing off kaleidoscopic-like rounds of eco-friendly paintballs.
Traversing 54 acres comprising six woodsball courses and two speedball fields, players at The Edge Paintball Adventures navigate varying terrain, including a stream bordered by long stalks of golden grass and overgrown, tree-bordered fields full of thistle, shrubs, and dandelions gone to seed. A staff of trained referees maintain order on themed courses such as Assassin's Alley, where snipers lay in wait or Firebase Bravo, which sports a mammoth bunker that encourages use of paint grenades.
4305 N Ridge Rd.
Wichita
Kansas
316-721-0051
From a six-month journey across the Indian subcontinent to graduating as one of the first yogis ever to be certified by Baptiste yoga creator, Baron Baptiste, there's seldom been a dull moment in Lisa Black's 12-year history with yoga. She even invented her own style of yogic practice called Shakti Vinyasa yoga in 2003. With the help of a fleet of instructors that she personally certified, she brings her wealth of experience to each class she teaches through Shakti Vinyasa Yoga's four studio locations.
All four studio locations provide a venue for renowned yogis to visit and hold workshops while passing or levitating through town. The brightly lit, hardwood-floored rooms have hosted such experts as Baron Baptiste, Shiva Rea, and Ana Forrest.
10245 Main St. , Main Place Building, Suite 104
Bellevue
Washington
425-646-9642
Vibrant hardwoods envelop the lush fairways of Fox Ridge Golf Club's nine-hole course as they stretch across 3,174 yards of scenic, secluded terrain. The horticultural haven encircles a central stream, which comes into play on four holes and houses a sophisticated underwater civilization that uses golf balls as currency. Rounds end in dramatic fashion at the ninth hole—a 498-yard par 5 that doglegs slightly left and contains the widest segment of the intervening river, forcing spiky-shoed adventurers to make cerebral course-management decisions. Head golf pro Mike Riffel guides greenhorns on their path to green jackets with a variety of golf lessons. The Club keeps tour-level hunger at bay with Fox Ridge Restaurant, which serves an eclectic menu including steaks, burgers, pastas, sandwiches, and salads that can be made to order and foraged entirely from recovered divots.
800 S Kansas
Newton
Kansas
316-283-4666
---