Mebane, NC Outdoor Activities
---
---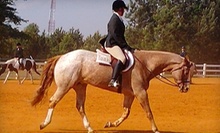 Equestrians guide horse-straddling neophytes through riding basics during private lessons
Use Today 9:00am - 7:00pm
---
Recommended Outdoor Activities by Groupon Customers
---
• For $4, you get one ticket to any regular-season home game on Sunday–Thursday (an $8 value before fees, or up to a $9.50 value online, including all ticketing fees). • For $16, you get four tickets to any regular-season home game on Sunday–Thursday (a $32 value before fees, or up to a $38 value online, including all ticketing fees).
409 Blackwell St.
Durham
North Carolina
The European-designed go-karts at RushHour Karting mean business. At no-nonsense speeds of up to 40 mph, they whip around a third-mile indoor track that remains open year round and boasts an observation deck and real pit lines. Overhead, digital projections display racers' track times. Drivers refuel at The Pit Stop, where chef Merlin cooks up gourmet burgers, hot dogs, and salads and serves them amid the glow of seven high-definition plasmas and a 123" high-definition projector.
5335 Raynor Rd.
Garner
North Carolina
919-662-9101
There are numerous times in life when it's not appropriate to storm off to the mountains for adventure and stress relief. Work, family, and co-dependent penguins often keep us committed to life in one place. The climbing center at Vertical Edge provides all the challenge and fun of actual mountain climbing without the distance and dangers of a real rockface. Under the skilled tutelage of trained instructors, you'll get a lesson on basic climbing techniques, including the fine art of belaying another climber (to avoid such accidents as witnessed on playgrounds when itinerant sumo wrestlers attempt to see-saw with toddlers). After your lesson, you can stick around the massive facility and belay or climb for as long as your want, then return for any full additional day with equipment and admission included. With over 8,500 square feet of climbable surfaces to choose from, including a bouldering cave and 20 leadable routes, there's no shortage of learning opportunities available.
2422D US 70 Highway
Durham
North Carolina
The sound of swooshing nets fills the rafters of the PNC Arena as the NCAA women's basketball tournament shuffles into the Sweet Sixteen and Elite Eight rounds, pinning the Raleigh Division's top remaining teams against each other in a do-or-die sprint toward the Final Four. Rather than getting pelted with constant shots while reclining in the backboards' cozy round hammocks, hoops fans can perch in 100-level seats to witness the on-court madness, which has already seen the 13th-seeded Marist Red Foxes bust brackets by ousting fourth-seeded Georgia in the opening round. The Elite Eight game on March 27 will crown a regional champion, sending them on a trip to the national semifinal in Denver, where the Kingston Region's own victor awaits the chance to play rock-paper-scissors for a coveted spot in the title game.
5400 Trinity Rd., Suite 407
Raleigh
North Carolina
Lunar Mini Golf's two 18-hole indoor courses whisks putters away to a black-lit labyrinth sculpted through a phosphorescent dreamscape of vibrant murals and neon obstacles. Tiny neon walls frame the pitch-black corridors of each hole, which gives the impression that patrons are rolling orbs across the rayless expanse of the cosmos or through their neighbors' radioactive crawlspaces. Clubbers clad in white will shine like gleaming apparitions as they read tricky breaks and keep the yips at bay, and Lunar Mini Golf offers glowing necklaces for clients to wear to capitalize on the visually mesmerizing lure of the black lights. Catering to large groups, Lunar Mini Golf also features a complimentary party zone available upon request for birthdays, corporate gatherings, and ceremonies unveiling new neon eyebrow tattoos.
5959 Triangle Town Blvd.
Raleigh
North Carolina
Greensboro Tennis Program spreads the gospel of competitive racket flailing by maintaining the courts and stewarding lessons, clinics, and tournament play over seven Greensboro tennis sites. Its staff of tennis masters presides over a thriving junior development program with more than 70 young baseliners that have a North Carolina State ranking, which can be attributed to instructors' success in teaching proper stroke technique, footwork, and changeover intimidation tactics. The Program also hosts clinics for adults and United States Tennis Association tournaments for players of all ages and abilities throughout the year.
1500 Dans Rd.
Greensboro
North Carolina
---