Mechanicsville, VA Outdoor Activities
---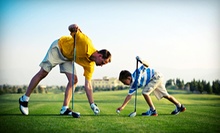 In two-hour lessons, PGA professionals teach juniors aged 7–17 golf fundamental and instruct parents on how to continue lessons at home
---
Recommended Outdoor Activities by Groupon Customers
---
Shockoe Bottom, one of Richmond's oldest neighborhoods, is also home to some of Richmond's scariest ghosts and classiest haunting scenes. During the Capital Creepers Eerie Nights tour, which is guided by ghastly ghouls dressed in historical duds and painted with Hollywood-quality makeup that would fool even the deadest ghost, fright fanatics will discover all the dark and gory details about the haunts of Richmond's past, present, and future, which are much more thrilling than the commonly known tales of the still-warm ketchup on Colonel William Mayo's 1737 city plan and the guy on the corner who screams "I'm a ghost" every 15 minutes.
100 N 17th St.
Richmond
Virginia
Steve Wendt brings nearly 40 years of experience soaring the skies to his lessons at Blue Sky Virginia Hang Gliding's flight park, where he instructs gliders of all experience levels in launch methods ranging from training-hill foot launches to towing. Through personalized instruction in classes certified by the U.S. Hang Gliding and Paragliding Association, he hones flyers' skills in solo and tandem hang-gliding and in piloting trikes and paragliders against elite racing pigeons. Using aero-towing, park staff members can tow pilots to heights of more than 2,000 feet, or get them airborne with platform and scooter towing.
Staff also outfit certified pilots and enthusiasts with a fleet of gliders from brands such as Aeros, Icaro 2000, Moyes, and North Wing, each made from aircraft-grade aluminum and Dacron sailcloth. In the event of regular wear and tear or run-ins with jealous paper airplanes, they can also sew sails, repair harnesses, and bend frames back into shape in a repair facility.
1896 Dabneys Mill Rd.
Manquin
Virginia
804-241-4324
The streets and buildings of Richmond breathe with history. Patrick Henry's famous words, "Give me liberty or give me death," echo in St. John's Church, where the statesman gave his infamous speech; the ghost of Poe wanders the streets of the Church Hill district, where he lived and wrote; and the bones of presidents James Monroe and John Tyler lie peacefully under the lush grass of the Hollywood Cemetery, a National Historic Landmark. These are just a few of the locations that segway riders glide through during educational tours organized by Segway of Richmond.
The company's most popular jaunt, the two-hour Landmark Tour, takes groups to nearly 20 historic buildings, churches, and museums, whereas other ventures focus on specific aspects of the city's past, such as the Black History Tour or the Edgar Allan Poe Tour. In addition to learning about the men and women who shaped the culture of Richmond and practicing their preferred mode of transportation, tour-goers can explore the architecture of Victorian and Edwardian homes during a Fan District Tour or think about murals, mosaics, and sculptures during a Public Art Tour.
1301 East Cary St.
Richmond
Virginia
Over its 30 year history, The Dive Shop has trained over 10,000 new scuba divers and earned the honor of being a five-star PADI Instructor Development Center, without ever switching owners. The same teachers who helped the first class of students discover the underwater world now aid their children and grandchildren in making the same discovery through Open Water Certification diving courses and introductory lessons. They start beginners off in the safety of local pools, before plumbing the depths of Lake Rawlings during certification dives.
9320 WBroad St., Suite H & I
Richmond
Virginia
---