Restaurants in Medina
---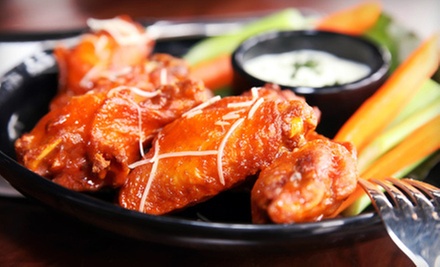 ---
Recommended Restaurants by Groupon Customers
---
T.G.I. Friday's transforms the six worst days of the week into the only day of the week that is acceptable to most Americans. Friday's is equipped to fill your life with Jack Daniel's sauce and endless salad and breadsticks. The multipronged menu contains prongs for burgers, sandwiches, salads and soups, seafood, pastas, chicken, and more so that any craving-flame can be put out.
18400 Royalton Rd.
Strongsville
Ohio
A 17-year tradition in the Cleveland area, Alfonso's expertly prepares classic Italian fare using fresh ingredients, culinary care, and spicy dancing when necessary. Both the lunch and dinner menus offer generous portions of pasta, pizza, and more. For a hearty lunch, try the customer favorite meatball sandwich ($7.75), served on country Italian bread with red sauce and provolone cheese, or chicken parmesan ($7.50) with provolone and red sauce on an onion roll.
7786 West 130th Street
Middleburg Heights
Ohio
Whether you lack teeth, time, or a taste for chewing your fruit, Smoothie Creations can whip you up a drinkable feast that'll help keep scurvy at bay while working out the cheek muscles necessary for blowing powerful raspberries. To concoct a sturdy smoothie, start with a foundation of either ice cubes, low-fat yogurt, or soy milk. From there, the creative control rests in your hands, mind, and panting tongue. Elect a preconceived potion such as a Pineorange Pleaser, combining pineapples and bananas with a collision of orange and pineapple nectars, or opt for a Mo Chafee fusion of house coffee and decadent chocolate to attack the day with the fury of a gentle, focused tornado. In the event that your desires require an undiscovered pairing, the friendly smoothie sorcerers at Smoothie Creations will gladly mix a custom creation from available materials.
7868 Broadview Rd.
Parma
Ohio
Peppermill Pub and Grill combines fabulous fare, delicious drinks, and wonderful WiFi to create an all-around accommodating and alliterative experience for diners. The restaurant's executive chef, John Wright, brings his 10 years of experience at the fine-dining restaurant Chez François in Vermilion to tempt your taste buds, serving up a full menu of soups, salads, sandwiches, daily entree specials, and lunch-buffet bites for those on the go. Start with a savory order of sausage-stuffed banana peppers coated with homemade tomato sauce and cheese ($8.99), or a serving of fresh spinach and artichoke dip with hand-cut tortilla chips ($8.99), before letting your teeth traverse the table to a main dish. Peppermill chicken primavera is a house specialty, with grilled chicken, spinach, roasted red peppers, artichokes, and kalamata olives tossed with herbed olive oil ($15.99). People who like to disguise their protein as a bun will enjoy the inside-out burger, sneaking American cheese, lettuce, and tomato between two quarter-pound beef patties ($8.29).
7011 Mill Rd.
Brecksville
Ohio
Eager eaters can begin their Vaccaro's journey with a plate of savory antipasto ($15) before hunkering into classics such as veal saltimbocca ($29) or the meatless eggplant involtini ($22), a breaded or grilled slab of eggplant with ricotta, goat cheese, vegetables, and lemon butter. Pasta offerings include angel hair, penne, and whole weat linguine with your choice of sauce ($14), and lasagna al polpette with meatballs, fennel sausage, and baked mozzarella ($17). In a feat of culinary alchemy, Vaccaro's house-made noodles are fashioned in part from the skins of cabernet sauvignon grapes, filling pasta guzzlers with antioxidants while diminishing the appearance of wine lips. Visitors can even savor guest-inspired pizzas ($10–$15), such as the pepperoni-packed Kelly Janas; the Steve Marks, a barbecue-chicken concoction; or the Boba Fett, a treacherous mixture of mozzarella and greed. A resident sommelier is on hand to advise patrons which pours pair perfectly with their plates; with such an extensive wine list, sippers may find themselves in need of guidance.
1000 Ghent Rd.
Fairlawn
Ohio
The cuisine architects at Tony Maloney's populate an eclectic menu with Italian, Irish, and American recipes, building culinary bridges to complement a convivial pub ambiance. Net a coastal classic with the fish 'n' chips, hand-cut fries wedded to morsels of cod that have been beer battered or lightly battered ($8.99). Meatballs roll into a 9" hot grinder sub ($6.99), and mushrooms, swiss cheese, and roquefort sauce blanket the Czar burger's Black Angus patty ($8.99). Table tenants can obviate the need to freehand a drawing of a frisbee or a CD taped to a frisbee by tracing the borders of Freddie's Favorite gourmet pizza, freckling a bed of provolone cheese with spicy smatterings of hungarian hot peppers and italian sausage ($9.99–$15.99). Guests can also assemble a custom disk ($7.99–$13.99), and festoon it with such toppings as pepperoni, artichokes, and mandarin oranges ($1.25–$2.50 per topping).
9387 Sprague Rd.
North Royalton
Ohio
---