Restaurants in Medina
---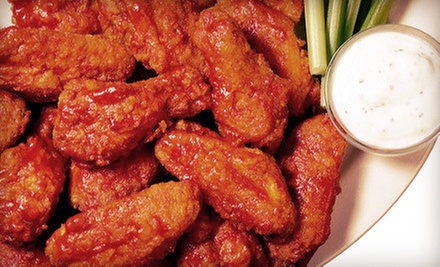 ---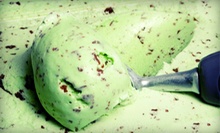 The on-staff gelato chef crafts seasonally rotating gelato flavors with fresh fruit and natural ingredients
---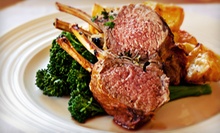 Entrees featuring dry-aged beef, elk, and buffalo straight from the owner's farm at a restaurant with a humidor stocked with imported cigars
---
Recommended Restaurants by Groupon Customers
---
Devore's Hopocan Gardens serves Barberton-style chicken, which is locally raised, cut to conserve the tastiest bits of meat, lightly breaded for a natural, seasoning-free flavor, and deep-fried to a golden brown. The crisp, fresh taste of a classic white-meat combination (a breast, back, leg, and wing; $8.95) or a large dark platter (three thighs, two drumettes, and a back; $9.55) makes Colonel Sanders roll over in his roost. Most dinners come with a choice of three sides, such as hot sauce, coleslaw, and mashed potatoes. The menu of fowl-focused palates includes chicken buckets, hot wings, sandwiches, and paprikash (chicken stewed in a paprika sauce), along with freshwater pike, shrimp, and ham.
4396 Hopocan Avenue Ext
Barberton
Ohio
Once a ramshackle ice-cream store with a loyal Akron following, today Zack's Fire and Ice serves barbecue along with its cones with help from new owner and former pastor Randy Stewart and his wife, Kathy. The Stewarts have lived in the Southwest and up and down the East Coast, so rather than adhere strictly to any one regional barbecue style, they synthesize their favorite elements from a number of traditions to create an eatery with the welcoming spirit of a backyard cookout. The kitchen slow smokes brisket, ribs, pork, and turkey breast and slathers them with sauces such as honey and apple bourbon. Frozen treats such as sorbet and frozen yogurt stay chilly at the ice-cream counter alongside hard-packed ice cream in flavors such as pumpkin pecan, oatmeal cookie, and Superman, designed to freeze enemies' brains faster than a speeding bullet.
1530 W Market St
Akron
Ohio
Nearly 12,000 years ago, a glacier hungered for a bite of wilderness. The gratuity it left behind isn't a shiny Loonie but a 385-acre waterway known as Chippewa Lake. In the late 1800s, trains began hauling blocks of ice from its chilly recesses, where vacationers swam and canoed during the summer. One of the railroad's most prominent families built an estate beside the water, adorning the wilderness with a carriage house, formal gardens, and a portico lined with ornate columns. Inside the mansion, two fireplaces welcomed the rich and famous with stones collected from faraway lands. The same fireplaces warm patrons today, inside a restaurant known as The Oaks Lakeside. In addition to feeding guests at the resort's wedding receptions, the eatery serves upscale fare in six different dining areas flanked by covered terraces and a shoreside pagoda. During the summer months, visitors can dine al fresco by the lake, where sunsets paint the sky with art as bold and colorful as coffee brewed from ground-up rainbows. The kitchen creates masterpieces as well, loading plates with sculptural configurations of king crab legs and bread pudding. Dishes such as veal piccatta and chicken marsala lend Italian flavors to the dinner menu, while dry-aged rib-eyes conjure the charm of a classic American steakhouse.
5878 Longacre Ln.
Chippewa Lake
Ohio
330-769-2601
---