Melbourne, FL Indoor Activities
---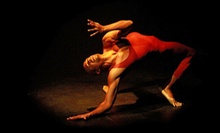 Ages 11–15 learn placement, balance, flexibility, alignment, strength, and technique through barre and center-floor work; Vaganova method
Use Monday 1:30pm - 4:30pm
---
Recommended Indoor Activities by Groupon Customers
---
From the outside, Professor Wonder's WonderWorks laboratory appears to have flipped completely on its head. When visitors enter the upside-down edifice, they must first pass through the psychedelic, spinning lights of the Inversion Tunnel, which turns the building right-side up for families to embark on a full day of entertaining, educational activities. More than 100 interactive exhibits spark excitement around natural phenomenon, including replica space capsules that visitors can climb into, a gallery of mind-bending illusions, and the lab where Cabbage Patch Kids are grown in petri dishes.
Some of WonderWorks Orlando's hands-on displays allow guests to experience the aftershocks of the San Francisco earthquake of 1989, throw a strike against Derek Jeter, and lie down on a bed of 3,500 sharp nails without so much as a scratch. Additional activities include the Indoor Ropes Challenge Course, which exercises bodies and minds as challengers navigate three stories of swinging beams and suspension bridges, and the XD Theater 4D, which transports viewers to swift canyon roller coasters, haunted mines, and Mars with full-motion seats and 3-D visuals.
9067 International Dr.
Orlando
Florida
Perched in Downtown Disney West Side, House of Blues Orlando resembles something of a backwoods theme park itself. Giant signs herald the venue from atop an old water tower taken from Mickey Mouse's ancestral estate, and between trees wrapped entirely in twinkling lights stands a sprawling, neon-lit wooden roadhouse whose stage and lantern-strung patio bustle with boisterous entertainments nearly every night. A box of Delta Mississippi mud beneath its stage links it to its sister locations across the country.
1490 E Lake Buena Vista Dr.
Orlando
Florida
407-934-2583
Celebrating the ship's 100th anniversary, Titanic The Experience's live actors, full-scale models, and 20,000-square-foot interactive museum faithfully recreate the poignant story of one of the world's most famous ships. One-hour guided tours of the museum led by trained performers immerse visitors in the mystery and lore of the ship's tragic tale. Actors donning garb from the early 1900's portray such iconic characters as Molly Brown and the time-traveling Gilligan, amid full-scale recreations of the Titanic's grand staircase, promenade deck, and boiler room. History buffs can also feast their eyes on an 8-foot replica of the ship as it appears on the ocean floor today. More than 200 artifacts from the ship's history are on display as well, including memorabilia from the blockbuster film Titanic and an apology letter from the glacier.
7324 International Dr.
Orlando
Florida
407-248-1166
Although Orlando Shakespeare Theater gets its name from the Bard himself, the ensemble of thespians produces a wide variety of shows. Shakespearean tragedies, comedies, and space operas anchor their season, but newly developed works also make their way onto the bill, as do plays for young audiences. Kids learn how to create their own pieces of theater during summer camps and classes, hosted both offsite and in school.
812 East Rollins Street
Orlando
Florida
407-447-1700
The Jewish Community Center of Greater Orlando was founded to give those who share the Jewish tradition a communal setting in which to exercise, play, and learn with one another. Between them, the two locations boast full fitness facilities, tennis courts, and an outdoor pool. Group exercise classes and a gymnasium aid adults in acquiring fitter bodies, and sports leagues provide a venue for grownups to compete and ceremoniously dump sports drinks on each other. The center also puts on its own full-blown theatrical productions.
The center's staff tailors certain events to the needs of senior citizens, helping them with exercise regimes such as yoga. Staff members also assist the Senior Nite club in organizing trips to new restaurants or the theater and help pintsize guests by helming a preschool, kids' camps, and extracurricular programs. Staffers can even pick up youngsters from school and ferry them to one of the facilities for afterschool development programs, which, like backyard mazes, are designed by the child's parents to challenge young ones.
851 N Maitland Ave.
Maitland
Florida
407-645-5933
Snap! Orlando unravels a city-wide canvas for more than 50 renowned photographers and emerging local talents to showcase their shutterbug prowess. Stretched across a dozen different venues, including art galleries, cafés, and exhibition spaces, the multi-day celebration unites both photography novices and veteran collectors under the same creative banner. On Friday, an artist reception launches the festivities with live talks from featured visionaries, and on Saturday, a fashion show shifts the spotlight from portraits to patterns with bold new styles inspired by some of the event's creative minds. Attendees can also drop in on a lineup of lectures, workshops, and guest speakers who will be on hand to discuss their areas of expertise or demonstrate their go-to dance moves for developing a Polaroid.
101 S Garland Ave.
Orlando
Florida
---