Auto Service in Melrose
---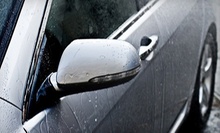 Jamaica Central - South Sumner
Automated wash tunnel cleanses cars with slick wax, wheel bright, tire shine and undercarriage foam wax
Use Today 2:00pm - 8:00pm
---
Recommended Auto Service by Groupon Customers
---
With each cleaning, Bubbles Car Wash's staff strives to leave cars thoroughly polished and shining. Customers choose a Single, Double, or Triple Bubble wash, with options that range from a basic bath and towel dry to a luxurious scrub that involves triple-foam polish and protective coats of Teflon. The auto experts and two-time finalists for CityVoter's Best Car Wash in 2011 and 2012 also venture into interiors during auto detailings, which evict grime and stains from seats and mats, and focus on their motto, "We don't sell car washes, we sell services." As car owners wait, they can surf the web on free WiFi.
90 Southampton St.
Boston
Massachusetts
At A-Z Auto Center, brothers Billy and Fredy run the detailing, auto-body, and mechanical-repair shop started by their dad more than 40 years ago, earning remarks for their "rare integrity" on sites such as Citysearch. As members of a AAA Approved Auto Repair service center, A-Z's automotive technicians uphold ASE standards during every repair, from replacing windshields to matching multilayer factory finishes as closely as possible through a sophisticated paint system. To simplify the repair process, team members can provide free estimates via uploaded vehicle images as well as quickly process insurance claims through their fleet of carrier pigeons. They can also give customers lifts home or help coordinate car rentals should their vehicles require extended service.
1686 Commonwealth Ave.
Brighton
Massachusetts
US
Drop off your horsepowered horseless carriage at Glenville Terrace Auto Body, where experienced professionals stand at the ready to remix your oily fluids and filters, allowing your ride to run smoother, longer, and with significantly less sweating. It's recommended to stop in for a change every 3,000 miles or, if you're one to spend your days off rolling back the odometer before your friend's dad finds out, every six months. After all, oil changes are an important part of routine car maintenance and can help you avoid interstate breakdowns and awkward silences in the cab or the tow truck. Glenville's friendly automotive masters will swap out your vehicle's black-liquid soul two separate times, ensuring effortless rides for 6,000 miles.
10 Glenville Terrace
Allston
Massachusetts
At locations throughout the northeast, ScrubaDub Auto Wash Centers' computerized wash tunnels and detailing pros spiff up cars with advanced technology and minimal environmental impact. The robotic wash systems and photoelectric sensors not only clean finishes with a gentle, soft-cloth technique, but they can target white walls, wheels, and chrome with site-specific formulas. The eco-savvy automated systems also consume less water than home washing and recycle the water used to clean the wheels and undercarriage. Biodegradable SuperGlo soap keeps the run-off free of harmful compounds before it is funneled down the proper treatment channels, where it can't pollute neighborhood storm drains or be used to test the resiliency of carnival goldfish.
The centers' innovative equipment and Earth-friendly practices have earned them the title of Best Car Wash from CityVoter for three years running. Some locations also boast separate interior cleaning bays to address filthy dashboards and seats.
172 Worcester Rd.
Natick
Massachusetts
Cars may have been made for speed, but caring for them properly takes time. Such is the credo underlining Gemstone Auto Detail's exhaustive cleaning packages, which incorporate everything from human hands to clay bars and air guns in order to keep cars as clean as the day they crawled out of Henry Ford's soup. Detailers wash away dirt with foam guns, pH-balanced water, and shampoos; however, cleaning is only the beginning. Once vehicles have been stripped of grime and filth, the staff carefully wipes them down with liquid waxes and polish. Still, a shiny car is susceptible to damage, which is why they take it a step further and condition leather seats, lather the paint in sealant, and fabric-guard the carpets, building an armor around the vehicle that maintains its like-new shine and protects it from hazards such as weather, grease, and spillage.
26 Sylvia Rd.
Peabody
Massachusetts
978-580-8216
What began as a cleaning business more than 20 years ago has blossomed into Car Spa Detailing Center's two full-scale locations, with Joe DeBarros at the helm since their inception. From its bases in Cambridge and the Natick Collection mall, a team of acute technicians conditions vehicles with a menu of services ranging from express details to all-out auto-spa detailing with hand washes and liquid Simonize waxes. They lovingly swab every nook and cranny of cars ranging in size from compacts to large SUVs, trucks, and vans, polishing the outside and leaving the façade wholesome enough to play Abraham Lincoln in Presidents' Day parades.
4 Cambridge Ctr., East Garage
Cambridge
Massachusetts
617-201-4716
---