Education & Classes in Melville
---
Education & Classes Deals
---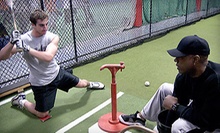 Within 33,000 sq. ft. training facility, players batter balls hurled between 35–80 m.p.h. by mechanical pitchers with adjustable height
Use Monday 12:00pm - 10:00pm
---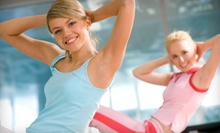 Patrons access treadmills, elliptical trainers, and other cardio equipment as well as free weights and Life Fitness machines
Use Friday 6:00am - 8:00pm
---
Recommended Education & Classes by Groupon Customers
---
The Long Island Athletics Baseball program does its part to replenish the sport's stock of future talent, fostering youngsters under the trained eyes of a dedicated, experienced staff. During clinics, which are available for various aspects of the game including batting, base running, and sunflower-seed spitting, small groups gather on the diamond to field advice and recommendations from the program's coaches. The across-the-board emphasis on individualized instruction, as well as hard work, passion, and unselfish play, has helped many former players springboard to the next level of competition, specifically at the collegiate level.
Merrick & Stewart Aves.
East Meadow
New York
516-662-8710
Since 1984, Rock-N-Roll University has equipped musicians with the equipment, accessories, and skills to pursue their ambitions in songsmithing. Glistening guitars in all shapes and colors hang from the walls in rows, surrounded by equipment such as amps, practice books, and freeze-dried roadies. The shop also retails and rents instruments for orchestras and bands as well as the various parts and salves to keep them in working order.

Rock-N-Roll University also has a varied curriculum for students of music. There are both private and group classes, where you can learn with traditional lessons, jam sessions, and band programs that culminate in live concerts.
531 Route 111 Hauppauge Blvd.
Hauppauge
New York
631-656-5901
As licensed commercial pilots with a number of certifications, Nomis Flying Club's instructors are no strangers to the rigors of flight school. Although they guide students through an intense curriculum, they still strive to foster a convivial, friendly atmosphere, tailoring classes to suit each student's goals.
Additionally, in an effort to foster a flying community, Nomis Flying Club members gain access to fully fueled planes and an airport clubroom, where they can swap landing and windswept-hairstyling tips with other passionate aviators.
1210 Route 109
East Farmingdale
New York
347-693-0687
Ken Benshish and Yi Qian both grew up loving music, but the process of learning to play it ranged from uninspiring to mind numbing. The two musicians started iSchool of Music & Art to provide a much different experience—a positive, supportive atmosphere that takes into account each student's personality and goals. Students aged 3 and older who can't tell a drumstick from a plectrum and don't even know the street value of a quarter note can learn piano, drums, guitar, or voice skills from scratch, then test their newfound skills with multiple performance opportunities throughout the year. Instructors host private classes or group students into their own rock-band performance troupes, while intensive camps culminate in field trips to Lincoln Center and tour of a real recording studio.
325 Sunrise Hwy.
Rockville Centre
New York
516-442-2230
Since the company's inception in 1987, more than 50,000 students have earned certification or bolstered their earning power at NYREI. Graduates including Donald Jr., Ivanka, and Eric Trump have made their way through the flexible schedule of courses for aspiring Realtors, small-business owners, and freelancers of all stripes. Besides licensing courses for real-estate brokers and salespeople, the school offers more than 50 programs. The sessions include investor training, workshops on LEED accreditation, and one-on-one tutoring. Those stuck at home, in the office, or waiting at a glacier crossing can still take steps to further their careers with a large selection of online classes.
Jericho Tpke. & 24 Oak Dr.
Syosset
New York
212-967-7508
In 1998, School of Rock's first location was built in Philadelphia to strengthen kids' self-confidence, develop their musicianship, and most importantly, spark an insatiable enthusiasm to learn. Today, the School of Rock franchise has branched out to more than 65 locations throughout the United States and Mexico. During the school's music lessons, encouraging instructors well versed in methods of rocking and rolling—such as strumming guitars, tickling keyboards, and causing avalanches with yodels—demystify music theory for mini Mick Jaggers of all skill levels.
School of Rock's Rock 101 program acquaints beginners with the instrument of their choice using a curriculum of weekly private lessons and group band rehearsals. Virtuosos ready to hit the stage can participate in the performance program, which prepares students for live performances that pay homage to beloved rock icons such as Queen, Led Zeppelin, and Mount Rushmore.
540 Smith St.
Farmingdale
New York
US
631-425-5191
---