Melville, NY Health and Fitness
---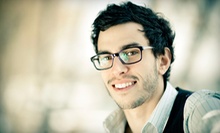 A trilingual optometrist examines eyes; technicians then craft prescription lenses for designer frames
---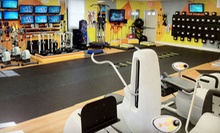 The studio uses video-game fitness equipment, magnetic training machines, and interactive education games to work kids' minds and bodies
Use Saturday 10:00am - 1:00pm
---
Recommended Health & Fitness by Groupon Customers
---
Dr. Richard Mabanta and his team strive to alleviate the nuisance and burden of back pain, whiplash, headaches and other ailments with drug-free chiropractic techniques. But first, they tackle another common patient complaint: the scourge of the arrogant, know-it-all doctor. Dr. Mabanta and his nurses value listening, especially during their consultations. They understand that patients have the innate sense to know which remedies will agree with their particular discomfort, and they avoid the presumption that professionals know more about the patient's body than the patient. At the same time, the team emphasizes the importance of education, introducing patients to new treatments that may not seem immediately apparent. After collaborating on the treatment regimen, the team customizes treatments to fit each client's unique condition. While each case is different, treatments may incorporate therapeutic massages or nervous-system work, such as spinal adjustments that relieve back pain from impinged spinal cords or unrequited love for a beaded seat cushion.
70 Main St.
Huntington
New York
631-427-5777
Licensed acupuncturist Denise Rusnak and licensed massage therapist Nancy Dionisiou fight physical ailments with natural treatments that target the roots of illness. Their combined expertise in Chinese and Native American herbology, shamanistic techniques, reiki, and Japanese acupuncture round out a holistic skill set that aims to address conditions ranging from depression to digestive issues without using drugs or invasive procedures. The Asian-themed environs soothe eyes with a blend of hues such as mauve and apricot. Sky-blue walls in the treatment room set nerves at ease, bringing back childhood memories of stealing periwinkle crayons from local policemen.
45A Broadway
Greenlawn
New York
US
631-896-2405
Jodee Grandwilliams draws upon her expertise as a licensed acupuncturist and certified Chinese herbalist as she doles out holistic treatments and health education. Before ever reaching for a needle or root, she first goes over patients' medical history to learn their overall state of health, then examines their tongues, and notes their pulse. With this information, she can draft a treatment protocol that might include acupuncture, a form of soft-tissue massage called tui na, cupping, or carefully selected herbs. Her dietary advice helps patients continue their treatment on their own, eating foods that keep energy levels in check, digestive woes at bay, and deep thoughts from escaping through ears.
45 Berry Hill Rd.
Syosset
New York
US
516-510-8441
---