Beauty & Spas in Menlo Park
---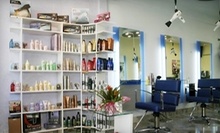 Seasoned stylists give tresses total treatment with shaping cut, partial highlights, color-corrective toner & restorative deep-conditioning
Use Saturday 10:00am - 5:00pm
---
Recommended Beauty & Spas by Groupon Customers
---
Next to beauty, health and safety are top priorities at King Nail Spa, which is why it recently renovated and added a room dedicated solely to sanitizing all its equipment in accordance with the standards of the Board of Barbering and Cosmetology and a team of overbearing mothers. In front of a rose-colored wall, rows of plush chairs encourage relaxation while skilled technicians file, trim, and buff fingers and toes, topping them off with glossy finishes from products such as OPI and China Glaze.
950 King Dr., Suite 121
Daly City
California
877-357-0726
Master aesthetician Mandy Tsai has 15 years of experience working with men and women, particularly those whose skin reacts negatively to the humidity and sun of their local climates. Within the walls of Trenz Salon, Mandy works one-on-one with her clients to evaluate their skin and develop a personalized treatment plan. Mandy uses her arsenal of professional-grade products from brands such as PCA, SkinCeuticals, and Jan Marini, and a bevy of techniques, including microdermabrasion and LED facial therapies, to treat wrinkles hyperpigmentation, acne, and rosacea. Other services provided include spray tanning, eyelash extensions, body waxing, and cosmetic tattoos.
1211 Broadway
Burlingame
California
US
Master Barber Sergio Portela Jr. believes indulgence and relaxation to be the foundation of the barbershop experience. However, he felt little touches such as hot-towel shaves, razor edge-ups, and facial-hair sculpting had gone by the wayside. So in 2012, he opened his own barbershop to revitalize the art with those grooming services, utilizing Art of Shaving products as well as essential oils. Like a Grecian bust wearing a beanie, his repertoire combines traditional touches with modern styling and includes color enhancements as well as tapers, fades, and even cuts. Sergio makes himself available for in-home or at-the-office appointments.
6027 Mission Street
Daly City
California
415-728-2492
The multispecialty team at Body Kneads takes a no-frills approach to pampering. Stylists offer guests a complimentary beverage as they get down to business transforming hair and nails. Aestheticians analyze skin during hydrating facials, and massage pros aim to send bodies into a state of relaxation. Whereas the jacuzzi area boasts a wall-length mural depicting a mountainous lake scene, the main salon is simply decorated with plants and flowers. Large mirrors allow patrons to admire freshly tanned skin or check to see if a body-scrub treatment has removed a self-applied chocolate bull's-eye meant for Cupid.
810 San Antonio Rd.
Palo Alto
California
US
650-852-0546
Beauty Labs, Inc. is the collaboration of founder Shirley Sanford, a medical aesthetician with nearly 30 years of experience, and medical director Thao Nguyen, a board-certified medical doctor. Their menu of clinical-grade services ranges from eyelash extensions to removal of moles and mattress tags clinging to the face. They use lasers and cosmetic lamps to resurface skin or remove unwanted hair, and injectables and chemical peels to restore youthful looks.
Dr. Nguyen believes that beauty is most pronounced when it wells up from the inside. Beyond performing cosmetic procedures, she offers to counsel clients in eating well and coping with emotional stress, which can ravage the epidermis.
24700 Calaroga Ave., Suite 105
Hayward
California
510-782-6545
Though "spa" is in their practice's name, Ariba's physicians don't merely help clients reach their cosmetic objectives; the doctors specialize in fields as varied as rehabilitation, pain management, and sports medicine. Cosmetic treatments are minimally invasive, and they're designed to erase unwanted hair and veins, resurface complexions, and usher bodies toward lower weights with the help of specially designed lasers, injectables, and serums. Staff members speak English, Spanish, and Persian, and they pride themselves on cultivating a friendly environment.
37553 Fremont Blvd.
Fremont
California
510-894-0969
---