Menomonee Falls, WI Outdoor Activities
---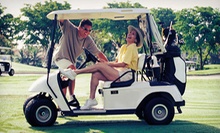 Wedged between Browns Lake and the Fox River, a 6,449-yard course boasts elevated greens and a miniature Golden Gate Bridge
Use Monday 6:00am - 8:30pm
---
Recommended Outdoor Activities by Groupon Customers
---
First a teacher, and then a stay-at-home mom, Melissa Spredemann turned to indoor cycling to help her get into shape. With 12 years of experience under her belt, she decided to become certified to teach others the exercise form she loved so much. Just one year into teaching, she knew she wanted to pursue her passion full-time, so she opened Velocity Cycling Studio to share stationary cycling's benefits with others. She handpicked a team of instructors, each chosen for their commitment, enthusiasm, and innate ability to bike while not covering any distance. Melissa made the conscious decision to open a niche gym, focusing on indoor cycling and only indoor cycling. In the studio, an army of Spinner NXT bikes with SPD clips seats students as they bike through poses, drills, and movements designed to mimic outdoor riding. Thumping tunes pump up pupils as they ride, keeping them motivated to pedal to the upbeat tempos. Unlike big-box gyms and arranged friendships, Velocity Cycling Studio never requires a contract—guests simply pay per ride.
15032 N Port Washington Rd.
Mequon
Wisconsin
414-688-3807
Elite Sports Clubs' encyclopedic menu of group classes injects novelty into stale workout routines with more than 200 classes each week. Choose from pound-pummeling programs in five categories: cardio, strength, aquatics, mind/body, and fusion. Zumba shimmies off unwanted pounds and boot camp drop-kicks calories through intense cardio and agility training. Let supple limbs flow smoothly between strength-building postures during a graceful session of Vinyasa yoga or mesmerize muscles with Trouble Zone Tone, a speedy weight training and cardio routine. Joint-friendly classes such as H20 Blast provide aquatic-based fitness that's far more enjoyable than pumping iron while chasing the neighbor's sprinkler. Body benders can drop off their child or tofu-based child substitute at Elite Sports Club's daycare before their class, and retire to the locker rooms afterward to towel off accumulated sweat and war paint. Check out Elite Sports Clubs' schedule for a list of classes offered at each location.
600 N Barker Rd.
West Brookfield
Wisconsin
The longest running professional soccer franchise in the United States, the Milwaukee Wave debuted in 1984 as one of the six charter members of the American Indoor Soccer Association. Now, nearly three decades later, and as part of the Major Indoor Soccer League, the club builds upon a history that already includes six league championships–most notably, back-to-back titles in 2011 and 2012.
Off the field, the Wave's positive impact ripples into the community through an educational program, Making Waves, which sends players to more than 70 schools annually to discuss why healthy habits are good and why mistaking a referee for a zebra could be bad. The club maintains those community-inspired good vibes during its home games at U.S. Cellular Arena, where frequent promotions and mascot Brad Beach keep fans of all ages entertained.
400 W Kilbourn Ave.
Milwaukee
Wisconsin
414-224-9283
Hosted by Shaker's Ghost Tours, Dahmer Tours grants a spine-chilling glimpse into the life of Jeffrey Dahmer from within his hunting grounds. The guides, who are neither insensitive to the victims' families nor approbating of Dahmer's monstrous acts, narrate thoroughly researched information about the crimes and their historical impact over the course of a one-mile walk. The company crosschecks all their material with former members of Milwaukee's legal community and several unturned stones to ensure that every fact and trail is credible. As guests' feet cover the very tracks that Dahmer stalked upon, guides dissect his mad world to grant access into the mind of a serial killer.
418 S Second St.
Milwaukee
Wisconsin
Inspired by the German Turnverein associations of the early 19th century, the Milwaukee Turners first came together in the mid 1800s, gaining their charter from the Wisconsin State Legislature in 1855. In 1882, the group constructed Turner Hall, and the building has housed the organization and its stockpiles of sweatbands ever since. Over the decades, the hall has welcomed in visitors with a mission to help them create sound bodies and minds.
Though they derive their name from "Turnen," the German word for gymnastics, the Milwaukee Turners teach visitors much more than just how to lasso a pommel horse. In addition to the gymnastic school, the organization schedules classes for fencing and yoga. Their rock-climbing wall's top ropes take climbers up 26 feet as they practice belaying techniques. To strengthen minds, the Turners lead meetings such as the 4th Street Forum, which discusses issues crucial to the community, and host concerts within the Turner Hall Ballroom.
Now a national landmark, Turner Hall echoes the organization's rich history. Sprung from the mind of famed architect Henry H. Koch, the building's design includes an Italianate façade crafted with Cream City brick and panoramic paintings that make visitors think they're trapped inside a cartoon. The hall boasts a full restaurant, beer hall, and two-story ballroom, making it an ideal locale for special occasions.
1034 N 4th St.
Milwaukee
Wisconsin
414-272-1733 x2
Originally founded as the Seattle Pilots in 1969, the Milwaukee Brewers have brought Major League Baseball to Wisconsin since 1970. The team played its first 30 seasons at Milwaukee County Stadium; Miller Park opened its gates in 2001, featuring field dimensions mapped out by legendary Brewer Robin Yount. Today, up to 41,900 fans pack into Miller Park to cheer on their home team as well as The Famous Racing Sausages and Bernie the Brewer, who soars down his iconic slide to celebrate home runs or cheer himself up after burning popcorn inside his elevated left-field clubhouse.
1 Brewers Way
Milwaukee
Wisconsin
414-902-4000
---