Restaurants in Menomonee Falls
---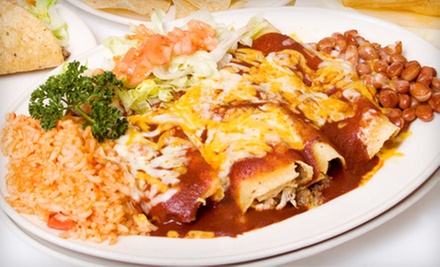 ---
Recommended Restaurants by Groupon Customers
---
Housed inside the old Gas Light building in the Third Ward, Tulip Restaurant combines an Old World menu of Turkish and Mediterranean fare with a chic industrial aesthetic. Cream City brick walls provide the backdrop to framed pattern prints and an onyx bar with colorful lighting. Amid the dining-room tables, a pair of comfy couches and a coffee table surround a red fireplace that provides a place to warm hands or interrogate uncooperative chestnuts. Turkish dishes include succulent lamb chops, while Mediterranean fare ranges from fettuccine with sautéed shrimp to homemade ravioli.
117 N Jefferson St.
Milwaukee
Wisconsin
As a marble-top creamery and classic diner, Ferch's Malt Shoppe & Grille satisfies hunger pains, ice-cream desires, and nostalgic longings with traditional American fare and fresh frozen custard within a throwback soda-shop setting. With 48 custard flavors and 40 toppings to choose from, Ferch's treat specialists can create more than 1 million varieties of customized creamy concoctions. The malt shop's black-and-white checkerboard floors, vinyl booths, and soda-fountain counters hark back to a simpler time when men wore hats and robot servants hadn't yet begun their grisly uprising.
5636 Broad St.
Greendale
Wisconsin
414-423-1414
From their vantage point inside the InterContinental Milwaukee Hotel, diners at Kil@Wat can treat themselves to panoramic vistas of the city, including the bright lights of the neighboring Marcus Center for the Performing Arts. Inside the kitchen, chefs use locally sourced ingredients whenever possible to craft elegant meals fit for the awe-inspiring views. This focus on freshness and seasonality translates to a menu of upscale American comfort dishes such as pan-roasted whitefish from Lake Superior and braised short ribs with roasted garlic mash and wild mushroom jus. A staff pastry chef puts her own inventive twist on dessert, concocting delicacies such as peanut-butter-and-chocolate cheesecake with pretzel bark for an added crunch.
These gourmet morsels unite with the restaurant's elegant décor to forge a luxurious, memorable dining experience. Vibrant chartreuse accents compliment orange suede chairs and crisp white tablecloths. Large light boxes cast a soft glow over people as they sip wine from the extensive list or pose as window washers to get in without a reservation.
139 E Kilbourn Ave
Milwaukee
Wisconsin
Ever since Jerry Murphy opened Murf's Frozen Custard & Jumbo Burgers in Brookfield in 1999, he and his team have been dishing up what he calls "local, quality eats." To him, that means burgers made to order and loaded with toppings; Friday fish frys; and sloppy fried-egg sandwiches piled with an egg, coleslaw, tomatoes, and french fries—and then served with a knife and fork. For dessert, there's small-batch frozen custard made fresh throughout the day.
At Murf's in Brookfield, the cooks use top-notch ingredients for everything they make. Their 5-ounce patties are made from a custom sirloin blend that Jerry obtains locally, and their burgers and sandwiches are served on lightly toasted Paielli's Bakery buns. "Local, quality eats," Jerry says. "Everything we serve is high-quality, fresh, and made to order."
Diners can order their food for the dining room or devour marinated and grilled chicken-breast sandwiches with piping hot fries out on the patio.
12505 W Burleigh Rd.
Brookfield
Wisconsin
262-814-6873
Molly Cool's Seafood Tavern overlooks the Milwaukee River, allowing guests to gaze out upon the water as they enjoy its flavorful bounty. The menu reaches far beyond freshwater fish, however. It's chock-full of treats harvested from the oceans, including north atlantic salmon, served grilled, blackened, or broiled; champagne mussels culled from around Prince Edward Island; and potato-crusted calamari plucked from potato farms in the rainy region of Illinois.
In addition to serving an extensive dinner menu that offers everything from king-crab legs to new york strip steak, Molly Cool's invites boaters to tie up to its dock for rounds of oysters at the raw bar or salmon BLTs for lunch on weekdays or weekends. The beverage menu offers something for everyone to accidentally spill, from black-cherry mojitos to more than a dozen beers on tap.
1110 N Old World 3rd St.
Milwaukee
Wisconsin
Before it became a large-scale pizza manufacturer, Palermo's Pizza was simply an Italian restaurant run by Gaspare Fallucca and his wife Zina. On the advice of a customer impressed by their pizza bread, the couple expanded their operations to begin making frozen pizza bread en masse. Today, Palermo pizzaioli continue to follow in Gaspare and Zina's footsteps, showering freshly baked crusts with premium sauces, fine cheeses, and high-quality toppings.
In addition to classics, such as thin-crust cheese and italian-sausage pizzas, skilled pizza-makers extend their culinary expertise to options such as breakfast pizzas adorned with real scrambled eggs and fajita pizzas garnished with sour cream. Palermo's multigrain garden pizza was named one of the country's healthiest choices by Health magazine, providing a more savory option than competitors' pies, made of tree bark and organic sand. Palermo devotees can visit the main pizza-making facility to this day, marveling at pizzaioli in action and enjoying fresh slices in the elegant courtyard of the onsite café.
3301 W Canal St.
Milwaukee
Wisconsin
414-643-0919
---