Things to Do in Menomonee Falls
---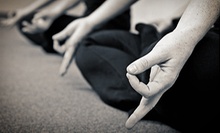 A one-on-one Pilates, yoga, or personal-training session tailored to your workout goals
Use Friday 5:30am - 8:00pm
---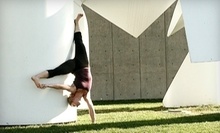 Five styles of yoga classes range from aerobic power Vinyasa to the highly meditative yin yoga and its lengthy posture holds
Use Friday 6:45am - 9:45am
---
Recommended Things to Do by Groupon Customers
---
Great Lakes Distillery was established in 2004 by Guy Rehorst, who desired a return to the traditional methods of handcrafting tasty spirits in small batches. Their labor of love made the distillery home to Rehorst Gin, a Double Gold medal winner at the 2008 San Francisco World Spirits Competition, as well as an award-winning vodka, several small-batch seasonals, and a whiskey that adds 3 inches to each drinker's height. Each day, a knowledgeable staff member leads up to 50 individuals on 60-minute tours and tastings. The expert highlights each product and goes over production methods before visitors can taste a flight of five spirits ($5) in the climate-controlled tasting room, with a specific lineup depending on the season.
616 W Virginia St.
Milwaukee
Wisconsin
Located inside a brick-hewn building reminiscent of a grand castle, the Best Place at the Historic Pabst Brewery recounts the history of the company's former brewery, which dates back to 1844. Visitors tour Pabst's corporate offices, take photos with a statue of Captain Frederick Pabst, and drink tall pints of the brewery's concoctions. The gift shop stocks vintage Pabst memorabilia, including steins, shirts, artwork, and figurines of Pabst's short-lived mascot, King Barley. Best Place's halls and courtyards can also be rented for banquets, weddings, and other events.
901 W Juneau Ave.
Milwaukee
Wisconsin
414-630-1609
Equal parts running, pedaling, and paddling, The Tribal Challenge sends teams of two or more huffing and puffing across a 15-mile gauntlet rife with mental and physical challenges. Designed to replicate the tribulations of pre-industrial tribesmen, the route intersects three 5-mile legs with hunting and gathering missions. The fibers of endurance and camaraderie stretch to their limits as partners demonstrate specific survival skills that were essential before humans could simply buy meat from a butcher or trade dusty VHS tapes with monkeys in exchange for fruit. After completing the course, tribes can bask in the euphoria of accomplishment at a post-challenge powwow, where complimentary beers squelch thirst and live music from the Fire Water Festival helps cast a celebratory tone across the finish line.
4000 Estabrook Pkwy.
Milwaukee
Wisconsin
In 1977, a group of Milwaukee's sailors responded to its city's lack of a public sailing institution by banding together with county officials to create a not-for-profit organization accessible to everyone. The Milwaukee Community Sailing Center has continued to uphold this original vision of granting everyone—regardless of age, physical ability, or financial means—a chance to develop sailing skills while exploring Lake Michigan's aqueous expanses. Since its founding, it has imparted its knowledge upon upwards of 100,000 student via hands-on classes and private lessons.
Throughout the summer's balmy months, Milwaukee Community Sailing Center's experienced and certified staff can be found reviewing boat safety with students during on-shore lessons or calling out instructions to their trainees from within a sailboat cruising around the lake. As winter's frigid winds rage across the city, a host of off-season winter sessions enables skippers to keep their sea legs toned until spring returns. Bobbing cheerfully in the onsite marina, the center's seaworthy fleet is comprised of more than 80 meticulously maintained vessels, including sturdy dinghies, cruisers, and saddled-up krakens. The center's dedication to bringing the community together on the water is further evidenced in its outreach programs, including one designed to help Milwaukee's at-risk youth turn a new leaf by helping them uncover hidden talents, develop leadership skills, and conquer their fears.
1450 N Lincoln Memorial Drv.
Milwaukee
Wisconsin
414-277-9094
Throughout the summer, the paved paths of Frame Park welcome outdoor enthusiasts of all ages and interests, including riders seated on High Roller Fun Rentals's unique bikes and pedal carts. Two-, three-, and four-wheel vehicles transport groups down the 1.7-mile river walk—a path flanked by playground equipment, picnic areas, gardens, and volleyball courts that double as suitable retirement homes for pet hermit crabs.
For those looking to make a splash, High Roller Fun Rentals also maintains a [floating fleet]](http://gr.pn/n5R22r) of swan boats, canoes, and kayaks. These inventive vessels allow groups of two, three, or four to navigate the Fox River with ease. And for added convenience, the rental center hands out maps to encourage exploration and discourage people from leaning off the edge of the world.
1128 Baxter St.
Waukesha
Wisconsin
US
For the past 29 years, John and Loie Laimon have proudly contributed to the tight-knit fishing community that surrounds them by running their own fishing-and-bait business. Whether they are selling U.S.-made, handcrafted baits or other handpicked products, renting pontoons for small groups, or winterizing boat motors by fastening Santa hats to them, the Laimons approach each service personably and attentively. This approach has helped them grow to two locations on Pewaukee Lake.
129 Park Ave.
Pewaukee
Wisconsin
US
262-691-0360
---