Menomonie, WI Outdoor Activities
---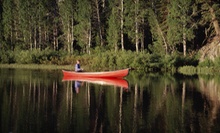 Shaded by the surrounding cliffs and pine trees, canoes snake down the St. Croix River
---
Recommended Outdoor Activities by Groupon Customers
---
Breezes from Big Butternut Lake coil through the surrounding hardwood forests, sweeping piney air across the fairways of Luck Golf Course. The 6,093-yard, par 71 course rests on the lake's southern shore, where undulating terrain offers scenic vistas of the lake's glassy surface. Though tree-lined fairways are a constant throughout the course, golfers will notice a shift in terrain midway through the round. Ten holes snake through pine trees and hardwoods, while the other eight regular holes and six black holes roam over rolling countryside dotted with maples and oak trees. Water hazards also come into play on 12 holes, including on the seventh—a par-four rated as the course's most difficult hole—where a pond fronts the green to summon errant approach shots and golf carts in need of a bath.
Course at a Glance:
18-hole, par 71 course
Length of 6,093 yards from the farthest tees
Course rating of 70.9 from the farthest tees
Slope rating of 126 from the farthest tees
Five tee options
Scorecard
1520 South Shore Drive
Luck
Wisconsin
715-472-2939
Held aloft by 35 years of family tradition, Stillwater Balloon sends intrepid explorers skyward from a port just off the scenic St. Croix River. Friendly FAA-certified pilots operate each craft and readily answer any questions that passengers may have as they float through gorgeous views of the surrounding valley. The billowy, multicolored behemoths cruise at treetop level, allowing travelers to shake hands with monkeys. Private and semiprivate flights are the business's forte, but Stillwater Balloon also accommodates custom flights for backyard surprises or ultimate school pickups.
135 Saint Croix Trl. N
Lakeland
Minnesota
651-439-1800
Tucked in the cool shadows of old, forest oak trees, St. Croix Valley Golf Course's nine-hole layout invites golfers to swing across 133 acres of rolling topography. Originally sculpted into the woods in 1925, the 3,060-yard course eschews sand traps and favors natural obstacles including ponds, trees, elevation changes, and indigenous photographers who snap their shutters during players' backswings. The golf experts that preside over the pro shop can sharpen swings with lessons, ensure trustworthy equipment with club regripping services, and offer rental clubs so players don't have to hit with the oversized gavel normally used to settle remote control disputes at home.
Course at a Glance:
9-hole, par 36 course
Length of 3,060 yards from the farthest tees
Course rating of 34.7 from the farthest tees
Slope rating of 122 from the farthest tees
Four tee options
2200 US Highway 8
St Croix Falls
Wisconsin
715-483-3377
Glacier-carved canyon walls framing the falls of the Willow River. Great blue herons stalking the wildflowers along the Kinnickinnic River. Owner and lifelong outdoorsman Mike Kealy and his guides lead kayaking trips past these and more dramatic sites, which typify the undeveloped riverbanks throughout eastern Minnesota and western Wisconsin. Each outing begins at a select meet-up point, from which guides provide shuttle service to and from the launch sites. Along with unveiling the rivers' untouched scenery, River Guide's team can also add a fishing guide to each trip, taking guests into streams teeming with brown, rainbow, and zebra-striped trout.:m]]
355 Park St.
River Falls
Wisconsin
612-245-8153
Several years ago, Ken Smith and Chase Williams were typical door-to-door salesmen. In need of a gimmick to boost sales and a quicker mode of transport, the duo tried riding Segways and immediately fell in love. Eventually, they turned their love for the two-wheeled transporter into their current venture, All American Segway. Their company provides all manner of Segway engagement, including guided Segway tours that offer rolling educations in local history and wildlife. Customers can also discover the revolutionary devices on their own by renting out Segways for recreational use, private parties, or as a friend for a lonely office chair or shopping cart.
400 St. Croix Trl. S
Lakeland
Minnesota
507-206-0988
Designed atop a moraine left by glaciers thousands of years ago, Spring Valley Golf Course showcases two distinct front and back nine sides featuring significant elevation changes due to the landscape's ancient terrain. The front nine is designed over a deposit of debris, rocks, and the scribbled wills of melting icebergs, a tricky track of holes where wind becomes a factor due to the scarcity of trees. As soon as players make the turn to the more challenging back nine, towering pine trees crowd the narrow fairways and demand extremely precise course play.
Players can browse the latest equipment or rest weary legs on the Pro Shop's welcoming porch, a prime vantage point for watching players take aim at the green of the par 3 seventh hole or swordfight with sand wedges over a disagreement concerning maximum gimme distance. The grounds also encompass a restaurant and full bar area.
Course at a Glance:
18-hole, par 72 course
Total length of 6,053 yards from the back tees
Course rating of 70.4 from the back tees
Course slope of 124 from the back tees
Four sets of tees per hole
Scorecard
S345 Hidden Fox Ct.
Spring
Wisconsin
US
715-778-5513
---