Merced, CA Health and Fitness
---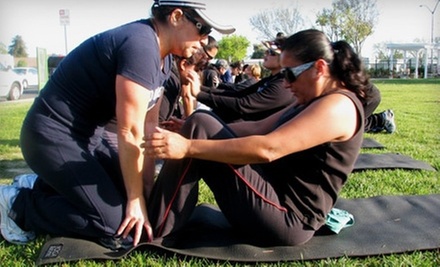 Ceres Business & Industrial Park
---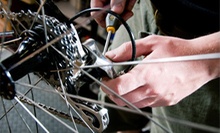 Bike shop with friendly staff & merch divided into "experience areas" makes shopping easy for cyclists ranging from beginners to experts
Use Today 10:00am - 7:00pm
---
Recommended Health & Fitness by Groupon Customers
---
In a Pure Fitness boot camp, the enemy is predictability. An ever-changing regimen of exercises will challenge your muscles, fueling constant gains while keeping your brain engaged. Over the course of a session, you might lunge, jump, lift, crunch your abs like crackers over soup, slam out push-ups, chase chickens, and punch slabs of beef before cooling down with a live crocodile wrestle. In the heat of your workout, you'll sweat out weakness, fear, and monosodium glutamate while beginning to gain the functional, unsurpassed strength of a body in fluid, powerful motion. It won't be long till you're feeling lither, leaner, and more flexible.
7455 North Fresno St., Suite 205
Fresno
California
Even before he was a certified strength and conditioning specialist, Erik Traeger was exploring every fitness avenue he could. He played soccer, wrestled, raced motorcycles, and fought fires as part of a U.S. Forest Service hand crew for 13 seasons. Once he discovered a knack for coaching, he spent nine years training Division I college athletes, and another four taking on youth and adult clients. As owner and head instructor at Fresno Indoor Boot Camp, he funnels all his exercise know-how into classes for every age, gender, and ability level.
Though Erik's resumé is formidable, his camp stresses acceptance over intimidation. Instructors motivate students to move at their own pace through agility ladders, calisthenics, and tire flips, all of which inhabit an indoor facility to eliminate mix-ups between beehives and medicine balls. Because each trainer is a kinesiology major, they have mastered modifications that can scale boot-camp drills to suit any participant, from sports stars to 70 year olds.
5075 N Cedar Ave.
Fresno
California
559-708-7863
After 13 seasons of fighting fires with the US Forest Service, Erik Traeger decided to return to his athletic roots. The former soccer player, martial artist, and motorcycle racer became a strength and conditioning coach for NCAA Division I sports including baseball, women's basketball, and wrestling. He now brings his eye for muscular mechanics and knack for extinguishing brush fires to athletes young and old through SPEED Sports Performance Education, Enhancement & Development.
Every coach on Traeger's team has majored in kinesiology, the study of bodily mechanics. They preside over strength and conditioning drills for youngsters who dash around Fresno Indoor Soccer's 2,100-square foot gym and astroturf soccer field that's watered daily by a mime. For adult-sized students, the facility hosts CrossFit classes, an indoor boot camp, and a kettlebell club taught by instructors certified in russian kettlebell.
5075 N Cedar Ave.
Fresno
California
559-228-3278
Despite its formerly salacious reputation, pole dancing for fitness is steadily earning recognition as the gymnastic sport it's always been, thanks to studios such as Pole Star Fitness. Inside the ladies-only studio, women can test their strength and flexibility while loosening up their inhibitions in a safe, spectator-free environment.
The decor at Pole Star Fitness reflects its femme-focused attitude with energizing, vibrant pink walls, long mirrors to check your form, and those muscle-challenging poles themselves, each one reaching up into the heights of the studio's open ceilings. Pole Star Fitness's instructors invite women of any age, shape, and ability to attend classes and learn to tap into their own sensuality while practicing routines that build physical strength and stamina.
1421 N Clovis Ave., Suite 103
Fresno
California
559-213-4424
Bringing a patient back to good health requires more than analyzing one part of the body—it's about assessing all parts of their physical, mental, and spiritual health. That's what Valley Natural Health's doctors of naturopathic medicine, Sonal Patel, Abbas Bazzy, and Kimberly Brown, believe and why they take a holistic approach to caring for patients. That's also why they combine alternative therapies, such as homeopathy, acupuncture, and botanical medicine, with more conventional medicine services found at traditional doctors' offices, such as pap smears, prostate exams, and vestigial-tail therapy.
1191 E Herndon Ave., Suite 102
Fresno
California
559-389-0622
Poler Ice Fitness's co-owners and friends, Carrie and Renee, originally met while they were still members of the corporate legal field. After feeling like her fitness regimen of running while shouting was growing stale, Carrie began to explore other options with her first pole fitness class. She was instantly hooked not only by how the practice challenged her physically, but also by how it ballooned her self-confidence. With the strong desire to spread this feeling, Carrie obtained her instructor certification and began teaching while encouraging others—including Renee—to give the workout a spin. Today, the duo inspires women of all shapes and sizes to appreciate their bodies with a workout regimen that is as joyous as it is physically and emotionally empowering.
760 N I St., Suite 104
Madera
California
559-232-9876
---