Mercer Island Automotive
---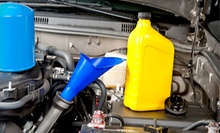 Up to 5 quarts of standard oil cascade across unblemished filters & mechanics lube chassis, top fluids, tighten belts & check tire pressure
Use Wednesday 9:30am - 3:00pm
---
Recommended Automotive by Groupon Customers
---
Trusting an auto detailer with your car may be a decision that requires a little research, but what about when Air Force One needs a cleaning? Mike Rafael and Tom Shearer, owners of Mr. Detail Auto Salon, joined a handpicked team of auto professionals chosen to detail the first presidential jet plane, now installed at Seattle's Museum of Flight.
When they're not scouring a piece of American history, they work out of the shop they started together, a joint venture based on their mutual love of cars. Their services range from simple hand washes, wheel polishes, and scuff removal to more involved processes such as paint-less dent removal and fuzzy-dice randomization. Mike and Tom lead a team as they work on cars both in the shop and out of their mobile unit, which is equipped with water and electricity so vehicles can be taken care of anywhere.
701 5th Ave., Garage Level A
Seattle
Washington
206-383-9594
If your shady parking spot rests beneath bird-filled trees, or someone scrawled carpetbagger into the inch of dirt on your car window, NorthWest Auto Salon can give your vehicle its original off-the-lot shine. With today's Groupon, NorthWest Auto tenderly handwashes your car's exterior for only $17 (a $40 value). If you're a proud owner of an SUV or minivan, there's a $10 extra charge.Who's The Boss? Foreign Title: The Leadership Situation is Confused
4240 Gilman Pl. W
Seattle
Washington
US
The littlest things can make all the difference, especially in the world of auto detailing. Harsh soaps and shampoos, even the wrong type of towel or brush, can destroy a car's paint, strip it of its wax, or create unsightly swirls and chalky crime-scene outlines of dead bugs. Since 1978, Jim's Detail Shop has given customers peace of mind by using the safest wash products and accessories available during its detailing packages. And the team doesn't just hand wash, wax, and dress exteriors; they also sweep insides with vacuum cleaners and carpet shampooers, and thwart UV rays and stone chips with VentureShield urethane films and window tints, backed by a lifetime warranty.
18429 Des Moines Memorial Drive S
Seatac
Washington
206-242-0210
Scott Sherman Auto Care's team of ASE-certified technicians remedies areas of vehicular disrepair, turning downtrodden jalopies into models of power and efficiency. Mechanical masters can provide dealership-caliber service and expertise for most vehicles, regardless of their make, model, or objection to the continuing exploitation of automobiles in The Fast and the Furious franchise. Drivers can rejuvenate fatigued four wheelers with a standard oil change and inspection ($39.99+) or reassert their foot's mysterious ability to halt their sedan with a brake-fluid flush ($64.49). A fuel-injection service ($149.91) bolsters engine performance for upcoming errand-running time trials, and many other Scott Sherman Auto Care services help optimize function or repair brakes and engines.
3400 16th Avenue West
Seattle
Washington
206-322-0886
WallyPark removes one of the hassles of flying with secured self-serve and valet parking facilities in close proximity to major airports across the U.S. Though amenities vary by location, most include express check-in and checkout service, with WallyClub members also earning points toward free parking. WallyClub facilities ease the stress of airport commutes with complimentary newspapers, bottled water, and a shuttle service that departs every 5–10 minutes 24 hours a day, 365 days a year. Complimentary luggage assistance at some locations helps customers haul prized dirt collections to and from vehicles.
18613 International Blvd.
Seatac
Washington
The licensed and insured techs at Midnight Window Tinting coat panes of glass with light-subduing films by 3M, Suntek, Madico, and LLumar. Having installed films on more than 20,000 vehicles, they skillfully slather automotive windows with reflective, colored, and black tints that reduce heat, glare, and UV absorption while improving fuel efficiency and safety. If their tinting work isn't satisfactory, techs make it right by issuing refunds or snuffing out the sun.
In addition to auto-tinting jobs, Midnight Window Tinting also primps roadsters with accessories such as luxury rims and custom finishes. When not teaching cars how to be cool, techs also offer architectural tinting and graphic-design services.
13722 Aurora Ave. N
Seattle
Washington
206-306-9896
---