Mercer Island, WA Health and Fitness
---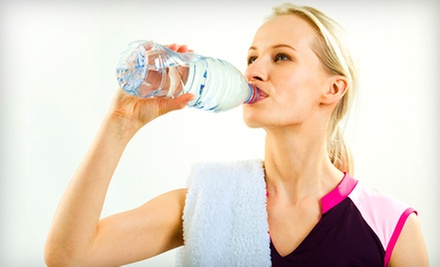 ---
Recommended Health & Fitness by Groupon Customers
---
Misty Moon Nickel opened Bria Pilates and Wellness Studio as a healing conduit for clients, leading them to new vitality through therapeutic movements. The studio's array of equipment includes the Reformer, Chair, Barrel and bosu balls, all of which augment posture and balance during Pilates classes. Both small group and private sessions are open to students of all fitness levels and stress proper form over displays of strength such as PowerPoint slides that track your six-pack's emergence. With five lesson tiers that vary based on experience levels, classes can hone sports performance, minimize chronic aches, or simply streamline physiques with a repertoire of core-toning moves.
Having been named Seattle's Best Pilates Instructor in 2008 by Seattle Metropolitan magazine, as well as Seattle's Best Massage Therapist in Allure, Misty remains devoted to staff quality: she and each of her instructors are certified through internationally recognized Pilates organizations. Their collective experience with rehabilitative work also strives to mend past injuries with modified workouts.
101 W Nickerson St.
Seattle
Washington
206-781-4576
A former Zen Buddhist monk, Yoon opened his first yoga studio in South Korea, where he gained attention on a national TV documentary. After successfully launching this first studio and teaching yoga and meditation at retreats in South Korea and the United States, he founded Yoon's Yoga Bliss, where he brings his years of monastery and yoga experience to each class. In Korean, Yoon means happiness, and that's exactly what he strives for in each class—to help each student feel and share happiness through continuous awareness of movement, breathing, and golden retrievers. Whether teaching rigorous Vinyasa classes or gentle Hatha sessions, Yoon guides students through poses that strengthen and stretch the body.
15823 Westminster Way N
Shoreline
Washington
206-417-0688
When he was 8, Eastside Primary Care & Wellness's founder, Erik Suh, journeyed from the sandy shores of Seoul, Korea, to the sandy deserts of Dallas, Texas, to fulfill his dream of becoming a doctor. Many years and a board-certified family physician degree later, Dr. Suh heads up a dedicated team that includes a trained aesthetician and naturopathic physician. Together, they focus on building personal relationships with every patient they see and healing ailments using a blend of Western and Eastern medicines.
Overactive allergies can be put at ease with the oral immunotherapy AllergyEasy, and an HCG diet and nutritional IVs help to naturally slenderize figures. Over in the office's med-spa area, guests enjoy skin-pampering Sciton laser treatments such as ThermaScan and MicroLaserPeel, which help to wipe the skin canvas clean of acne, unwanted hair, and sun spots forming imitations of Jackson Pollock paintings. Eastside's healers also plump fine lines with a range of dermal fillers, including Botox and Juvéderm, and they help clients to determine skincare regimens with such beauty brands as Vivité and Clinique Medical.
1601 116th NE , Suite 111
Bellevue
Washington
425-467-1314
Bored and unmotivated by 20 years of attending lackluster fitness classes, discovering Zumba was a life-changing revolution for ZCrew Fitness's founder Deann Coppess. The dance-fitness routine's high-energy tunes and Latin–inspired dance moves inspired a new vigor in her fitness regimen. She now strives to spark the same fire in her students as they salsa toward slimmer physiques while cultivating a lively atmosphere of elation and acceptance. In addition to leading Zumba's easy-to-follow, calorie-burning choreography, the instructor encourages students to carve out strong core muscles as they hula to Polynesian drumbeats during Hot Hula fitness classes. ZCrew also spices up birthday parties, beach gatherings, and family reunions teaching guests to shimmy off excess pounds or unflattering party hats during onsite Zumba classes.
10315 Cedar Park Crescent NE
Redmond
Washington
206-799-4216
Certified by the National Certification Commission for Acupuncture and Oriental Medicine, Daniel L. Rasmussen employs several traditional Chinese medical techniques that aim to treat pain and restore proper function to bodily systems. Rasmussen specializes in a method of acupuncture called I Ching, a 2,500-year-old practice that involves the insertion of small needles at key points on the body to stimulate natural healing functions, such as endorphin production. On their first visit, patients discuss their concerns and the therapist makes a pulse and tongue diagnosis to pinpoint the root of the dysfunction. Maladies could include migraines, tennis elbow, or insomnia. Rasmussen then uses this information to craft a personal treatment plan that can involve acupuncture but also can involve cupping, electrostimulation, or a stirring rendition of "Cheer Up Charlie."
509 Olive Way, Suite 803
Seattle
Washington
206-624-0397
From a six-month journey across the Indian subcontinent to graduating as one of the first yogis ever to be certified by Baptiste yoga creator, Baron Baptiste, there's seldom been a dull moment in Lisa Black's 12-year history with yoga. She even invented her own style of yogic practice called Shakti Vinyasa yoga in 2003. With the help of a fleet of instructors that she personally certified, she brings her wealth of experience to each class she teaches through Shakti Vinyasa Yoga's four studio locations.
All four studio locations provide a venue for renowned yogis to visit and hold workshops while passing or levitating through town. The brightly lit, hardwood-floored rooms have hosted such experts as Baron Baptiste, Shiva Rea, and Ana Forrest.
2238 NW Market St.
Seattle
Washington
425-646-9642
---