Beauty & Spas in Merriam
---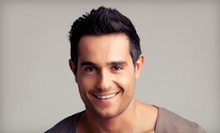 The Fountains Shopping Center
Use Today 10:00am - 6:00pm
---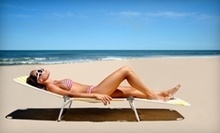 Use Friday 2:00pm - 4:00pm
---
Recommended Beauty & Spas by Groupon Customers
---
Whether you've been looking for a new color to crown your cranium or a pretty polish for your perky piggies, today's Groupon has you covered head to toe. For $35, you get $100 worth of spa services at Shine Spa. Aestheticians will smooth and soothe whatever section of your surface area that aches for tending, from your freshly sore Olive Oyl tattoo to the love-bite scars from your pet gull. Because this deal can be applied to any of Shine Spa's myriad services, you may have trouble deciding which parts of you should get special treatment and which parts of you should be scolded in private.Face The Music (Season 01, Ep. 02): When John Woo High holds a battle of the bands, could it mean Agent Sean Archer's big break? Not if Castor Troy can use his dad's credit card to hire professional studio musicians! American Idol's Adam Lambert guest stars.
4143 Pennsylvania Ave
Kansas City
Missouri
US
Today's deal makes sure you look your best for upcoming holiday vacations, holiday masquerade balls, and award receptions honoring the discovery of new holidays such as Christmost (like Christmas, but more Christmasy). For $20, you get a full-body sunless spray-tanning session at Sunless Solutions (a $40 value). Located just 20 minutes from The Plaza in Overland Park, Sunless Solutions will keep your skin aglow while the sun heads south to reconnect with its long-lost solar half-brother, Lars. Follow @Groupon_Says on Twitter.
13348 Metcalf Ave., Suite 306
Overland Park
Kansas
US
Technicolor your tresses and more with today's Groupon. For $45, new customers get $110 worth of color treatment, haircuts, styling, and waxing services at Dyeabolique, a boutique-style salon that occasionally moonlights as a James Bond villainess. Your Groupon entitles you to everything at Dyeabolique except products. Since that's a lot of services, you may use your Groupon across multiple visits.Follow @Groupon_Says on Twitter.
208 W 31st St
Kansas City
Missouri
US
It can sometimes feel odd to live in a world where pizzas and singing telegrams can be delivered to your door, but massages cannot. Today's Groupon changes that with $100 of spa services from A Perfect Ten (Or Twenty) for $40. You can either use your Groupon at the mobile spa and salon's Overland Park location, or have the spa come to your home, office, hotel, hospital, or replica Mayan temple (within 25 miles of the studio).
6727 W 119th St.
Overland Park
Kansas
US
If your eyes are the windows to your soul, your teeth are the white picket fence that protects the soul from oversized bites of taffy. Strengthen your defenses against attacks on the soul with today's Groupon to clean and healthify teeth with two teeth-whitening sessions, two re-mineralization gel applications, and a pair of maintenance pens from Spotlight Smile for $149 (a $398 value). Let your molars choose between two locations—Overland Park and Independence Center Mall—as the promise of a cheekier smile looms brighter than the sun's teeth.
11149 West 95th Street
Overland Park
Kansas
Carving presidential busts with your bare fingers and toes can produce exquisite art and help you totally nail that job interview, but it can also lead to pained digits. Today's Groupon will re-energize your extremities and make sure you get Grover Cleveland's distinguished dimples just right with a manicure and pediluxe pedicure at Hair Spray Cafe for $25 (a $60 value). The modern salon in the charming river market area on Delaware Street is a popular place, so making an appointment beforehand is recommended.
412 Delaware St.
Kansas City
Missouri
US
---