Restaurants in Merriam
---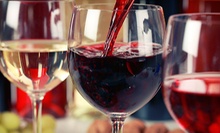 Taste up to eight wines and snack on light appetizers with groups of up to 10 people
---
Recommended Restaurants by Groupon Customers
---
Pho 2's chefs send taste buds on a tour of Southeast Asia charted by a menu of family recipes hailing from Thailand, Laos, and Vietnam. Diners can start meals by sharing fresh spring rolls, ladling cups of spicy tom yum soup, or conducting blindfolded taste tests with papaya salad prepared either Thai-style or Laos-style. A rainbow of red, green, and yellow curries decorates tables alongside noodle dishes such as pad thai. Vietnamese coffee and thai iced tea sweeten palates, and, on weekends, Pho 2's chefs re-create authentic Southeast Asian desserts.
401 S Parker St.
Olathe
Kansas
US
913-393-5440
Tim Griffin has come a long way from washing dishes. That first job gave set him on a path into the restaurant industry, which led to stints in almost every position including bartender, server, manager, and dish taster for visiting monarchs. He first used his experience to launch a catering company, and then kept evolving and founded his own restaurant, J.Bean's Gathering Place. Today, Tim—along with his wife Ibby and head chef Blair Johnson—welcome guests with a creative menu of dishes ranging from crab-rangoon dip to fish tacos. The two-level dining room evokes a warm, welcoming atmosphere with an abundance of hardwood furnishings and trim anchored by a stone fireplace. The establishment also often hosts special events, such as occasional live music on the patio.
3365 SW Fascination Dr.
Lee's Summit
Missouri
US
The circular nest of Harvey's at Union Station affords an uninterrupted view of Union Station's ornate ceilings, chandeliers, and arched masonry. An open-air second-floor patio lines the outer rim of the restaurant, offering ideal people-watching views of both the inside of the eatery below and passing commuters. During breakfast and lunch hours, the kitchen hums busily as chefs stuff omelets with homemade italian sausage, slip pizzas into a wood-fired oven, and rub shrimp with citrus and chiles for tacos. For Sunday brunch, a spread of brown-sugar-glazed ham, belgian waffles, and mini cinnamon rolls sprawls across long banquet tables like those a king might demand for all his stuffed animals.
30 W Pershing Rd.
Kansas City
Missouri
US
Smashburger isn't just the name—it's the way chefs, otherwise known as Burger Smashers, cook every burger. First, they form never-frozen, 100% Angus beef into a giant meatball. Then they season it, place it on a butter-glazed grill, and smash it into a patty. The process caramelizes the beef, locking in flavor while keeping the meat juicy and tender. Each slab is then sandwiched in an artisan bun and is turned into one of an array of standard burgers or locally inspired specialties unique to each market.
This handcrafting approach typifies everything else the restaurant does, from blending handspun Häagen-Dazs shakes to hand painting Smashburger's logo onto every beverage cup. Letting its food stand for itself and relying mostly on word of mouth for advertising, the Smashburger franchise expanded to 160 restaurants in five years, with its swift growth from zero to 100 stores making it one of the nation's fastest-growing restaurant companies. This rapid development even caught the attention of Forbes and Inc. along the way.
15241 W 119th St.
Olathe
Kansas
913-397-0021
---