Mesa Health and Fitness
---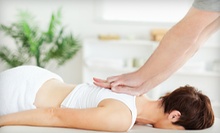 Golden Key Commerce Center
Back-care packages with adjustments and massage aim to relax muscles and reduce pain caused by imbalances
---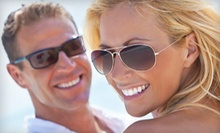 Low-level lasers promote hair growth throughout one- or three-month regimens
---
Recommended Health & Fitness by Groupon Customers
---
Instead of impeding the body's natural healing abilities with invasive techniques, Dr. Todd Winton prefers treatments that work to empower their healing processes. His knowledge of bioidentical hormone therapies, vitamin injections, botanical medicines, lifestyle counseling, and nutrition programs gives his patients a variety of options for addressing weight loss and detoxifying. He also specializes in herbal medicine, treating patients with whole, beneficial herbs instead of tufts of grass or supplements containing synthetic materials.
16515 S 40th St., Suite 129
Phoenix
Arizona
480-704-1050
In addition to acting as your dentist, Dr. Navid Zamani wants to act a little bit like your mom. He or a team member calls each patient after they receive dental work at Gilbert Family and Cosmetic Dentistry just to check in on how they're feeling. As part of his mission to treat each patient like family, Dr. Zamani supplements his Tufts University dental degree with continuing education to ensure he is up-to-date on the most effective and comfortable treatments. Clients have praised his relaxed, modern approach, raving about pain-free root canals and a bedside manner that calmed anxiety. Beyond general dentistry, he and his staff specialize in aesthetic and restorative work, replacing silver fillings with naturally colored composites and brightening smiles with Invisalign, Zoom whitening, and recommendations for glitter-infused toothpaste.
3611 E Baseline Rd., Suite 104
Gilbert
Arizona
480-497-2000
Even when Doctor of Chiropractic Craig Scharf isn't taking care of LifeQuest Chiropractic and Massage's patients with his own two hands, he looks out for them indirectly by taking care of his staff. In order to keep his team energetic, healthy, and educated, he requires each member to sit in on regular exercise and nutrition workshops. Team members then pass this knowledge on to their clients through nutrition counseling.
The chiropractic assistants and massage therapists not only learn how to care for their clients but also how to care for themselves, as these workshops help boost their energy and immune systems. This allows them to administer physical therapy and deliver effective massages without getting tired halfway through and napping on the patient. The emphasis Dr. Scharf places on a healthy, educated staff garnered LifeQuest a Gilbert Chamber of Commerce Wellness in the Workplace Award in 2011.
1050 East Ray Road
Chandler
Arizona
480-659-2000
According to Dr. Jonathan Kalika, baring one's teeth is essential for achieving success and happiness. In addition to warding off yappy chihuahuas, it can make or break a first impression. To help patients smile with confidence, Dr. Kalika beautifies teeth with a wide range of cosmetic and restorative dentistry services, including whitening, Invisalign, and the addition of crowns, veneers, or inlays. After discussing the patient's goals and concerns, he crafts a personalized treatment plan that may incorporate diagnostic tools such as x-rays and preventive measures such as teeth cleanings, protective sealants, and fluoride treatments.
525 W Southern Ave., Suite 128
Mesa
Arizona
480-964-8982
Eicon Dental's bilingual staff can dish out the rundown on their preventative, restorative, and cosmetic dentistry procedures in English or Spanish. They can also speak fluent tech talk, as their state-of-the-art office is equipped to offer digital x-rays, Zoom! teeth whitening, and Invisalign treatments. Before appointments, patients can lounge in the office's waiting room while watching TV or watching other people watch TV.
2210 S Mill Ave., Suite 2
Tempe
Arizona
480-921-2434
Craig Amrine isn't just a licensed acupuncturist; he's also an adjunct professor at the Southwest College of Naturopathic Medicine, a martial artist, a yoga instructor of 12 years, and a former ceramic engineer who holds 18 different patents and who has designed his own cold-laser devices for use in cold-laser therapy. Along with his main clinic, he has clinics at a mixed-martial-arts training center and a skydiving facility, where he treats everything from back pain to emotional problems. His own background, combined with the knowledge he's gained from treating athletes and nonatheletes alike, has given him a unique perspective on using science and traditional Chinese medicine to fix a wide range of health problems.
4645 S Lakeshore Dr., Suite 7
Tempe
Arizona
602-430-5812
---