Theme & Amusement Parks in Mesa
---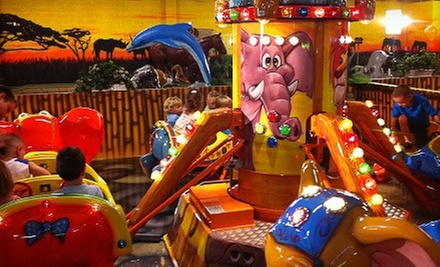 ---
Theme & Amusement Park Deals
---
Recommended Theme & Amusement Parks by Groupon Customers
---
The spring-loaded trampolines and high-flying activities at Airworx's brightly colored 27,000-square-foot center launch visitors of all ages high into the air. Families can duke it out at the dodge ball court to determine who sits in dad's comfy chair, and kids younger than 7 spring from age-appropriate trampolines and crawl over a 20-foot inflatable structure in the Shooting Stars area. Airworx's nightclub-quality sound system and bouncy floors leave visitors breathless as they simulate Jordan-esque dunks amid rows of basketball hoops or challenge friends on the 140-foot trampolines to see how many backflips it takes to travel back in time. Besides open bouncing, Airworx also opens up colorful private rooms for birthday parties, and an elevated DJ booth personalizes the tone of unique corporate and group events.
4960 W Ray Rd.
Chandler
Arizona
480-775-3800
Inside Sky Zone Indoor Trampoline Park, a wall-to-wall half-pipe made entirely of trampolines gives children and adults a venue where they can safely hop, bounce, and somersault to their hearts' content. The vast, taut, springy flooring doesn't end at the walls, but instead the trampolines continue upward to form angles perfect for crawling up, springing off, or sliding down. Visitors can meander along the bounceable terrain in the open trampoline arena, throw themselves into giant foam pits, or sharpen their competitive edges in trampoline-assisted sports such as dodgeball or SkySlam. SkyRobics classes merge gravity-defying fun with fitness during instructor-led workouts that include calisthenics, core exercises, and strength-building aerobics to help guests shed calories without hurting their joints or taking a wrong turn on a treadmill.
9040 W Larkspur Dr., Suite 134
Peoria
Arizona
US
623-979-4000
Voted No. 4 in the Top 10 Birthday Chains for Kid Birthday Parties in 2010 by Parents magazine, Pump It Up sprawls over 11,000 square feet of play areas and party rooms teeming with inflatable fun. A stalwart staff oversees the neighborhood of bounce houses and air-filled playthings that populate the indoor arena, including a regal throne for celebrating birthdays or announcing edicts mandating dessert for breakfast. The ascending wall of the Vertical Rush challenges climbers with a hump-shaped obstacle, and attached dueling slides send victors careening into fun. Throughout the week, families can pop in for open play and lectures on refinancing mortgages on treehouses, or tote along their own mini entourage for birthday party packages complete with private rooms, complimentary invites, and a veritable stockpile of extras to customize the celebratory shenanigans.
1325 W Auto Dr., Suite 101
Tempe
Arizona
480-940-7867
Inner tubes bob up and down while visitors joyfully cavort through the 3-foot waves cresting and crashing at Kiwanis Wave Pool. Though body surfers and relaxed free-floaters alike enjoy the artificial undulations, still others are slung into the depths by a 15-foot-tall, 127-foot-long double-spiral water slide, which was originally conceived by kindhearted pirates as a more humane alternative to walking the plank.
6111 S All-America Way
Tempe
Arizona
480-350-5201
The designers of the 2,000-square-foot, climate-controlled, indoor playplace at Toy Town Play Center set out to create a space that could enhance the physical, cognitive, and emotional development of children. To accomplish this goal, they built a quaint, intricately painted child-sized town. They painted castles, gardens, and skyscrapers on the walls and filled the space with playhouses resembling urban staples such as a grocery store, library, and, hospital. While kids play and socialize, they also have the chance to practice navigating the real world or pretend their relative TV stars as parents watch.
12020 S Warner Elliot Loop , Suite 105
Phoenix
Arizona
480-427-4896
With two courts of trampoline flooring, AZ Air Time dares to ask what games of dodge ball would look like on the moon. Kids leap across rainbow-colored mats to try and strike their opponents, heedless of the hubbub nearby, where fellow guests rebound off the surface and slanted walls of the 5,000-square-foot main trampoline. Elsewhere, basketball hoops mounted above trampolines permit players to add midair flair to their dunks, and a cushiony foam pit provides a soft space for safe jumping.
The futuristic indoor park is the brainchild of Barry and Jeff Jenkins, who welcome children to achieve giddy weightlessness in areas grouped by age and during classes that teach gravity-flouting tricks. Boot-camp sessions for moms also take advantage of how gentle a trampoline is on joints, unlike a 15-person tap-dancing rivalry. During parties, the sound of youthful shrieks bent by velocity fill the air.
13802 N Scottsdale Rd., Suite 145
Scottsdale
Arizona
480-427-2000
---