Metairie Terrace Drs and Health Practioners
---
Drs & Health Practitioners Deals
---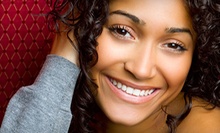 Central Business District
Experienced dentist cleans and examines teeth, as well as performs four bite-wing x-rays
---
Recommended Drs & Health Practitioners by Groupon Customers
---
A visit to the Harvey dental practice promises a friendly staff that will make you feel more at home than the unfriendly staff at your current home. After a visual examination of your teeth, a full cosmetic consultation with the friendly doctor will mimic 12th-grade visits to the guidance counselor with a chat about your pie-hole's potential. The doc will present you with a variety of available options to direct you on the right path toward a Daytime Emmy Award–winning smile. You'll be sent home with a week's worth of Nite White do-it-yourself teeth-whitening products to administer before bed for 5–7 nights. As you slumber, Nite White's mild solution of teeth-bleaching peroxides will labor like a camp of miniature Zambonis to scrub away food, coffee, tobacco, and syrup stains, leaving your smile embrightened and betwinkled.
1705 Lapalco Blvd., Suite 2
Harvey
Louisiana
The licensed massage therapists at Ready2Relax send calming ripples across muscles with comforting bodywork. Contended sighs drift across the studio as the medium pressure of flowing Swedish strokes tempers aches. The therapists are also trained in deep-tissue pressure or reflexology, which can help to access pain situated deeper in tissue. Volcanic rocks soak up warmth, letting them slip across tense musculature to improve mobility after working out or smashing all the cinder blocks at a rival karate dojo.
3201 Cleary Ave.
Metairie
Louisiana
504-616-4097
From Kim, Stephanie, Myra, and Crystal at the reception desk to doctor's assitants Chassity and Ashle in each exam room, Chiropractic Health Center's staff members strategically work together to devise custom treatments for patients seeking higher levels of health and wellness. Having served the New Orleans area for 27 years, the friendly front-desk receptionists greet visitors before quickly ushering clients to a private exam room where Dr. Debbi Barrett Hannan prescribes wellness therapies such as nutritional consultations, detoxification, weight-loss services, aesthetic services, and chiropractic therapies, such as cervical traction, percussion, and interferential therapy.
Full-time therapists Lauren, Ashley, and Chassity stand by to administer all doctor-prescribed treatments and show patients how to harmonize while saying "aaah." To assist with their treatments, the therapists employ advanced technology such as the DRX-9000, which can help patients with lumber disc problems avoid surgery, the Far Infrared Sauna, which is designed to efficiently remove toxins and heavy metals, and the EB-Pro cellular cleanse, which can balance the body's energies and promote comprehensive wellness.
Ideal Protein coaches Lauren and Daron help clients quickly lose weight with the help of a protein diet that controls carbs and rests the pancreas, putting the body into a mild state of ketosis to burn fat—instead of carbs—rapidly. The staff also wields Zerona lasers to further contour bodies without any downtime, uses Endermologie treatments to reduce cellulite, and creates personalized dietary supplement plans.
101 Clearview Pkwy.
Metairie
Louisiana
504-454-2000
A graduate of Louisiana State University and a member of the American Dental Association, Dr. Todd Canatella helms a staff of specialists well-versed in bite-beautifying procedures and up-to-date on technological advances thanks to courses and seminars. They use digital x-rays to reduce radiation exposure and perform regular checkups and cleanings to keep teeth healthy and well rooted. For grins in need of crowns, inlays, and onlays, Dr. Canatella uses Cerec CAD/CAM technology to complete these procedures in one visit without the usual litany of temporaries, appointments, and in-office sleepovers.
101 W Robert E Lee Blvd., Suite 105
New Orleans
Louisiana
504-282-0700
Though she enjoys conversing with her patients, Dr. Marilyn Pelias's ultimate goal is to get them out her office quickly. The seasoned surgeon tries to minimize the downtime following her procedures, thus enabling clients to resume work and daily activities with little hassle. Even before her treatments begin, she puts guests at ease. During pretreatment consultations, she answers questions and describes her services thoroughly to educate her patients.
Dr. Pelias's surgical treatments range from minor changes such as brow lifts and earlobe repair all the way to tummy tucks and liposuction. With the S-Lift, a faster, simpler alternative to a traditional face-lift, she reduces the appearance of sagging skin on the neck and lower face. Nonsurgical sessions often incorporate lasers, which the doctor uses for skin resurfacing, body contouring or the removal of body hair, spider veins, and tattoos that say I Love My Body Hair and Spider Veins. She also uses skincare products from Obagi to complement chemical peels and microdermabrasion sessions. Dr. Pelias doesn't do it all on her own, though. Aesthetician Shannon Eckler jumps in with the assist on all matters beauty-related, including corrective make-up, microdermabrasion, and hair-removal.
311 Octavia St.
New Orleans
Louisiana
504-496-8398
When she's not designing cosmetic-enhancement regimes at Southern Aesthetics or attending at one of five area hospitals, Dr. Penelope Treece works on her oil paintings. The American Board of Surgery-certified surgeon has been an artist since childhood, but reserved painting and modeling berets as private indulgences while forging a career in medicine. She earned her white coat at the University of North Carolina at Chapel Hill and completed her general surgical residency at Louisiana State University before honing in on breast and other aesthetic surgeries, also becoming certified by the American Board of Cosmetic Surgery. At Charity Hospital, she developed and published a new technique for reconstruction, which now informs her specialty in breast augmentation and reduction.
Her surgical expertise extends to tightening sagging skin all over the body, and a team of certified aestheticians and massage therapists extends her rejuvenating touch with minimally invasive technology. A collection of lasers––including FDA-approved devices from Cutera–– gently zap acne, veins, and body hair to reveal smooth, healthy skin. A complimentary consultation begins every visit to the office.
3815 Hessmer Ave.
Metairie
Louisiana
504-779-7749
---